During the prenatal months, most moms-to-be are focused on eating right and taking their vitamins. But once they give birth, even getting a meal together can seem impossible.
The days and weeks following delivery are known for being a hectic period. Between healing from delivery and feeding the new baby, there's barely enough time to shower, let alone cook a nourishing dinner.
As a nutritionist, identifying potential roadblocks in advance with your clients can help them develop realistic expectations and feel more prepared. With some prep and helping hands, new moms can properly fuel their own bodies while also caring for their new additions, and you can play a big role in making that happen.
Here are some important points to cover with the soon-to-be new moms who come into your practice.
Pack the Freezer
Every square inch of the freezer is valuable real estate that should be maximized before baby arrives. Luckily, instincts kick in here with many women feeling an urge to 'nest' in preparation for their birth.
Encourage your client to get busy in the kitchen during the weeks leading up to delivery. If possible, recruiting a friend or family member to help with prep will make the process fun and easy.
Having a few pre-made casseroles or dump dinners ready to go will make postpartum life more simple. Snacks like muffins or cookies also keep well in the freezer for later.
As the practitioner you can provide recipes that are delicious, can be scaled up and freeze well. This will save your client from trying to figure it out themselves, and make it easier for them to have healthy options readily available.
Here are just a few freezer-friendly meals from That Clean Life you can provide:
Fiber is Your Friend
During the postpartum period, constipation is a common issue that can cause significant discomfort. Processed food choices will only make the problem worse.
New parents might not have time for cooking loads of veggies, so encourage them to keep foods like ground flax and chia seeds on hand for sprinkling over meals to add fiber. Canned beans are also easy to add to meals.
Snacking on fruit will add fiber without too much effort. Oatmeal is a quick, easy, and nourishing food that adds plenty of fiber as well.This Berry Baked Oatmeal checks all the boxes. Fruit, oats and chia seeds.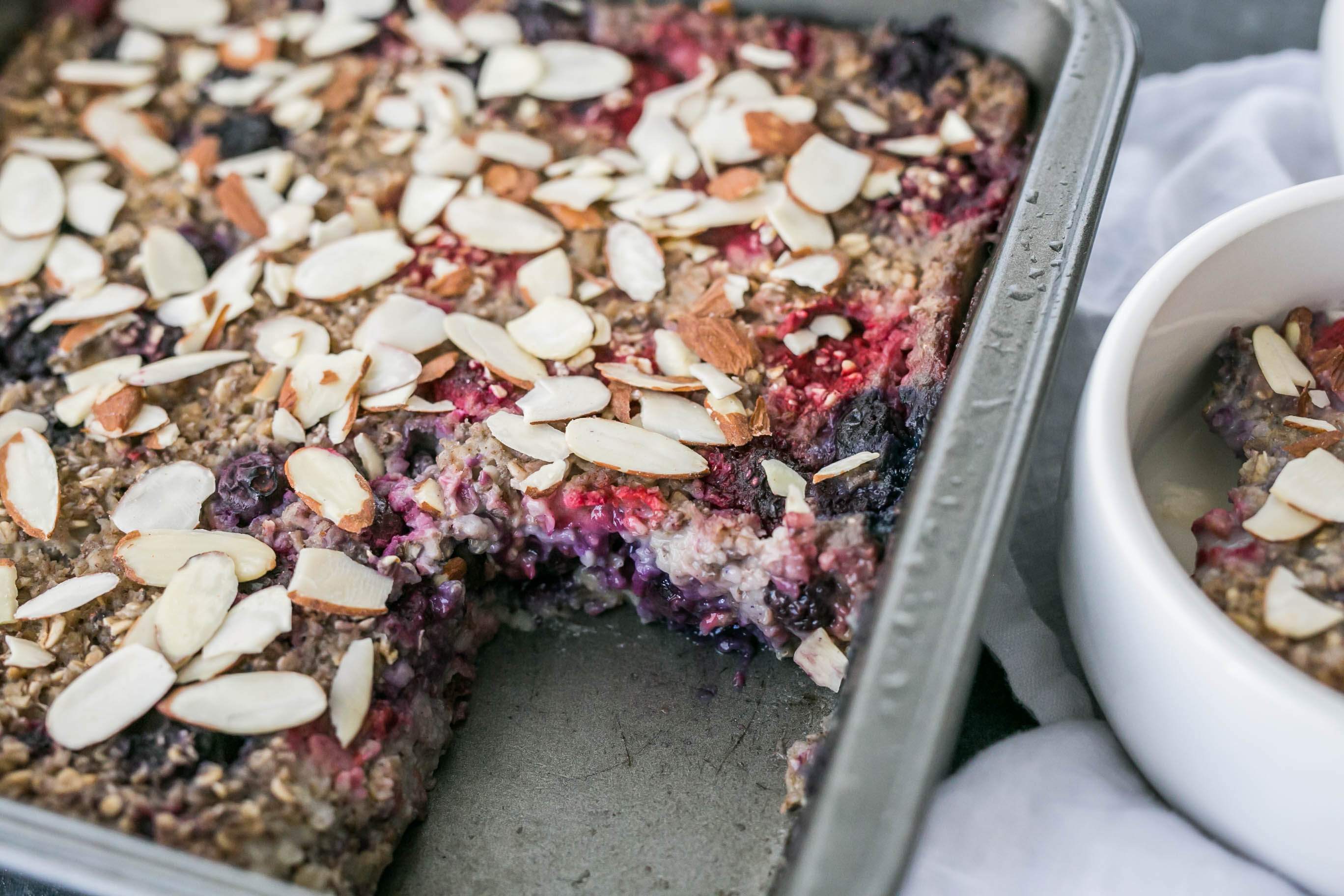 Get to Know Galactagogues
Galactagogues are substances that can help to increase breast milk supply. While there are herbs and supplements that contain galactagogues, many common foods do as well. Unless there is a milk supply or production issue, using these foods is often sufficient.
Oatmeal and flax seeds are two foods commonly thought to boost milk supply. Since these foods are also high in fiber and nutrients, they are safe and beneficial to new mothers whether they are nursing, feeding formula, or have no milk supply issues at all.
Use the "Include" filter within That Clean Life to quickly find meals that contain these ingredients.
Emphasize the importance of hydration. Supplements and teas containing ingredients like fenugreek seed, fennel seed, blessed thistle, goat's rue, and oat straw may also be helpful.
Let Go of Perfection
New moms often put a huge amount of pressure on themselves to do everything 'perfectly.' This is often too much of a burden to carry and can lead to feelings of guilt down the road.
It's especially important to avoid overwhelming your client at this time! Although you may want her to eat heaps of micronutrient-rich fruits and veggies, there will be days that it just doesn't happen. And that's okay!
Help your client to pick out a few go-to healthy restaurant options close to home, for those times when ordering-in is inevitable. Let her know that there is no shame in asking for help during a hectic time and that, with an increased caloric need, any meal is better than no meal.
Meal Planning for New Parents
To help simplify postnatal meal planning, we have created a diet plan that addresses common issues encountered in the postpartum period.
Our done-for-you Postnatal Diet includes:
7 days of easy recipes that can be made in advance.
Realistic meals with minimal cooking.
An itemized grocery list.
A prep guide to help your clients stay organized and on-track.
Plenty of fiber and galactagogue foods.
Learn more here.