Kelly McKinnon is the Head Registered Dietitian at Built with Science where she educates clients on proper nutrition for a healthy lifestyle and to fuel physical activity. Kelly and her team believe that nutrition and fitness should be paired together for both short-term and long-term success in health and body composition changes.
Today we're exploring how Kelly and the team at Built with Science create meal plans that help their clients gain muscle and/or lose fat, along with some of their favorite meals to add to plans.
Understand the Client's Needs
Kelly takes a custom-tailored nutrition approach to help clients achieve their physique goals which starts with understanding the client's past eating habits, where they currently are in their fitness journey and what they envision for themselves in the future. Conducting a Meal Planning Assessment with each client can help with this.
"Many of our clients have, unfortunately, had unsuccessful dieting attempts because a lot of them were confused about where to even begin. The industry is saturated with so much nutrition misinformation that many fall victim to following fad diets, unsustainable calories and macros, and unhealthy restrictions of food. This is a crucial piece to understand about the client so that we can not only determine a proper amount of calories and macros to set for them and create a meal plan for but then how we can also use the meal plan to educate them on the foods that they thought were 'bad' or 'off-limits'."
In order to create realistic goals and a custom meal plan, Kelly determines the client's experience with cooking, meal prepping, and their level of time commitment.
Most of Kelly's clients start with fat loss and improving muscle definition which requires a caloric deficit. After achieving this, they transition to a caloric surplus to gain muscle.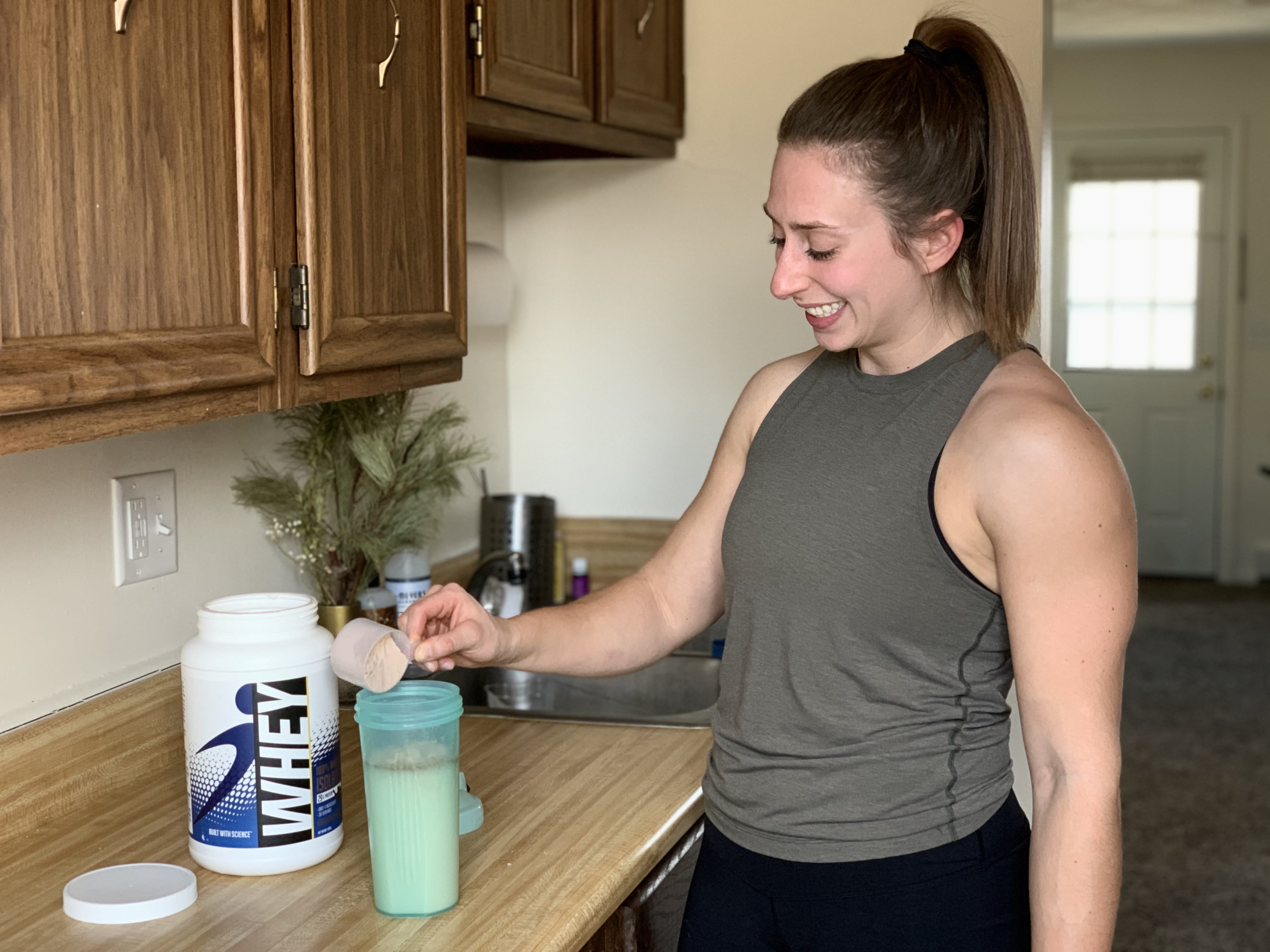 "These body composition changes require adjustments in calories and macros, as well as adjustments in the meal plans to not only reflect these nutrition changes, but also to not let the client get bored with their everyday eating habits!"
For clients who have a large percentage of their body weight to lose, Kelly uses meal plans for 'diet breaks'. These are periods in which clients can increase their calories and carbohydrates to allow for a 'reset' in their bodies before returning to a caloric deficit. She finds that this is a time where clients can be more creative and involved in making their meals using a wide selection of meals and recipes from different types of cuisines.
Creating new meal plans regularly is important in supporting a client throughout their health and fitness progress.
"It is our job as their Registered Dietitian to not only determine how their first meal plan will help achieve this at the beginning of the journey, but how we need to modify it by creating new meal plans along their journey as well."
Take an Evidence-Based Approach
Kelly and her team highly value education and providing the science and evidence behind meal planning.
"Not only do the meal plans that we create help clients with this, but also the ability to explain in each meal plan what their target calories and macros are, why we've spaced out their meals throughout the day, how to time pre- and post-workout nutrition, etc., is something that we've found extremely valuable for clients."
Creating the Plan
Kelly uses That Clean Life to create meal plans and finds that calories and macronutrients are key to seeing body composition changes.
"Based on the client's goals, we will either place them in a caloric deficit to lose fat and/or undergo body recomposition (building muscle and losing fat at the same time) or a caloric surplus to focus on building muscle and hypertrophy. Protein is the most important macronutrient for body composition changes, as it drives muscle protein synthesis (the building of muscle). It also has the added effect of being the most satiating macronutrient, so it's helped make our clients adhere to the calories that we have set for them."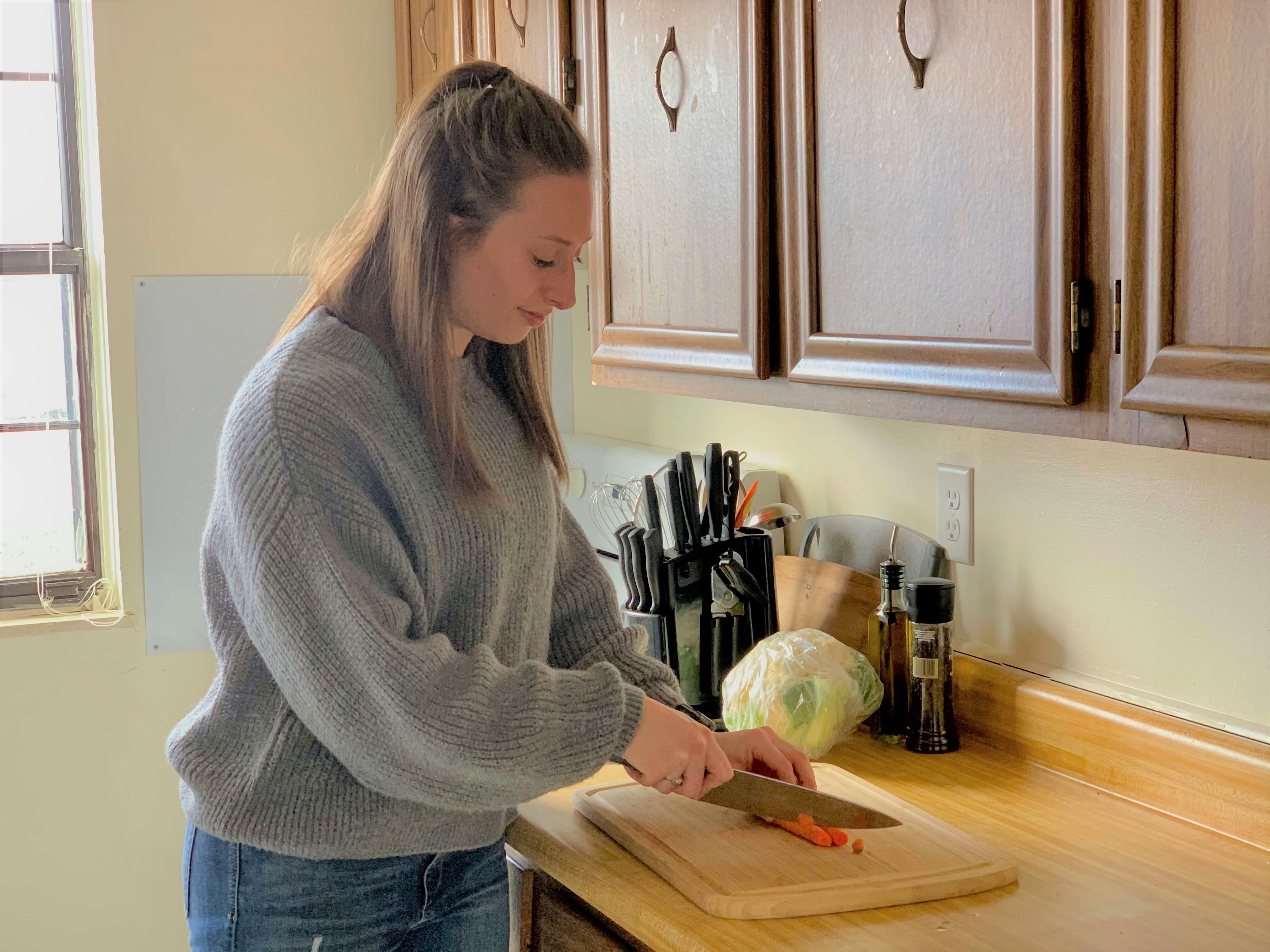 Meal Timing & Frequency
Kelly uses meal timing and frequency to help her clients have sustained energy levels throughout the day. She uses That Clean Life to include five meals and snacks daily for her client's meal plans and organizes these around each client's workout schedule.
Matching the meal plan to the client's typical way of eating and including foods they enjoy are important to help improve adherence and compliance.
Favorite Meals
"What is so great about That Clean Life is all of the recipes! The majority of our clients think that when they'll get a meal plan from one of our dietitians, that it'll include the typical 'chicken, broccoli, and rice' meal and that it'll be boring to follow. You can imagine their surprise when they see that they can actually incorporate meals and food that they enjoy and already eat into their day! We can't hear enough feedback from our clients on how much they enjoy all the meals, and this has greatly contributed to our success with teaching clients good nutrition habits and creating this into a lifestyle choice rather than a short-term diet change."
Here are the meals that Kelly most often adds to her meal plans to help her clients achieve their goals.
Breakfast: Smoothies & Overnight Oats
Smoothies are a nutrient-dense breakfast option that can be carried for the on-the-go client and overnight oats can be prepared ahead. Kelly's favorite smoothie recipe is the Creamy Apple Pie Smoothie because of its versatility.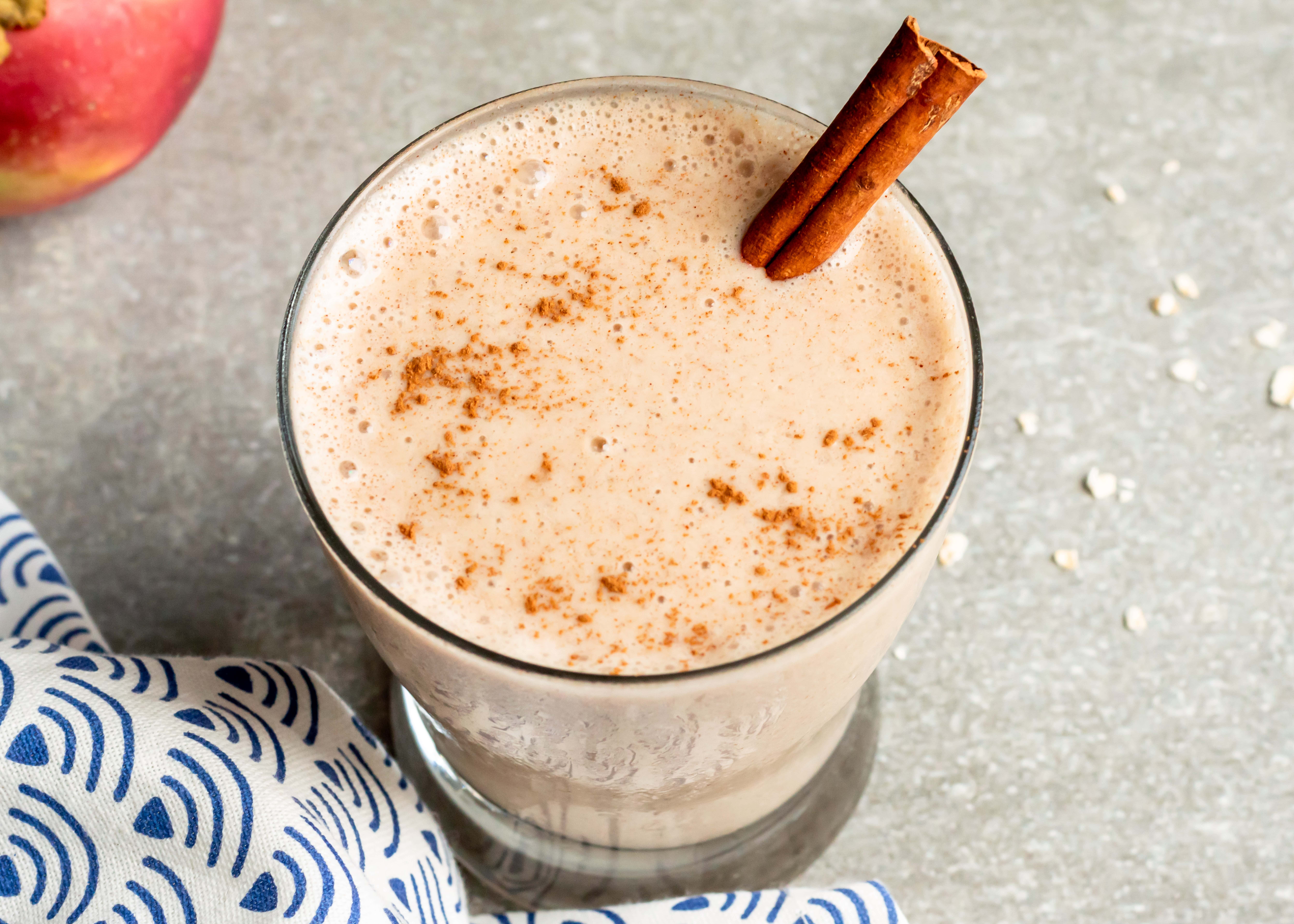 "I usually use it as a pre-workout meal to fuel clients for their workout because it has a large amount of carbohydrates and then it includes protein powder for muscle building and recovery. It's also a great way to sneak in some extra calories for clients who are in a caloric surplus and need a lot of carbohydrates, as well as being a quick breakfast idea for those short on time."
For the perfect oats recipe, Kelly's go-to is the Peanut Butter Cup Overnight Oats.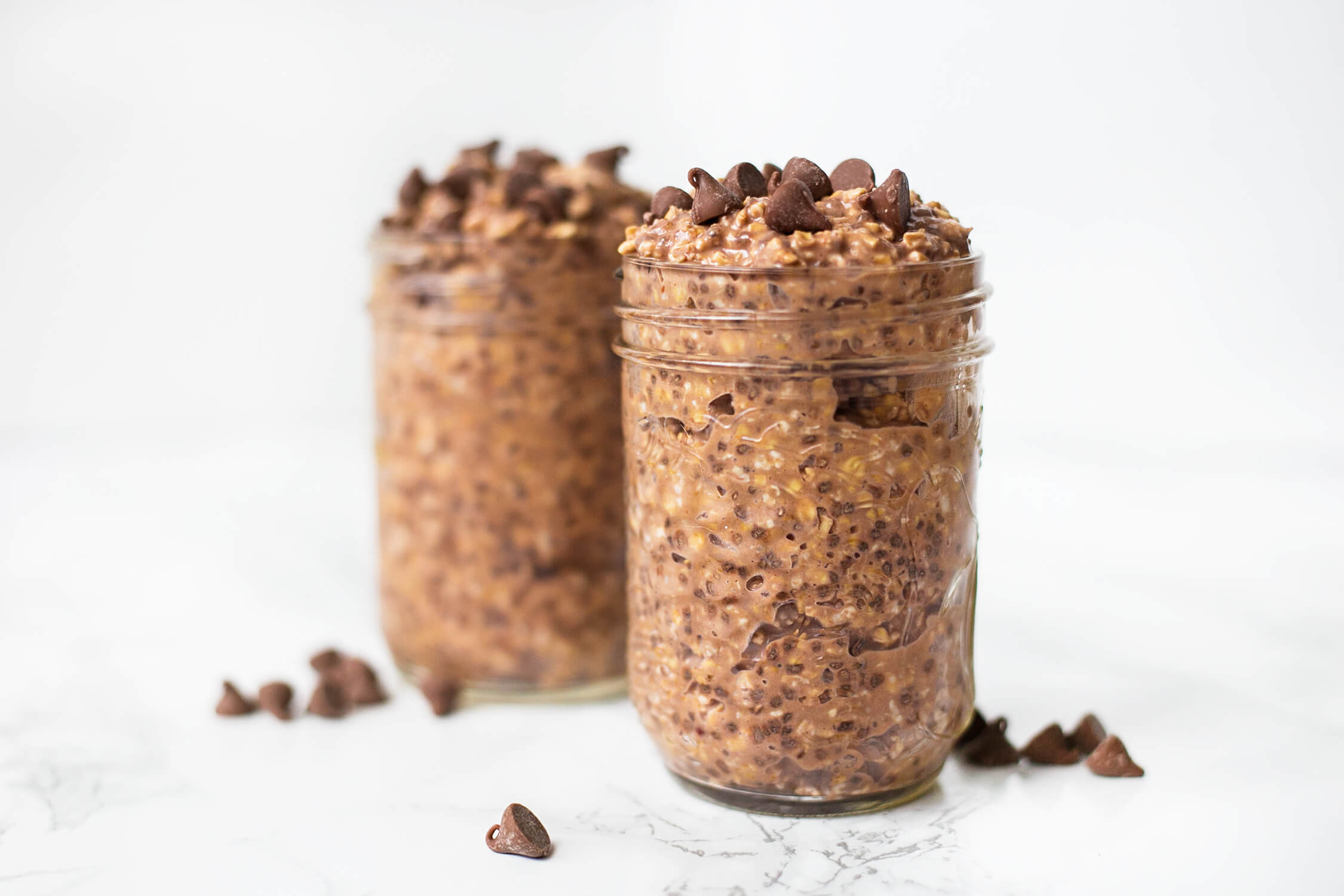 "Every client I've talked to absolutely raves about this recipe! They also love that it's something they can prepare overnight so that it's ready to go in the morning. For some of our clients who are in a cut phase, I like to swap out the peanut butter for powdered peanut butter to lower the fat content, and it works super well!"
Snack: Yogurt Parfaits
Kelly has found her clients love That Clean Life's yogurt parfait recipes which act as a great in-between meal snack because of the protein content or as a bedtime snack because it has more of the slow-digesting protein (casein) for the overnight fast. The Vanilla Protein Yogurt Parfait is a nutritious recipe to help achieve this.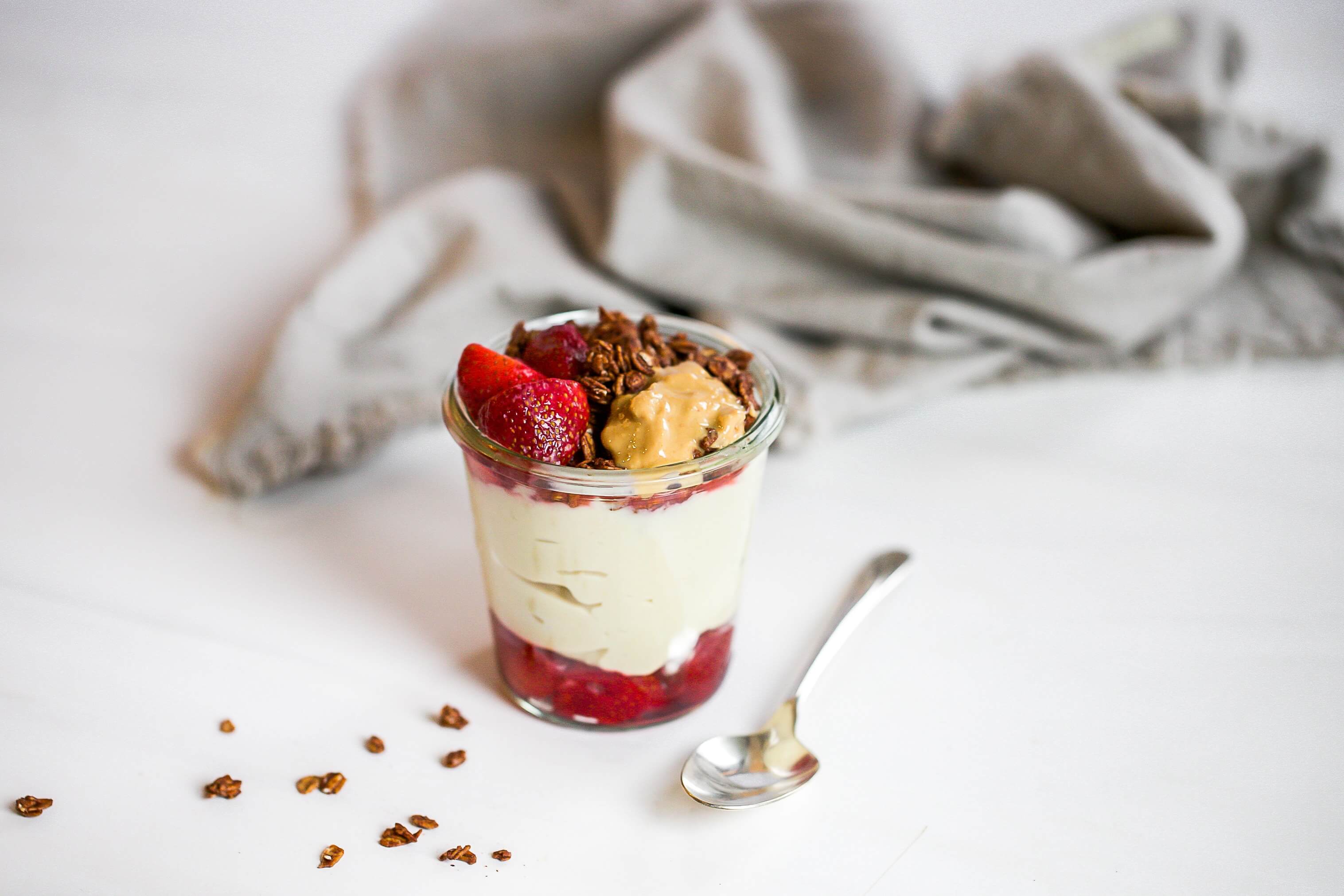 Lunch: Veggie-Packed Stir Fry
Simple and delicious lunches, like our Tofu & Veggie Stir Fry can help clients eat plant-based and add their favorite vegetables.
"For vegetarian and vegan clients, this has been a great complete meal with a good amount of protein and tons of vegetables."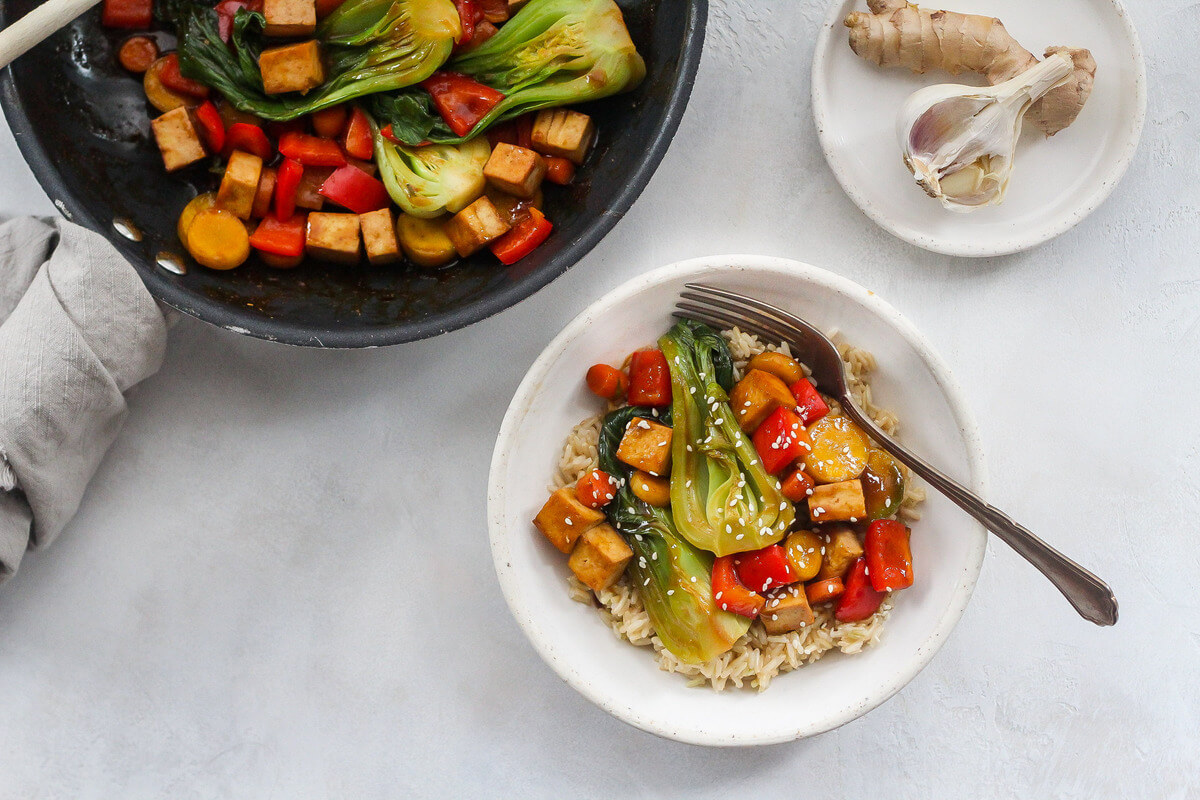 Dinner: One Pan Meals
Our one pan meals make meal preparation and cleanup a breeze. Since all the ingredients cook together, you end up with flavorful meals that often taste even better as leftovers.
Kelly uses the One Pan Steak, Potatoes & Broccoli to help her clients enjoy foods they love while achieving their fitness goals.
"A lot of our clients enjoy a steak and think that it's one of the foods they have to cut out if they're in a caloric deficit, so this is a meal I like to use as a tool to show them that they can still incorporate the foods that they love."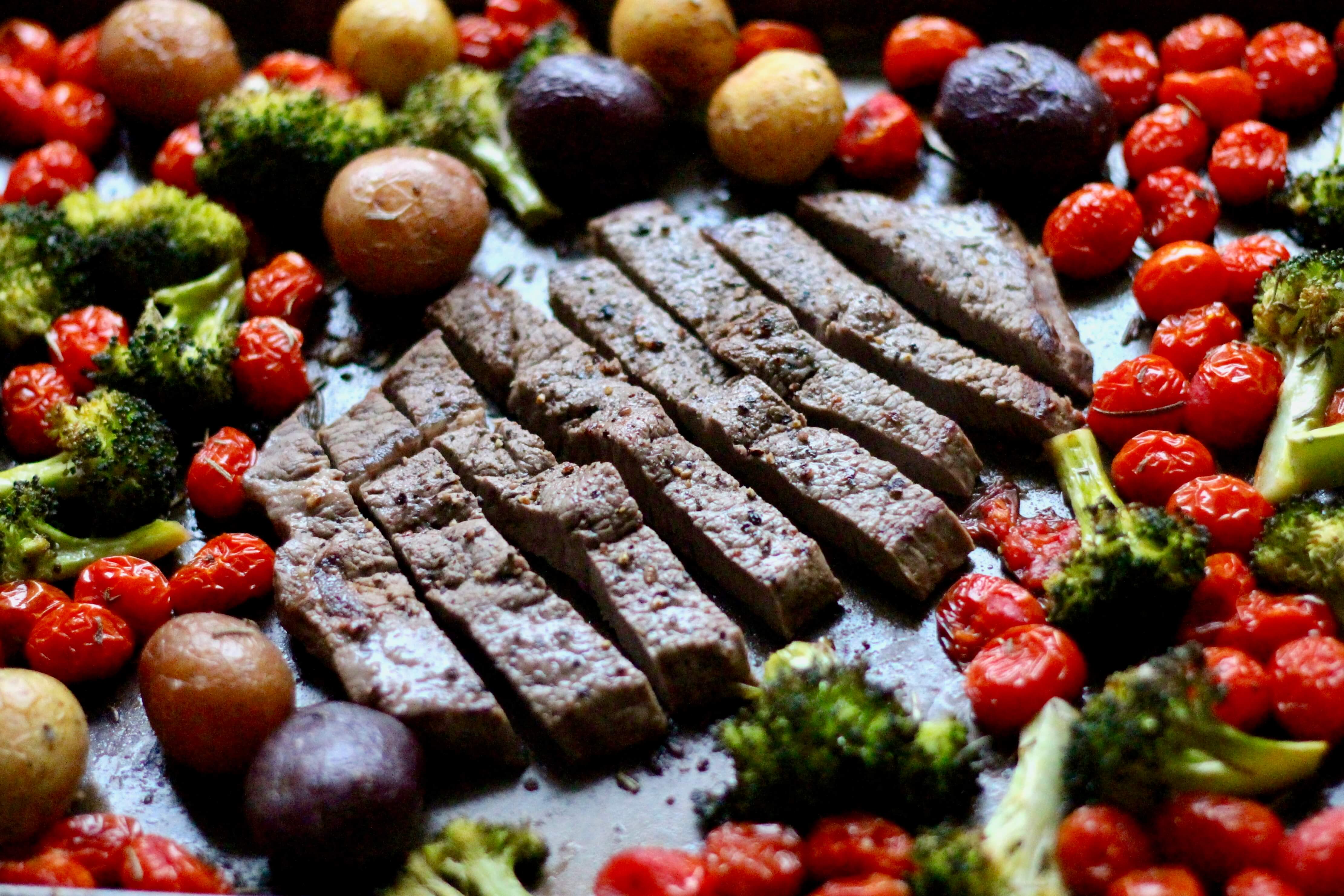 Our One Pan Salmon with Rainbow Veggies recipe is another one of Kelly's go-to dinners.
"It's easy to prepare and it is a 'hands-off' activity for clients who are in a rush to make a meal. I like pairing this with the Lemon Turmeric Rice as a side to make it more of a complete meal. This is also a great way to get more omega-3s into their diets!"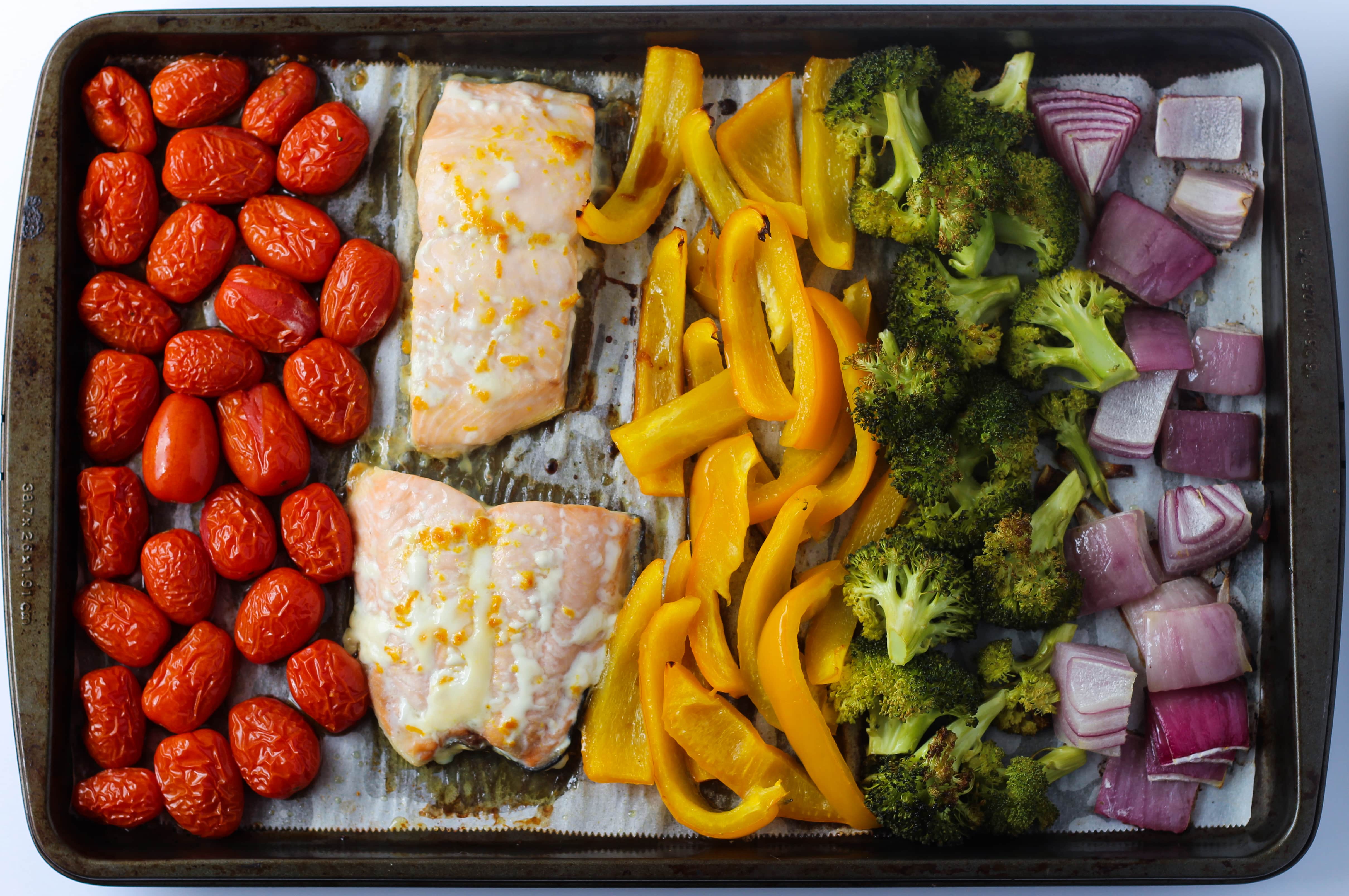 Learn more about the awesome team at Built with Science here and follow them on Instagram here.