If you want to run a great nutrition business, you must not only be a great practitioner – but also a great marketer.
With an increase in health professionals competing for clients' attention, it's becoming even more important to market your services in a way that attracts your ideal clients, educates them on the value you provide, and builds trust.
Many health professionals offer meal planning as a service, but few are marketing this offering to its fullest potential. We want to change that.
Here are 10 effective ways to market your meal planning services.
1. Highlight your meal planning services on your website.
Your website acts as a first impression for all leads and potential clients, showing them what it will look like when you work together.
Your website should be an extension of your brand and clearly show potential clients the types of meal planning services you offer, the types of nutrition resources included in each service, pricing, and how the service will help the client reach their goal.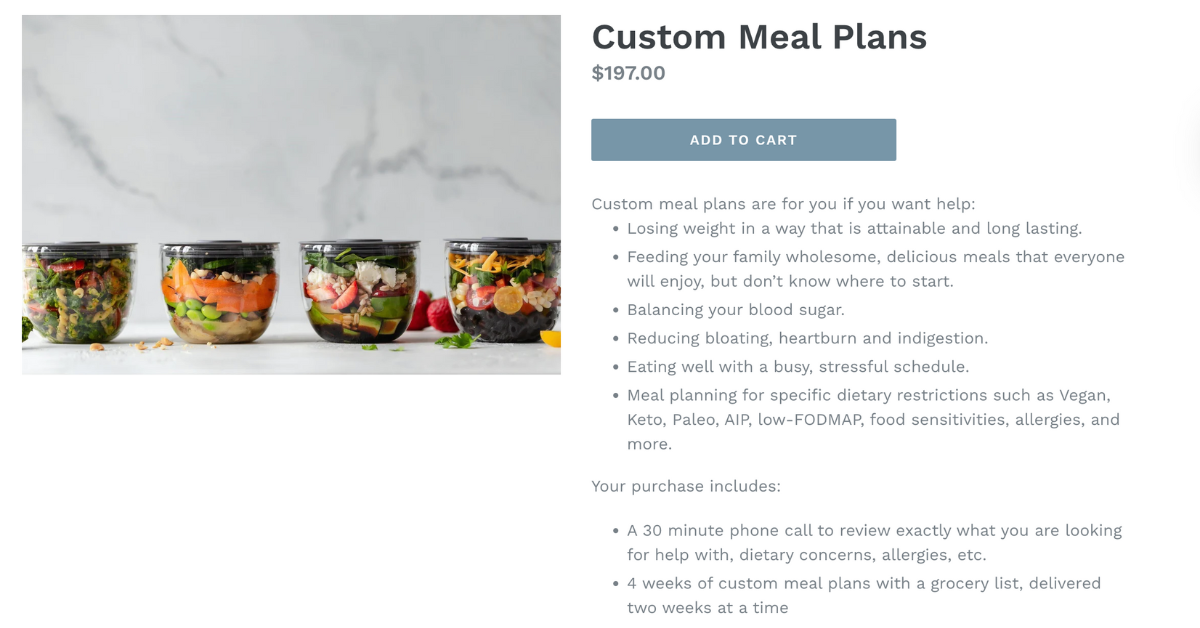 2. Use testimonials from meal planning clients.
Including client testimonials on your site and social media channels provides social proof. Prospective clients are able to read concrete examples of how you've helped others with meal planning for similar health goals and can relate to their experience.
Each testimonial should directly relate to one of your meal planning services and have a call to action inviting people to work with you and achieve their own transformation.
Tip: Use this email template to collect inspiring testimonials.
3. Share the benefits of meal planning.
People invest in outcomes and results. Therefore, marketing efforts should center around the transformation your clients will achieve.
Before clients buy your meal planning services, they need to understand what a custom meal plan is and how it will help them reach their goals. Revamp your website copy and create social media posts that highlight ways meal planning can help a client. Include a call to action to check out your meal planning services or connect with you directly.
4. Share behind the scenes of meal planning.
Your social media posts allow you to tell your story and promote your services in a way that is organic, authentic, and builds connection.
Share the benefits of meal planning and how you meal plan for clients. Clients want to know what you actually take into consideration before creating their plan and they want to learn about how you customize their plan. When your clients see the amount of work and care that goes into creating their plan, they understand the value of it.
5. Use email marketing to grow and nurture your list.
Email marketing is an extremely effective way to market your meal planning services. Creating a "freebie" like a sample meal plan will attract leads and capture their email to be added to your mailing list where you can further nurture the relationship.
To nurture the leads on your mailing list, you can send out a weekly or monthly meal plan newsletter that includes a free meal plan or recipe book. This gives those on your mailing list free value and a taste of what it is like to work with you. And when they are ready to move forward, you'll be the practitioner that is top of mind.
6. Offer a free meal planning masterclass or workshop.
Potential clients often need many touchpoints before they are ready to go ahead and pay for services. A free masterclass or workshop is a great way to start building your audience and gives potential clients a sense of what it is like to work with you.
Once you've provided amazing value to your attendees, give them something to take home and follow up with them. You can use That Clean Life to easily create workshop handouts, which are custom branded with your business information.
7. Share limited-time promotions and giveaways for your services.
Use your newsletter and social media to share details on offers or promotions around your meal planning services. To increase conversions, create excitement and urgency with limited-time offers. You can send out an email and share social media posts leading up to your promotion beginning and then each day your offer is running to ensure you get tons of views.
8. Grow your online community.
Another place to share updates, offers, and incentives are in a private, exclusive group. Offering a dedicated online group for like-minded people with similar goals to connect with you and each other is a great way to build community and market your meal planning services.
Within your online community, establish yourself as the expert in your particular niche, gain invaluable insights as to where people need help the most, and then market your meal planning services accordingly.
You can offer free challenges to generate excitement, live training, and resources like sample meal plans and recipe books. When you provide valuable free content, people are more likely to purchase your paid services when they are ready.
9. Build a referral program.
When a potential client is in need of a service, they're most likely going to ask a friend or family member for a recommendation. Word-of-mouth marketing can be huge for your nutrition business and for your meal planning services.
A referral program standardizes the way you invite and reward clients for sharing your services with others. By offering a formal referral program with clear and attractive rewards, you can increase the odds of your business getting word-of-mouth referrals.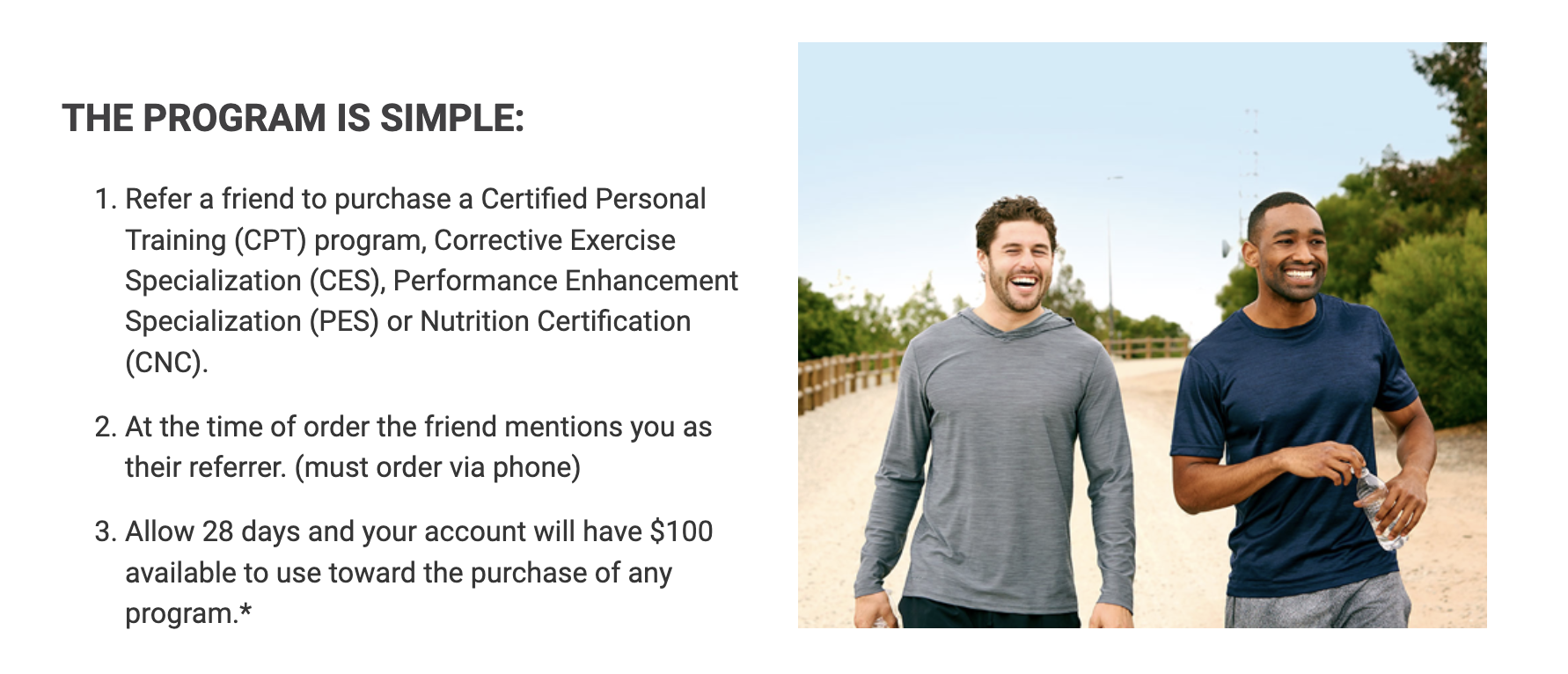 10. Start a podcast or try guest podcasting.
Podcasts are a fantastic way to connect with your audience, build meaningful relationships, and share your knowledge.
If you don't have your own podcast, you can pitch yourself to be a guest on an established podcast. Podcast listeners tend to be a more engaged audience and when you show up to deliver value, they will be interested to learn more about your meal planning offers or services.
---
Marketing can be overwhelming, which is why it's so important to stay focused and experiment to see what works. Choose one or two strategies from the list above and then create a marketing calendar to outline how you will implement them. Having a clear plan on where and how you plan to market your meal planning services will help you attract clients and grow a thriving nutrition business.