Selling digital products online is a great revenue stream for nutrition professionals, but it can be hard to know how to get started.
Today we are chatting with business coach and website builder, The Ambitious Dietitian, to share five steps to start selling meal plans and recipe books online.
Step 1: Determine What You Would Like to Sell Online
Selling PDF ebooks is a super simple way to offer valuable resources to anyone who visits your website including current clients and potential clients. Some popular options are:
Recipe Books: Themed with very specific types of recipes such as healthy, gluten-free desserts, high-fiber paleo, low FODMAP vegan, PCOS-friendly, etc.
Meal Plans: 7-days to 21-days in length are most popular. Meal plans should offer to solve a problem that your ideal client is struggling with. Include a meal plan, grocery list, and recipes.
Meal Planning Guides: A collection of recipes that fit a specific theme, a blank meal planning template and instructions that show customers how to create their own meal plans based on their preferences.
The resources you offer on your website should always appeal to the needs of your niche market.
For example, if your niche is working with recreational athletes who have trouble meeting their nutritional needs because of their nine to five jobs, you could sell a "21-Day Meal Prep Plan for Athletes Working 9 to 5". It could include three weeks of meal plans with recipes that can be easily prepped on the weekend. Or maybe, you sell a recipe book called "High Protein Desserts for Athletes With a Sweet Tooth." Both offerings would appeal to your ideal client.
If your niche is working with women that struggle with uncomfortable Premenstrual Syndrome (PMS) symptoms you could create a meal planning guide called "What to Eat to Get Your PMS Under Control". This meal planning guide could include recipes appropriate for each phase of the cycle, a blank meal planning template that they can fill out, and instructions on how to create meal plans for each phase.
Expert Tip: Still not sure what to sell? The Ambitious Dietitian recommends starting with market research and speaking to your ideal clients to confirm their needs. What type of meal plan or recipe book will help your clients achieve the outcome they desire?
Step 2: Create Your Digital Products
Once you have determined the type(s) of resources you'd like to sell, the next step is to create them. To do this, you will need a tool that lets you create professional PDF files full of color and content that will get your customers excited.
There are two main tools nutrition professionals are using to create their digital products:
With That Clean Life, it's super quick and easy to generate meal plans, recipe books, and meal planning guides to sell online. You have access to a beautiful database of 3,000+ unique recipes with beautiful photography and an easy-to-follow format.
You can add your own recipes to That Clean Life too, so this is a good option if you want to create a cookbook with recipes you developed, but need some help formatting them to sell online.
Shopping lists are automatically generated for your meal plans. You can add additional pages with supplementary information and you can even create a prep guide to go along with the meal plan so it's super simple to follow.
With That Clean Life, you don't need any design experience or additional software. Once you've created the meal plan or curated the recipes, you can either share a link that will take your customers directly to the resource, or export it as a professionally formatted, custom-branded PDF file that will blow your customers away. Here's an example: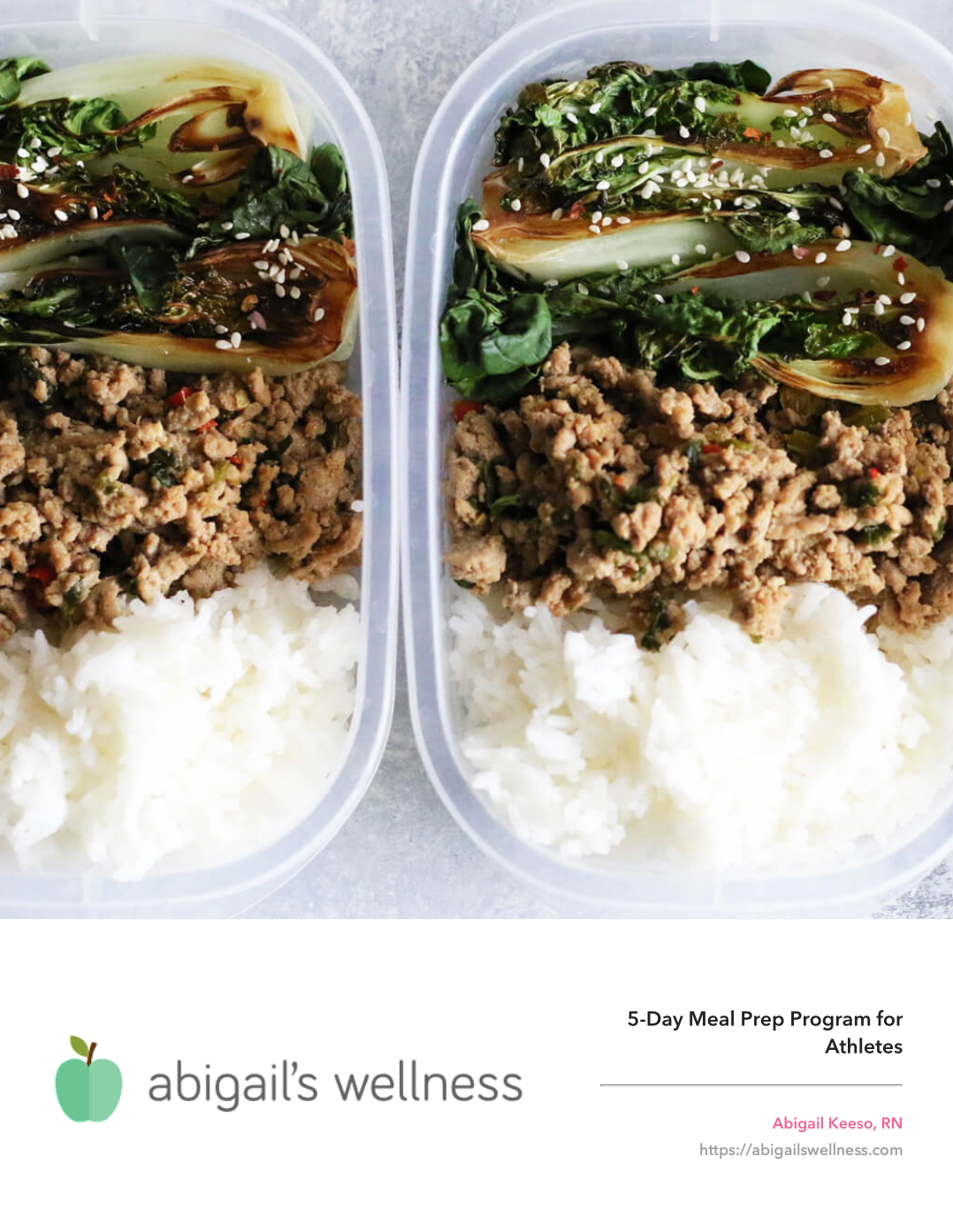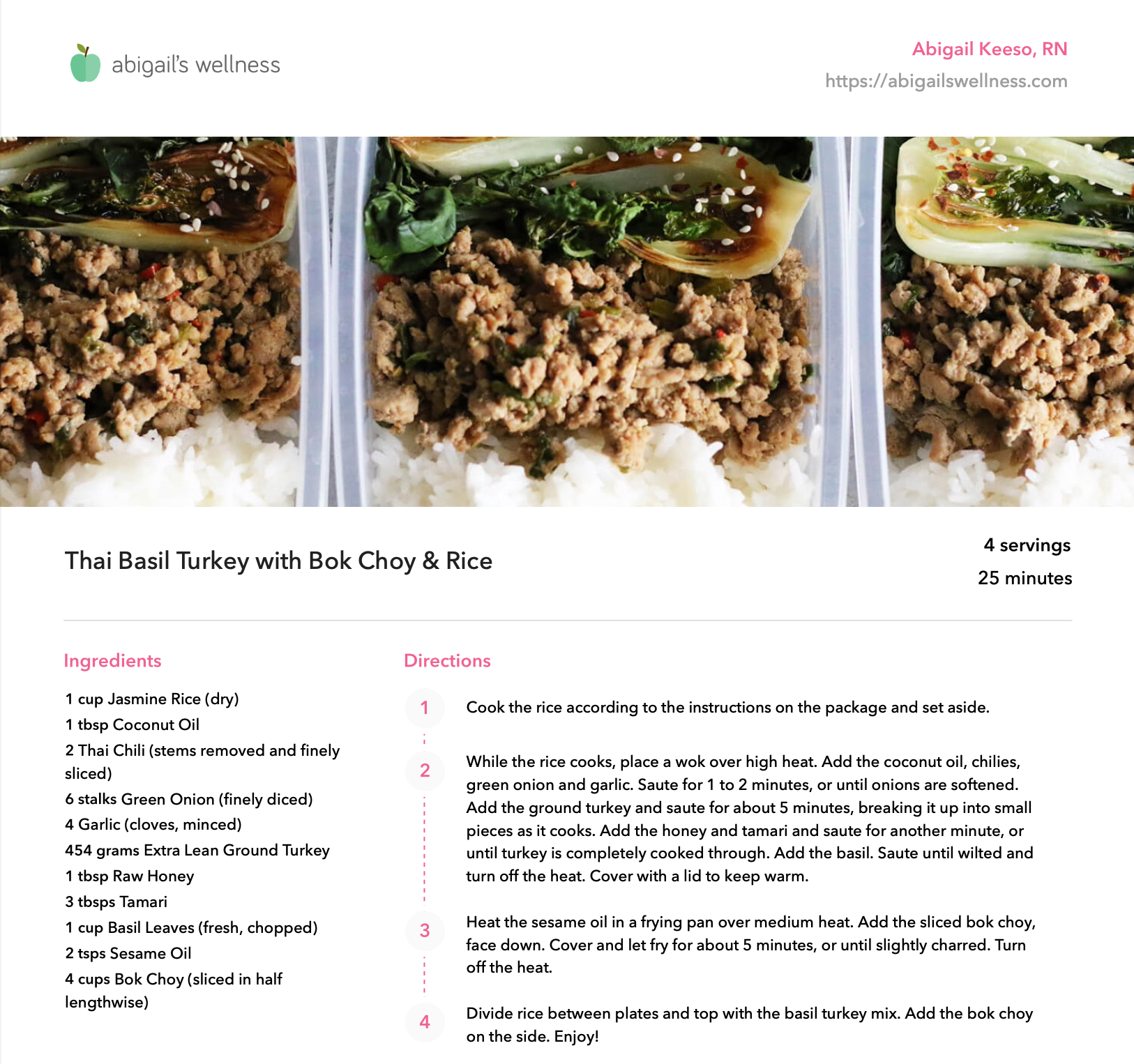 Another tool popular with nutrition professionals selling digital products is Canva. This is a free and easy-to-use tool that can help you design marketing materials or additional pages to go with your meal plan or recipe book.
Step 3: Decide What You Will Charge
This guide would not be complete without addressing the number one question we get about this topic: "How much should I charge for my products?"
There is no simple answer that will apply to everyone. Pricing is a personal decision that only you as the entrepreneur need to make. With this being said, we did some investigating to see what health professionals are commonly charging for digital products. We found that there is a large range in prices.
Recipe Books: $8 to $90
Meal Plans: $20 to $97
Professionals who offer digital products for highly restrictive diets like SIBO or individual food sensitivity results tend to charge more compared to those who offer basic meal plans.
Remember that these prices are based on general, self-serve e-books and not customized resources. You should charge more for the resources that you are customizing to your client's unique needs, as these take longer to create.
Tip: Do not sell your resources for a ridiculously low price. This devalues your hard work and makes it look like your professional nutrition guidance is not worth much. It might also make it hard for you to charge a fair price for customized resources and programs in the future.
Step 4: Set-Up Your Online Store
The Ambitious Dietitian recommends selling your meal plans and recipe books directly from your website as you will be paid quicker, avoid fees, maximize profit, and have more control over what the customer experience is like.
Create a special "shop" page on your website for products available for purchase and then use an e-commerce plug-in. For example, if your website is on WordPress, you can use the WooCommerce plugin to sell your PDF e-books.
Invest time into writing captivating copy that will clearly communicate the value of the resource and encourage your visitors to commit to the purchase.
Step 5: Start Selling
Once your products are created, prices are set, and your online store is live there's only one thing left to do: start promoting your products!
Your digital products will not sell themselves. You are going to have to work hard to make sales. Spend time every week promoting your online products to your social media followers, email subscribers, and blog readers.
Here are some tips from The Ambitious Dietitian for how to promote your ebooks:
Facebook Live, Instagram Live, or Instagram Story: Speak to a topic related to your ebook or make one of the recipes from your recipe ebook. Let people know where to go to purchase the full product.
Write blog posts: Share tips about the topic of your ebook. For example, if you're selling a "21-Day Meal Prep Plan for Athletes Working 9 to 5" you could write a blog post called "Meal Prep Tips To Help You Stay Fit While Working 9 to 5". Your blog posts should share valuable information and include a call to action to purchase your ebook.
Social media: Show pictures of yourself cooking and meal prepping to promote the products in your store.
Email: Send a series of emails to your list about the new product you just launched or mention it in your weekly newsletters.
Affiliate Program: Set up an affiliate program where those who purchase or influencers can earn a commission for referring their friends to your products.
Podcasts: Mention your digital products in your podcasts or when you do guest appearances on podcasts and include the link to your shop page in the show notes.
A Giveaway: Giving away a free copy of one of your digital products is a great way to raise awareness and grow your following.
Making sales is an ongoing effort. People are very unlikely to find and purchase your products unless you create buzz and have strong calls to action. Continue to find fun and authentic ways to remind your community that you have an online store where you sell nutrition resources.
When you offer amazing products that solve a problem and promote them consistently, sales will be coming your way in no time!