One of the most common questions we get from nutrition professionals is "how do I package and price my meal planning services and programs?".
Doing market research is an important part of setting your prices as it helps you better understand the market value or what your fellow nutrition professionals are charging for their meal planning services.
To save you time with your market research and help you set your prices with confidence, we have analyzed the pricing from over 1,000+ health professionals.
Whether you are just starting out with your nutrition business or you have years of experience as a practitioner, this guide will help you consider (or perhaps reconsider) your prices. We will cover:
The various ways health professionals are using meal plans in their nutrition businesses.
Average hourly rates by profession.
Average and high-end prices of meal planning services and programs.
The data.
We analyzed the offerings of 1,000+ health professionals using a simple random sample of That Clean Life members.
Our sample included various nutrition-focused health professionals including dietitians, holistic nutritionists, naturopathic doctors, health coaches, and more from all over the world with varying levels of experience. Since we analyzed the pricing of health professionals worldwide, prices were displayed in several currencies. We converted all prices to US Dollars for our analysis.
How health professionals are using meal plans in their nutrition businesses.
Throughout our analysis, we discovered that meal plans were incorporated into health professionals' services and programs in a variety of ways. Here are the most common services offered:
Initial nutrition consult
Follow-up nutrition consult
Custom meal planning
One-on-one nutrition coaching packages
Group nutrition programs
Meal planning subscription
Add-on nutrition services (grocery store tour, pantry makeover, cooking classes, workshop, webinar)
Digital nutrition resources (recipe books, pre-made meal plans)
Online nutrition courses
Average hourly rates by profession.
When conducting our analysis, we also considered how designation impacts pricing. We discovered that hourly rates vary significantly between professions. Typically, registered professionals with advanced credentials who specialize in a niche area charge more as they possess unique knowledge that others in their field may not have.
From our analysis, these are the average hourly rates charged by various designations:
Medical Doctor: $230
Certified Ayurveda Practitioner: $220
Dietitian: $180
Naturopathic Doctor: $180
Functional Medicine Practitioner: $175
Certified Nutrition Specialist: $170
Nutritional Therapy Practitioner: $150
Registered Nurse: $150
Functional Wellness Practitioner: $140
Holistic Nutritionist: $130
Certified Nutritional Practitioner: $120
Health Coach: $120
Registered Nutritionist: $110
Certified Nutrition Coach: $100
Clinical Nutritionist: $100
Prices of meal planning services and programs.
Initial Nutrition Consult
Average price: $150
High end: $520
The price of an initial consult varied based on how long the consult is. We found that initial consults are typically 60 to 90 minutes long. Some practitioners choose to package their initial consult with a follow-up consult and meal plan.
Follow-Up Nutrition Consult
Average price: $80
High end: $250
Follow-up consults range from 30 to 60 minutes in length. Some practitioners also offer shorter 15-minute check-in consults, priced at $40 on average, with $80 on the higher end.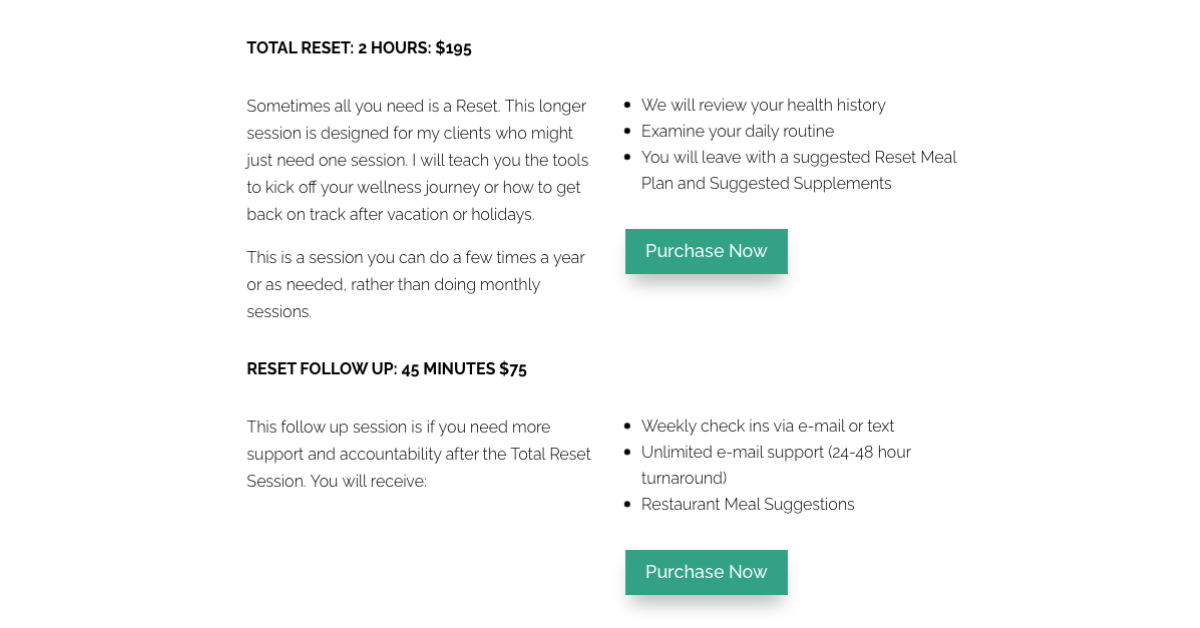 Custom Meal Planning
One-Week Custom Meal Plan:
Average price: $75
High end: $250
Four-Week Custom Meal Plan:
Average price: $200
High end: $700
Many health professionals offer personalized meal planning as an add-on service to their one-on-one coaching. This is key to helping individuals meet their health and performance goals.
Professionals who offer meal planning for highly restrictive diets, medical conditions, or individual food sensitivity results tend to charge more. Professionals who provide basic meal plans for clients looking to generally eat healthier tend to charge less.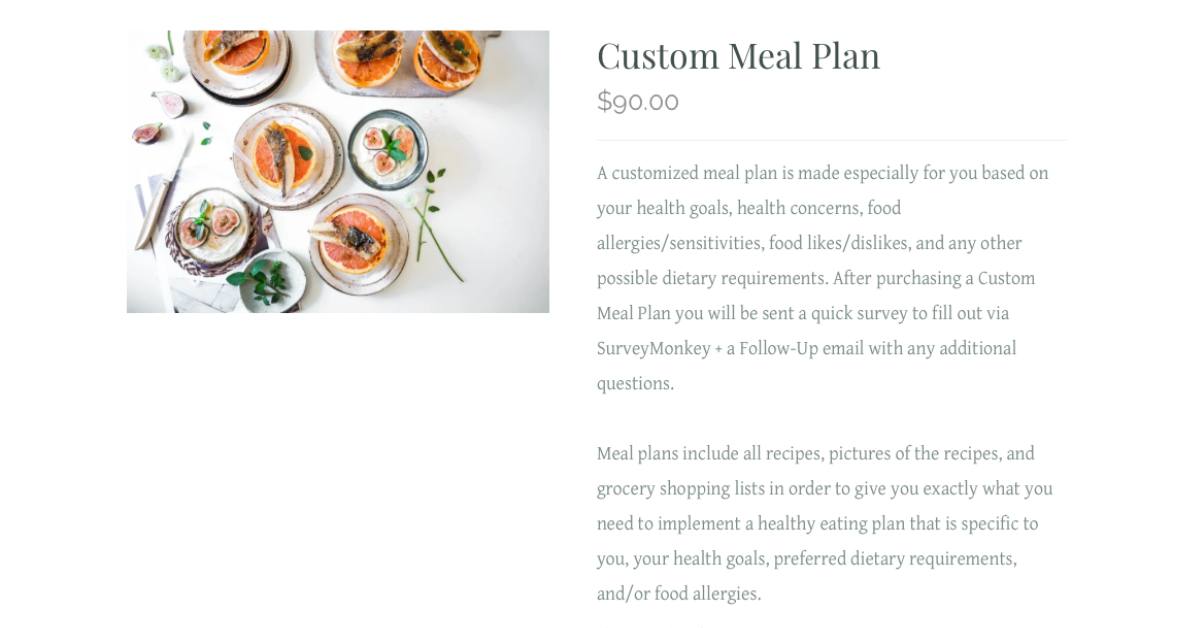 One-on-One Nutrition Coaching Packages
Initial consult + three follow-up consults + one personalized meal plan:
Average price: $250
High end: $550
Over the last year, we have seen a large increase in health professionals offering client packages instead of one-off consults. These packages are a great way to encourage a long-term relationship with clients.
The most common type of nutrition package offered was an initial consult, three follow-up consults, and one personalized meal plan. A longer package like a six-month package was priced on average at $1,040 and on the higher end at $6,500.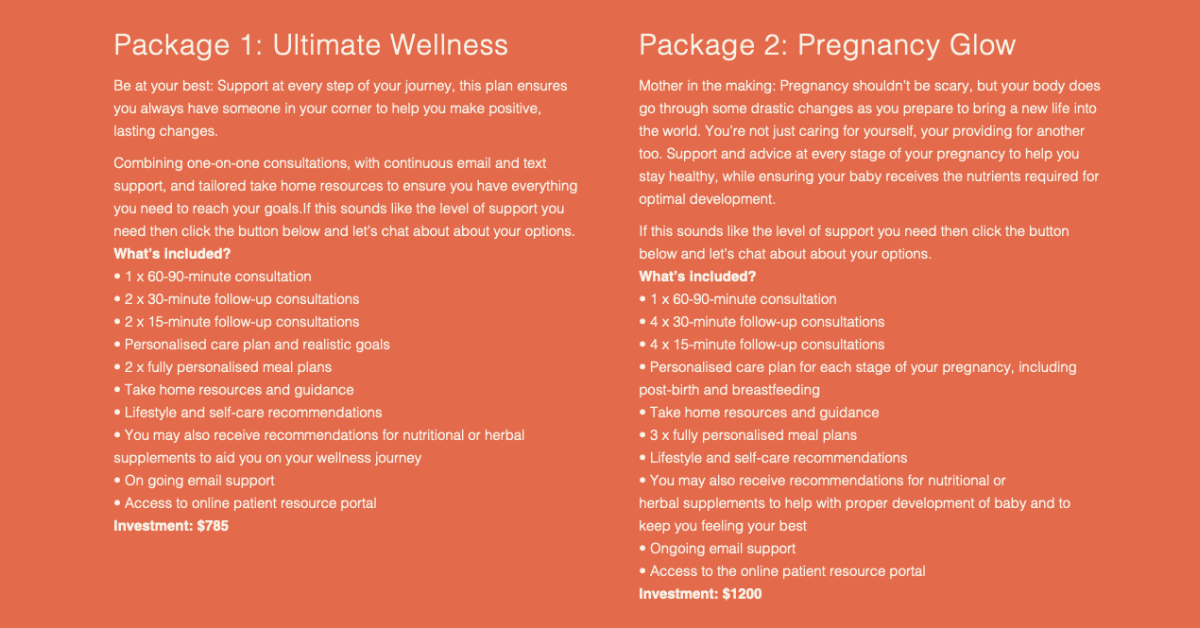 Group Nutrition Programs
Six-Week Program:
Average price: $500
High end: $1,850
Twelve-Week Program:
Average price: $700
High end: $3,550
Offering a group program allows health professionals to work with multiple clients at once so they can help more people and boost their income without having to spend more time.
The length of group programs vary depending on the end goal for the client. The majority of group nutrition programs we analyzed were between six weeks to six months in length. Some programs offered lab testing for each participant, in which case the cost of the program was higher.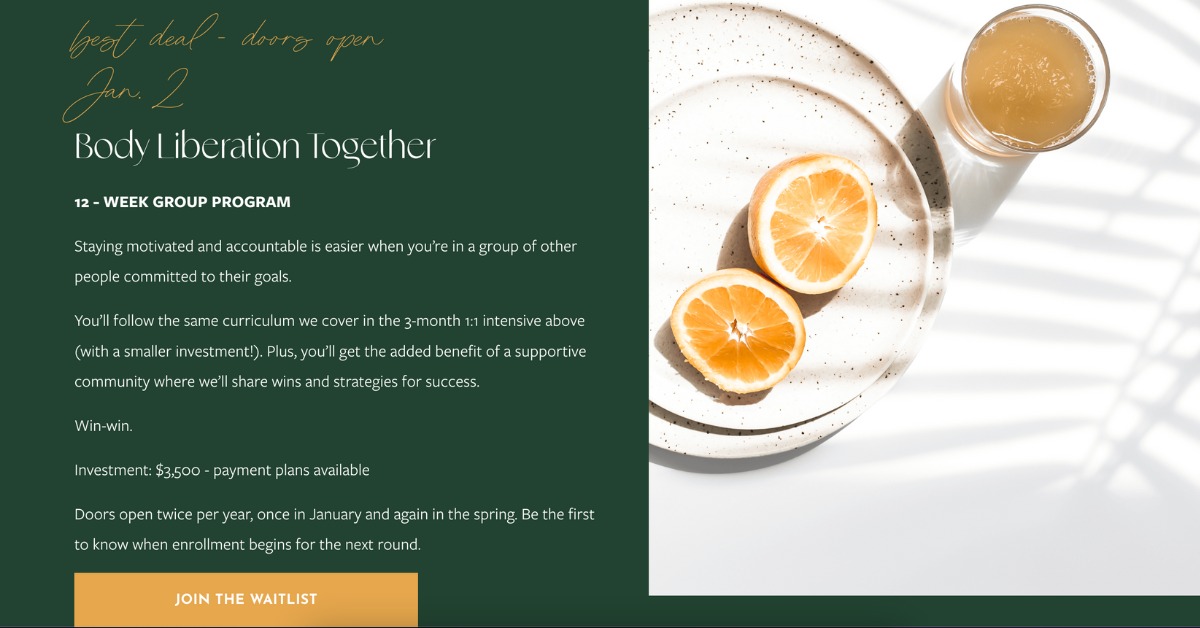 Meal Planning Subscription
One Year Subscription:
Average price: $200/year
High end: $600/year
A meal planning membership site gives clients access to ready-to-use meal plans and recipes. It allows past clients to continue working with the practitioner more informally. It is also a great, low-cost way for potential clients to get to know the practitioner. A one-year meal planning subscription was the most common offering we found in our analysis.
The price of the subscription varied depending on the number of meal plans clients would receive every month with their membership and other perks offered such as coaching calls, a private Facebook group, or at-home workouts.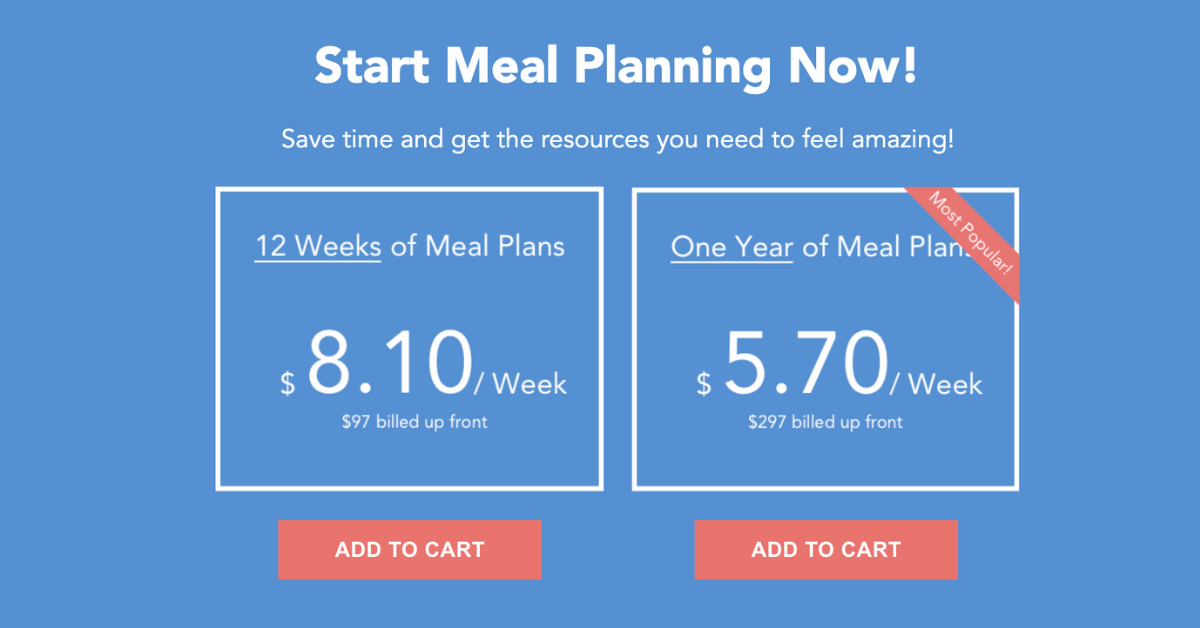 Add-On Services
Grocery store tour: $75 to $350
Pantry makeover: $50 to $220
Cooking class: $50 to $500
Workshop: $20 to $300
Webinar: $15 to $50
Offering services like grocery store tours, pantry makeovers, cooking classes, workshops, and webinars are a fun, interactive, and practical way to teach clients about nutrition at a lower cost. Webinars were often pre-recorded which automates the education piece and is something the practitioner can continue to sell repeatedly.
Digital Nutrition Resources
Meal Plan:
Average price: $35
High end: $110
Recipe Book:
Average price: $18
High end: $80
Digital nutrition resources available for instant download like recipe books and meal plans are a simple way to offer valuable resources to anyone who visits your website including current clients and potential clients. An important note is that these are not customized plans or recipe books. They are pre-made and all customers receive the same download. Most meal plans were seven, 14, or 28 days in length, and recipe books contained on average 20 to 50 recipes.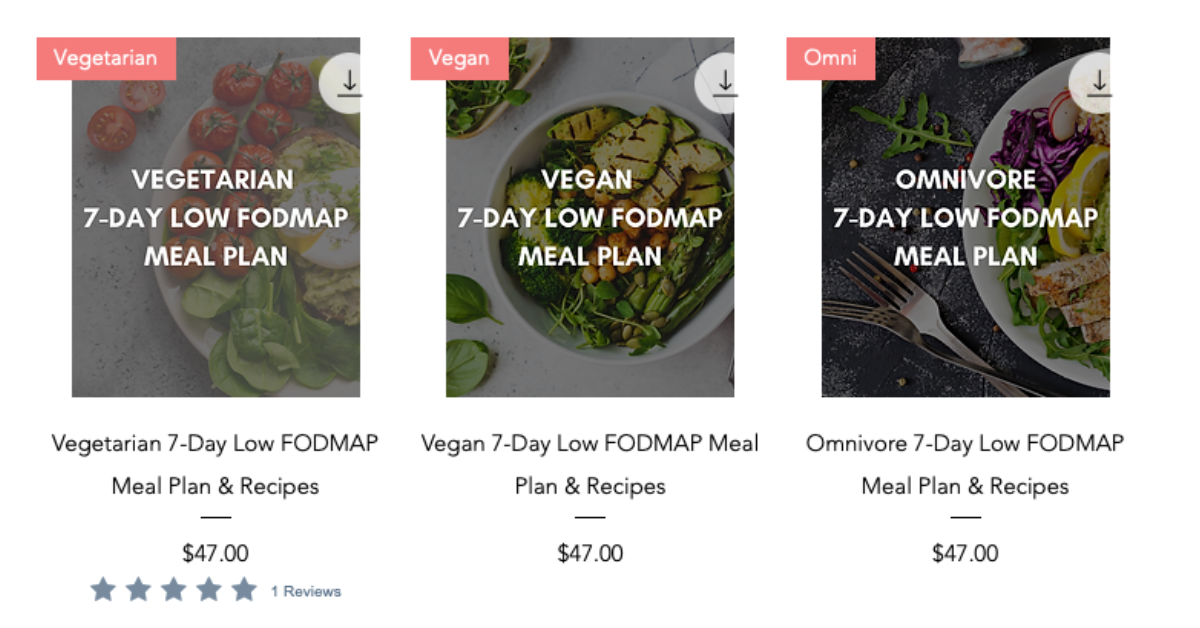 Online Nutrition Courses
Average price: $300
High end: $3,000
Over the past year, we have seen online nutrition courses become an even more popular service amongst nutrition professionals. An online course takes the information you would typically teach to a client in a one-on-one setting to an online course platform where clients can work through it at their own pace. The most common length for an online course is four weeks.
---
When you take the time to work out the numbers, you can present your pricing with confidence, knowing you are charging exactly what you are worth, and exactly what you need to thrive both personally and as a business.