Weight loss procedures can give clients a new start toward health and fitness, but a new way of eating can also seem overwhelming. That's where the support of a nutrition-focused team comes in.
To learn how a nutrition team helps bariatric clients in their weight loss journey, we chatted with Laura Sebring, MS, RD, LDN, Director of Health and Nutrition for True You Weight Loss, a medical practice that exclusively provides non-surgical weight loss procedures and support. Laura leads a team of seven Registered Dietitians including herself and two Health and Wellness Coaches who specialize in personalized planning on bariatrics and weight management.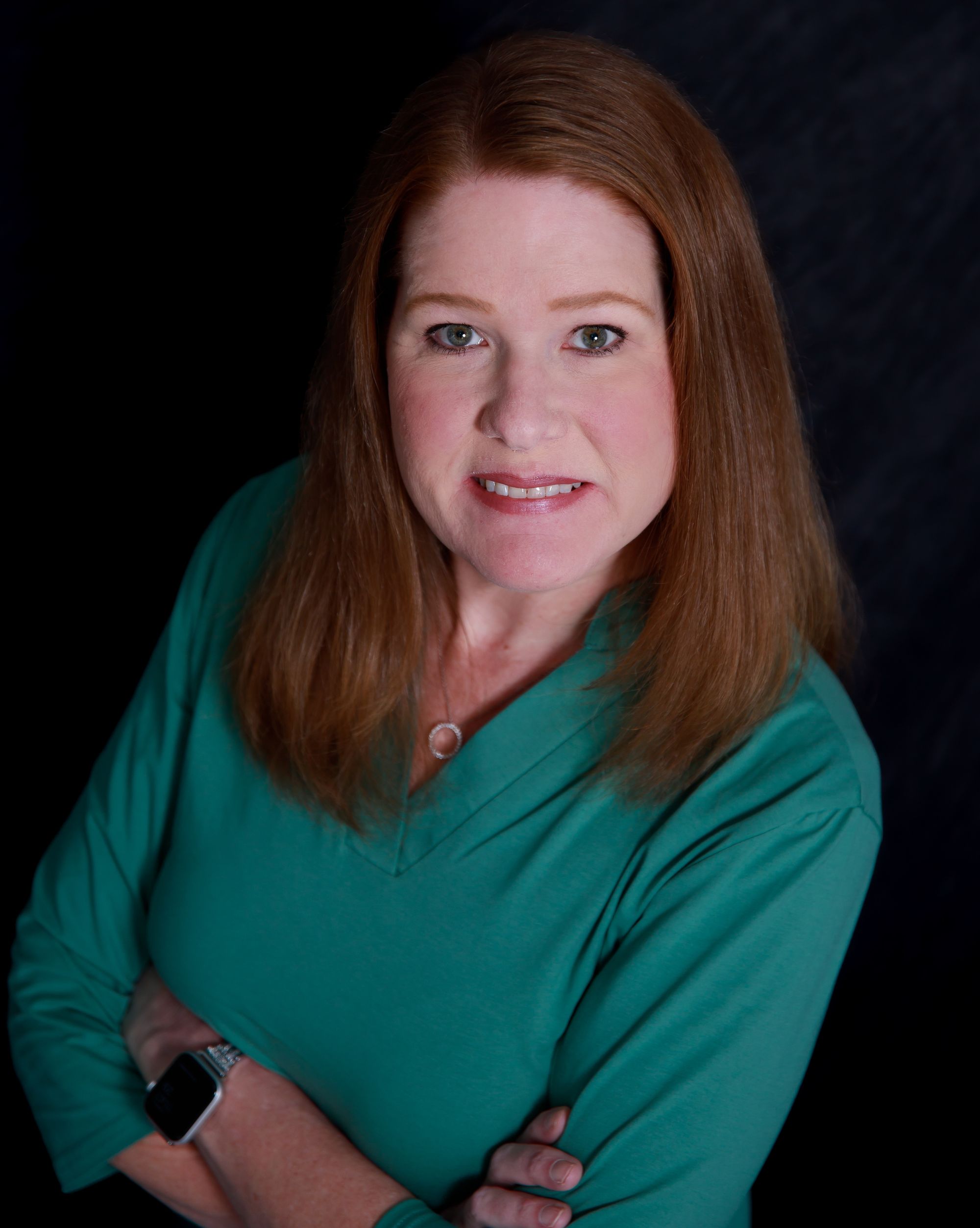 Personalized Nutrition is Key for Patients Undergoing Bariatric Procedures

Unlike traditional bariatric surgery, True You Weight Loss offers a comprehensive range of endobariatric procedures and support services to help patients lose weight. For each procedure and program, the nutrition support team is an integral part of the patient's journey providing medical nutrition therapy consults before, during, and after a procedure.
All procedures are performed endoscopically and without any incisions, including endoscopic sleeve gastroplasty (ESG), bariatric revisional procedures, and intragastric balloon placement. They also offer a comprehensive weight loss program using weight loss medications with a reduced-calorie diet.
Medical nutrition therapy functions as a series of steps guided by the Registered Dietitians and Health and Wellness Coaches. The team meets with the patient before their procedure and post-op. They specialize in providing personalized, evidence-based nutrition plans to help patients find food freedom, boost competency in the kitchen, eat healthier, and ultimately achieve their health and weight loss goals.
Finding the Right Meal Planning Tool

Before finding That Clean Life, the True You Weight Loss team created worksheets by hand to teach patients how much of each food group to eat daily. They found patients struggled to understand tracking combinations, shaping their plates around food groups, and would get bored with the food options.
"We were not able to truly form a meal plan. Nutrition education was somewhat basic, and we would have to dig for the evidence if it was not something we specialized in or were not that familiar with."
Using That Clean Life in Bariatric Nutrition Planning
The True You Weight Loss team looked for a meal planning tool that would help with nutrition education, inspire patients to eat healthy within their nutrition goals, and eventually teach them the skills to create their own plans. That Clean Life turned out to be the perfect fit.
Here's how the True You Weight Loss team uses That Clean Life through each step of the nutrition counseling process.
The initial assessment and developing a personalized plan.
During the initial session, a Dietitian evaluates the patient's diet and nutrition needs. From here, they develop a custom plan that is designed to complement any weight loss procedure performed by the bariatric physician.
"The new plan is tailored to what the patient needs based on their starting weight and any other health factors that may come into play. For example, someone with hypertension would have reduced sodium content. Beyond developing a nutrition diagnosis and customized plan, however, one of the main goals of the counseling services is to educate the patient on the need for the plan and the purpose of the various dietary recommendations."
Laura's team customizes the nutrition plan for each patient. They use the Mifflin-St Jeor Equation to estimate calorie needs and then calculate a calorie deficit along with the macronutrient breakout focused on higher protein, lower fat, and moderate carbohydrate needs. They take into consideration other health conditions and comorbidities such as kidney stones or elevated cholesterol.
"Calculating macronutrient needs depends on the person and their calorie goal. Per meal, I use That Clean Life's filters to look for recipes that are high in protein, moderate in total carbohydrate and low in fat using the sliders to choose the number of grams of each micronutrient. I will then divide the recipe serving into two portions as patients tend to eat smaller meals."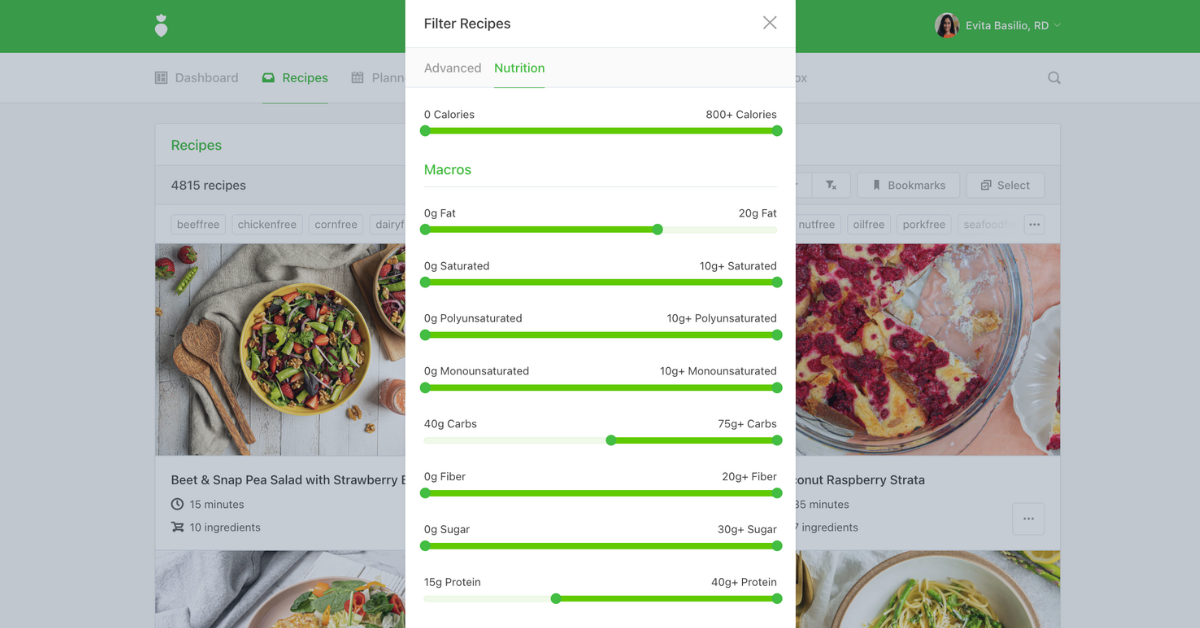 Laura educates her patients on what the nutrition goals look like in food groups and then moves on to providing recipe collections.
"I put together recipe booklets and often modify the recipes to adjust portion sizes for these patients or tell them to have half a serving. I have recipe books for diet progression and love that I can create booklets for specific needs like vegan liquids."
Follow-ups with diet progression.
After the initial nutrition intervention session, the Dietitian will schedule a series of follow-up appointments to check in and track progress. Every procedure has a different nutrition plan and goals. For example, after an endoscopic sleeve gastroplasty, Laura's team guides the patient through a diet progression that starts with clear liquids, moves onto full liquids, followed by purees, soft foods, and eventually back to regular texture foods.
Laura finds that her patients are able to enjoy a lot more food freedom when provided with options for their diet progression:
"Traditional bariatric practices often prescribe protein shakes during the liquid phase of the diet progression, which can frustrate the patient. Using That Clean Life, I can use the pureed, soup or smoothie tags and provide recipes for high-protein liquid options. If someone is busy or if someone is traveling, and they don't know what to do, I can quickly create a booklet to meet their needs and empower them."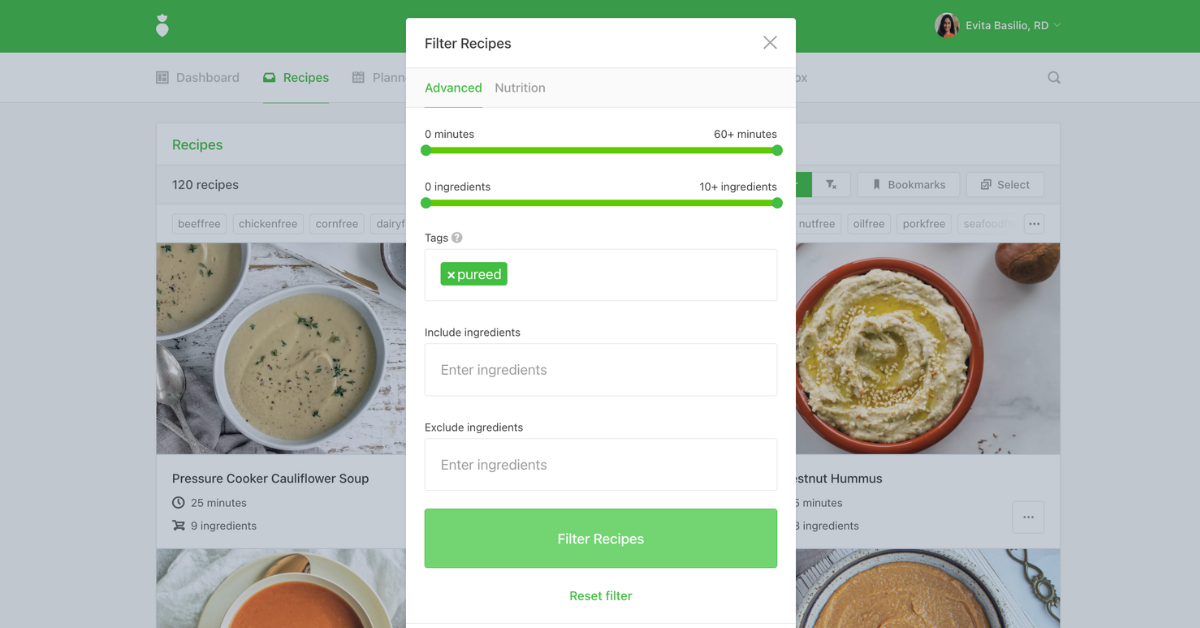 Laura says she typically sees patients monthly for twelve months post-procedure but can see them for several years after. The patient has unlimited access to the nutrition team via email and can continue to follow up after the twelve-month period which she finds improves patient outcomes.
"I have patients from three years ago that check in every eight weeks. The studies show that frequent follow-ups lead to the more successful general maintenance of weight loss."
Creating meal plans, faster.

After a patient becomes familiar with using recipe books, the team creates a meal plan to provide additional support. They use That Clean Life's Automator feature which autogenerates a plan based on Rules inputted such as calories (1200 - 5000), macronutrients (fat, carbs, protein), number of meals, tags for diet texture, cultural and dietary needs, and ingredient exclusions for allergies and intolerances.
The percentage of macronutrients needed varies per person, based on weight and other factors. Laura typically starts by recommending that her patients follow a regimen of 30% protein, 40% carbs, and 30% fat. Since bariatric patients typically eat lower-calorie diets and eat five to six meals per day, the Dietitians then adjust the portion sizes once the plan is generated.
"If a procedure patient needs more support, that's when the meal plan comes in. With the 1200 calorie limit in the Automator, I can just go in and adjust portion sizes because most of my patients can't eat a whole serving. We have various cultural needs, preferences, and allergies that we can input. I love that I can create an '1100 calorie vegan rheumatoid arthritis diet' in a couple of clicks or if a client has kidney stones, I can add the low oxalate tag."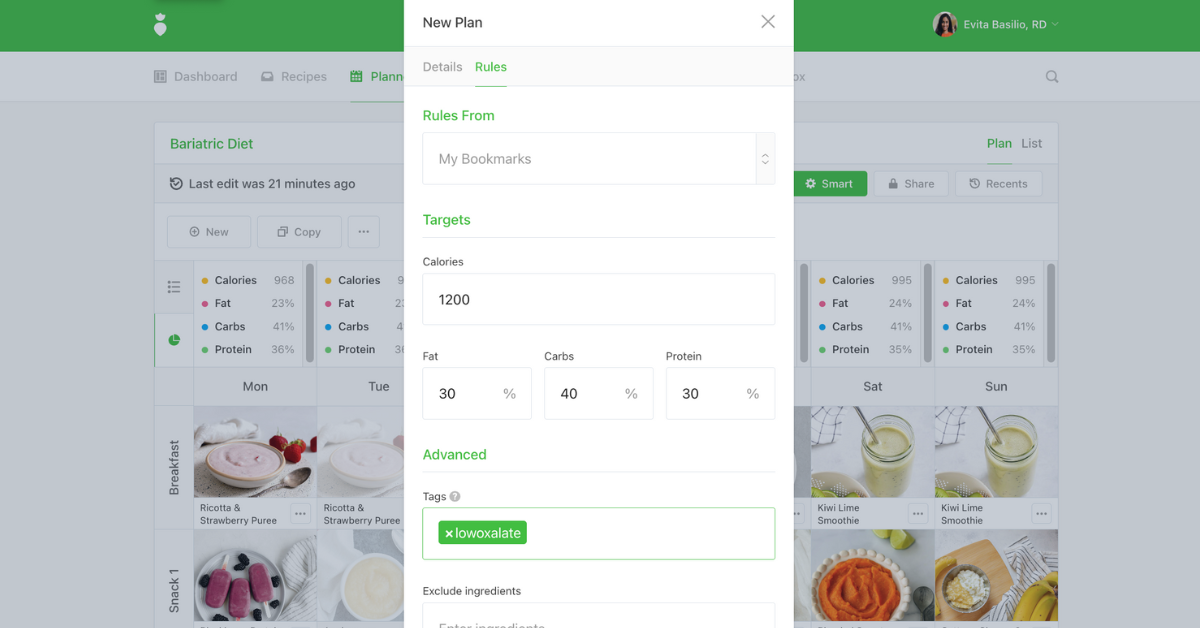 The team says That Clean Life helps them generate creative meal plans that are within nutrition recommendations. Their patients feel inspired by the recipe choices and the plans add more structure for those who need it.
Recipe and plan customization.

Laura and her team can fully modify That Clean Life recipes to meet certain nutritional needs which is often needed in bariatric planning.
"I like that I can adjust the recipes and add, for example, protein powder to them to increase the protein content. I'll take a soup recipe and add a scoop of protein powder in it or adjust the quantity of another ingredient which is really neat."
Evidence-based nutrition guidance.

The team provides evidence-based care and depending on the patient's literacy level, they will often attach That Clean Life's Template Evidence when sharing a meal plan with a client. That Clean Life provides all the related evidence for each of our Templates based on the latest research, protocols, and plan composition.
"I had a patient with PCOS which often goes hand-in-hand with obesity. I checked out the articles in the PCOS Diet Template and it was so helpful to have access to that information. It fits within our philosophy of giving a meal plan backed by research. Using the evidence guide, we can provide more information about why we are asking a patient to eat a certain way or why a recipe is better for them."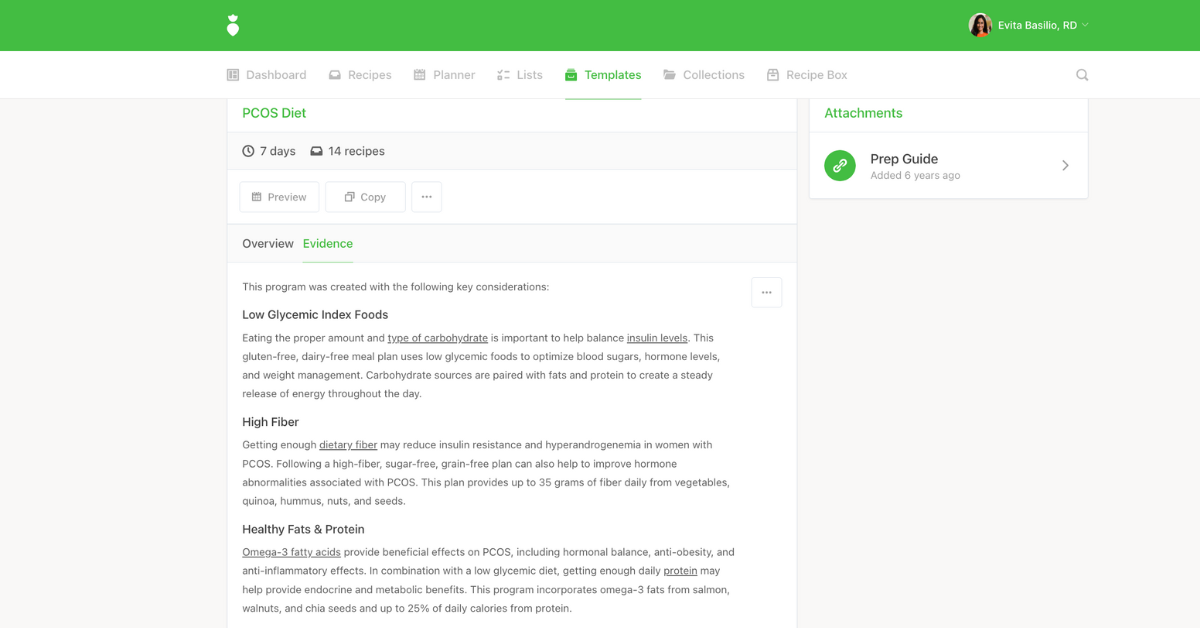 Teaching clients how to do their own meal planning.
For the True You Weight Loss team, meal planning sustainability is important. The end goal is for patients to build the skills to do their own meal planning using a blank planner and recipes.
Tip: Read How to Teach Your Clients to Create Their Own Meal Plans
Since patients have unlimited email access to the nutrition support team, they regularly check in about adjusting their meal plans and learn to gradually adopt new habits. Typically the patient needs a recipe alternative or idea that Laura can quickly look for using That Clean Life.
"A patient will find that a protein shake is giving them bowel issues, so I'll do a quick search for a high protein, lactose-free smoothie, find the perfect recipe, and send it to them. It's not a typical bariatric program where patients have to go five weeks eating the same meals. They can email us for recipe swap ideas and we quickly get back to them."
As the patient adjusts to their new way of eating and receives regular guidance, they build a bank of recipes from That Clean Life and eventually get to a point where they are comfortable creating their own plans. Patients learn how to make recipe choices and swaps and adjust serving sizes to meet their needs.
"In the beginning, they feel very out of control and we use techniques like motivational interviewing and counseling to empower them to take control over food and achieve these outcomes on their own. A meal plan helps give the patient structure and then they eventually learn how to do it themselves and relax around food."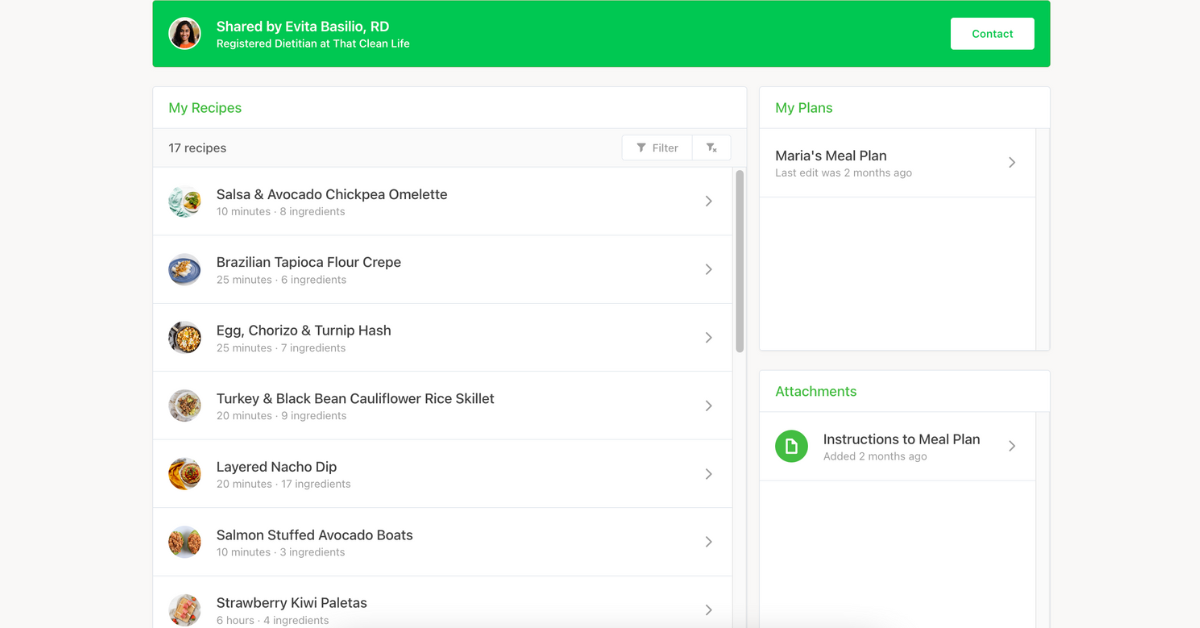 How the True You Weight Loss Team Collaborates on Nutrition Plans
The True You Weight Loss nutrition team consists of Licensed Dietitians and Board Certified Health and Wellness Coaches. Each team member has their strengths and the two professions complement each other to provide excellent patient care and custom plans and improve patient outcomes.
"The Dietitians are the experts in food and nutrition. The Board Certified Health and Wellness Coaches are motivational interviewing gurus. The coaches assist patients with the emotional aspects, relationship with food, body image, breathwork for stress, and work with the Dietitians on the nutrition counseling piece. They're the bridge between nutrition and mental health professional."
Sharing plans and collections.

Each team member utilizes That Clean Life to create meal plans, recipe collections, and individual recipes for their patients. They share these plans and collections with each other creating a collaborative practice.
"We each make different health and diet progression sample menus and recipe books and we can then share these within the team and collaborate."
Due to licensing laws, patient meal plans need to be approved by a Dietitian. Coaches can easily share their meal plans with a Dietitian on the team by using That Clean Life's Import feature. This allows the coach to share the plan with the Dietitian so they can import it into their own account for review and then sign off on it.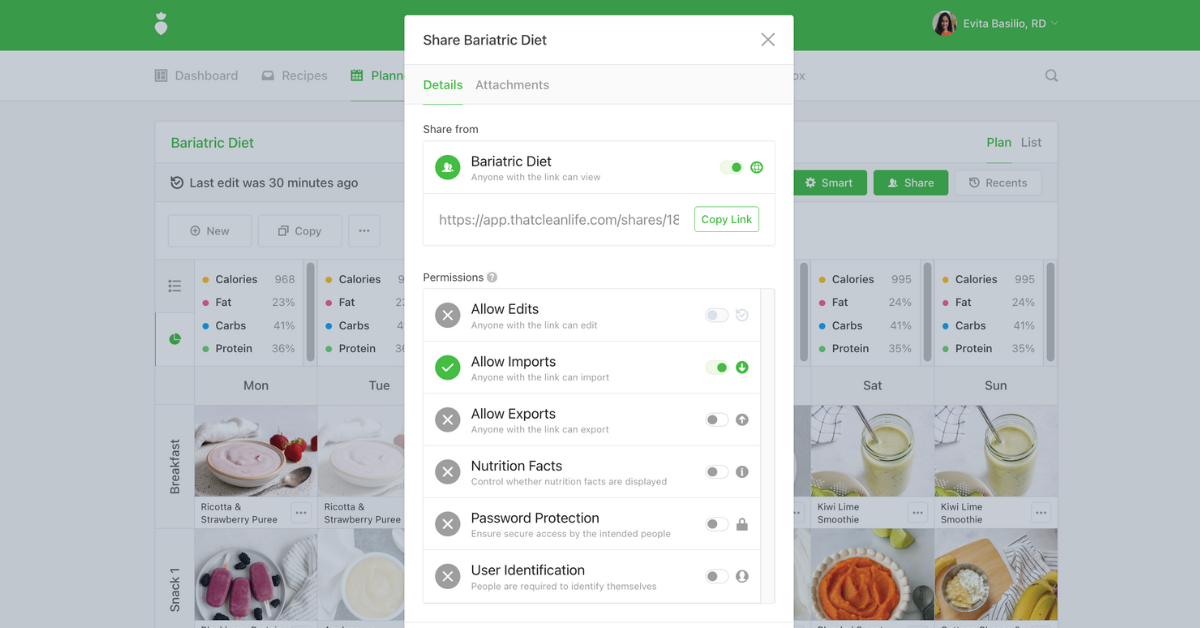 Saving time with done-for-you content.
Airdrops are member-exclusive drops of That Clean Life's latest nutrition resources. The True You Weight Loss team works together to use these with patients, such as creating a Ramadan recipe roundup or a feature for smoothies on St. Patrick's Day.
"Among the team, we like to share both collections and meal plans that we have developed and get very excited about the Airdrops! We can easily modify the recipes in an Airdrop to make them bariatric-friendly and send these to clients. We want to do some diversity, equity, and inclusion work in our practice, and with That Clean Life we have all these different cultural options making it inclusive and easier to accomplish."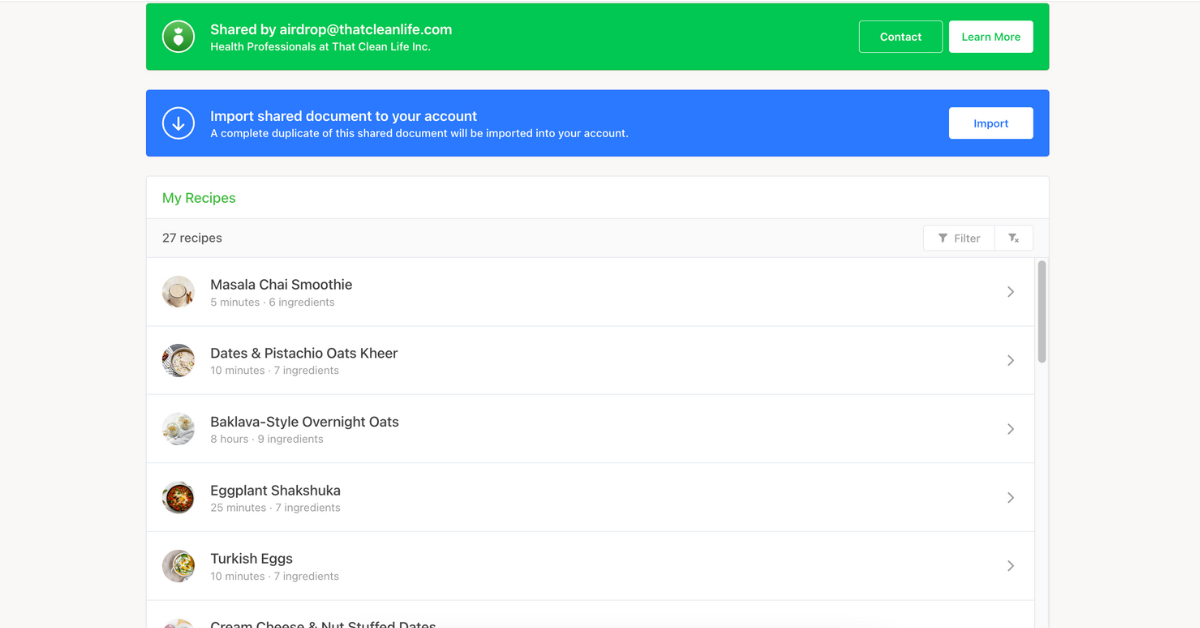 How Using That Clean Life has Increased Client Success

Providing a nutrition prescription and resources like recipes and meal plans helps patients maintain their weight loss targets after their bariatric procedure. Laura noted several other benefits of implementing meal planning skills.
Increased fruit and vegetable intake.
Laura has found that many patients don't know how to cook and incorporate certain foods like produce into their diet. With That Clean Life's easy recipes, Laura is able to make her patients a recipe booklet of options like fruit-based snacks, salads, and vegetable sides to increase fruit and vegetable intake.
"Someone might not know how to cook carrots or steam spinach. By adding in these simple recipes, we've increased fruit and vegetable intake."
Improved cooking skills and confidence in the kitchen.
As the patients learn more about food and nutrition and test out new recipes, they improve their cooking skills and confidence in the kitchen. They learn how to use the autogenerated grocery list to shop and meal prep ahead. They also learn about portion control and replace foods with low nutrition density with more nutritious foods.
"They're cooking more using these recipes, learning their way around the kitchen, they're saving money, they're eating better and they're happier."
Increased nutrition knowledge.
Providing evidence for a meal plan helps patients understand why certain foods or key nutrients are included in their plan.
The team also loves that all of That Clean Life's meal plans and recipes include accurate nutrition analysis as patients become aware of the calories and macronutrient breakout for different types of foods. This nutrition knowledge helps patients create their own plans.
"Having a meal plan, patients can see where their nutrients are coming from. That way, they tend to make healthier choices on their own. They learn from the meal plans and recipe booklets we make and eventually make their own meal plans from the recipes they've been provided."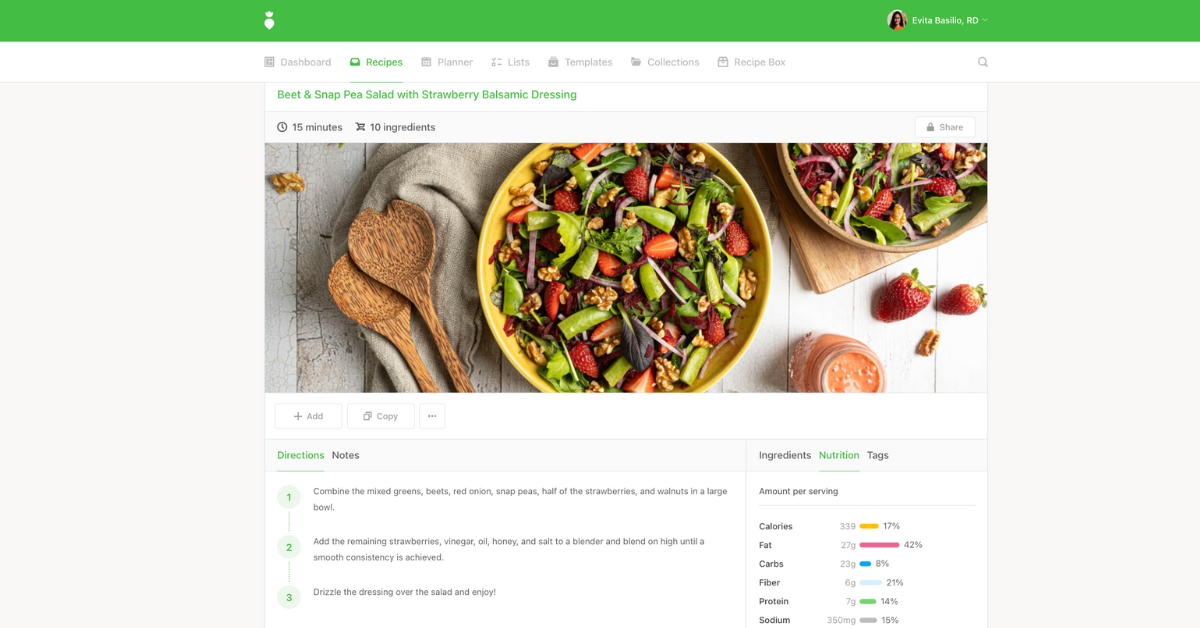 ---
A weight loss journey can be a challenging experience making it difficult to stick with. Working with a supportive nutrition team of Dietitians and Coaches who have the right tools to provide personalized plans empowers patients to eat healthier, reduce stress, achieve their medical goals, improve outcomes, and enhance their lifestyle.
To learn more about True You Weight Loss, check out their website or follow them on Facebook.