The benefits of having multiple revenue streams built into your nutrition business are endless. It creates a financial safety net, prevents burnout, and provides more options for clients to work with you. All of these things will ultimately help you grow your nutrition business.
We met with three successful practitioners to learn how they have used multiple revenue streams to grow their nutrition businesses. These practitioners demonstrate how to expand the revenue streams in your nutrition business, increase your income and scale your practice.
Mandy King
Registered Holistic Nutritionist, Mandy King is the founder of Healthy Eating and Living (HEAL) which caters to individual and corporate clients through one-on-one services and group wellness programs.
In her first year of practice, Mandy offered just one service and that was one-on-one coaching. Eventually, she turned her one-on-one coaching programs into group offerings. She also added a weekly meal planning subscription service and corporate wellness challenge which are now her two most successful revenue streams. Mandy focused on one service at a time and built her revenue streams out over time.
"What you want to do is get really good at one thing first. As you're doing one service, you learn about the struggles that your clients are experiencing which will give you more ideas. Understand your client really well and then you're able to add on other offerings."
Mandy finds that a major benefit to having multiple revenue streams is having the option to pivot her focus to a particular service depending on the economic climate and client needs.
"When the pandemic hit and companies wanted to connect more with their employees virtually, the corporate stream was boosted. And down the road, if companies decide to scale back on wellness offerings, I can increase my one-on-one coaching availability."
Let's explore the revenue streams Mandy has incorporated into her business and how she has used That Clean Life to bring them to life.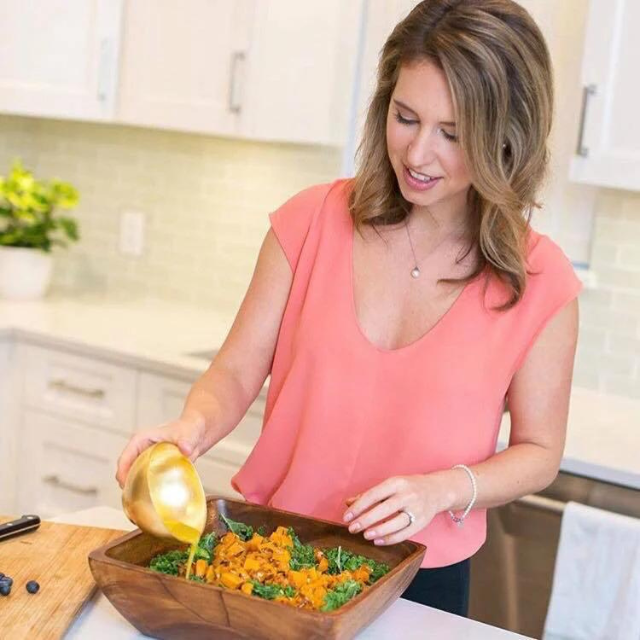 One-on-one coaching
In her customized nutrition coaching, Mandy and her team deliver customized support either in person or virtually. This allows them to take clients from all over the world. Their one-on-one coaching services include custom meal plans or recipes created through That Clean Life. Clients who request this service typically have a health goal or medical condition requiring more in-depth counseling.
Weekly meal planning subscription service
The HEAL weekly meal planning program offers a 12-week or one-year option where clients get meal plans with a grocery list sent to them once a week. Mandy uses That Clean Life to create the plans and then schedules the emails to go out weekly.
A meal planning membership service is a great way to generate recurring revenue. It can be offered as a stand-alone service and also gives clients a way to continue working with you after they graduate from your one-on-one programs.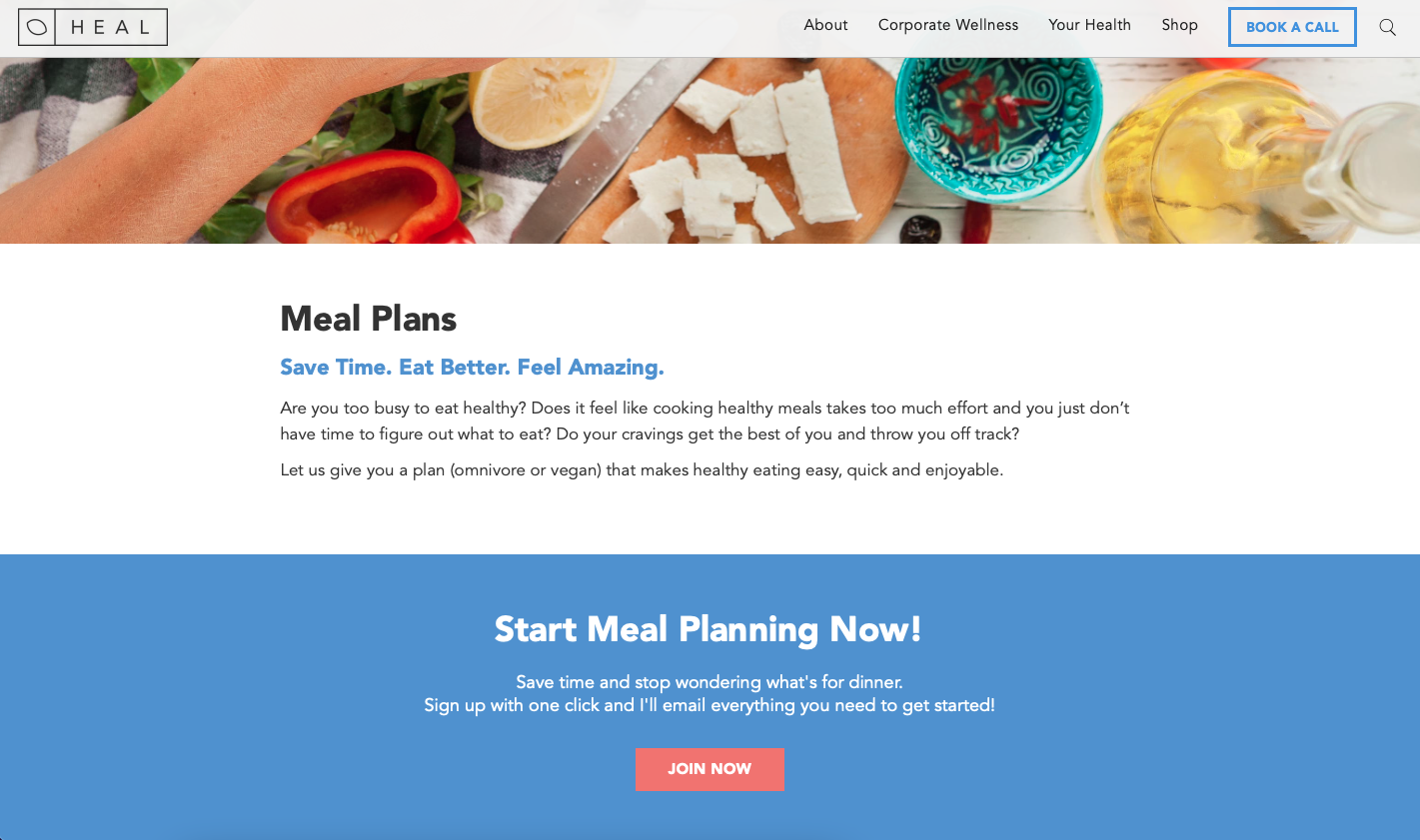 Corporate wellness programming
HEAL's corporate wellness services bring in over 80% of its total revenue. This stream includes a wellness challenge that covers nutrition, movement and mental health where each participant gets a weekly meal plan created through That Clean Life.
Sometimes Mandy and her team will work with the corporation to offer a more specific challenge such as a "Heart Health" challenge where they share meal plans designed to support heart health.
Tip: Save time when creating specialized meal plans by using That Clean Life's ready-to-use templates. Each template includes a done-for-you meal plan, itemized grocery list, delicious recipes, a prep guide to keep clients organized, and supporting evidence that explains key nutrients.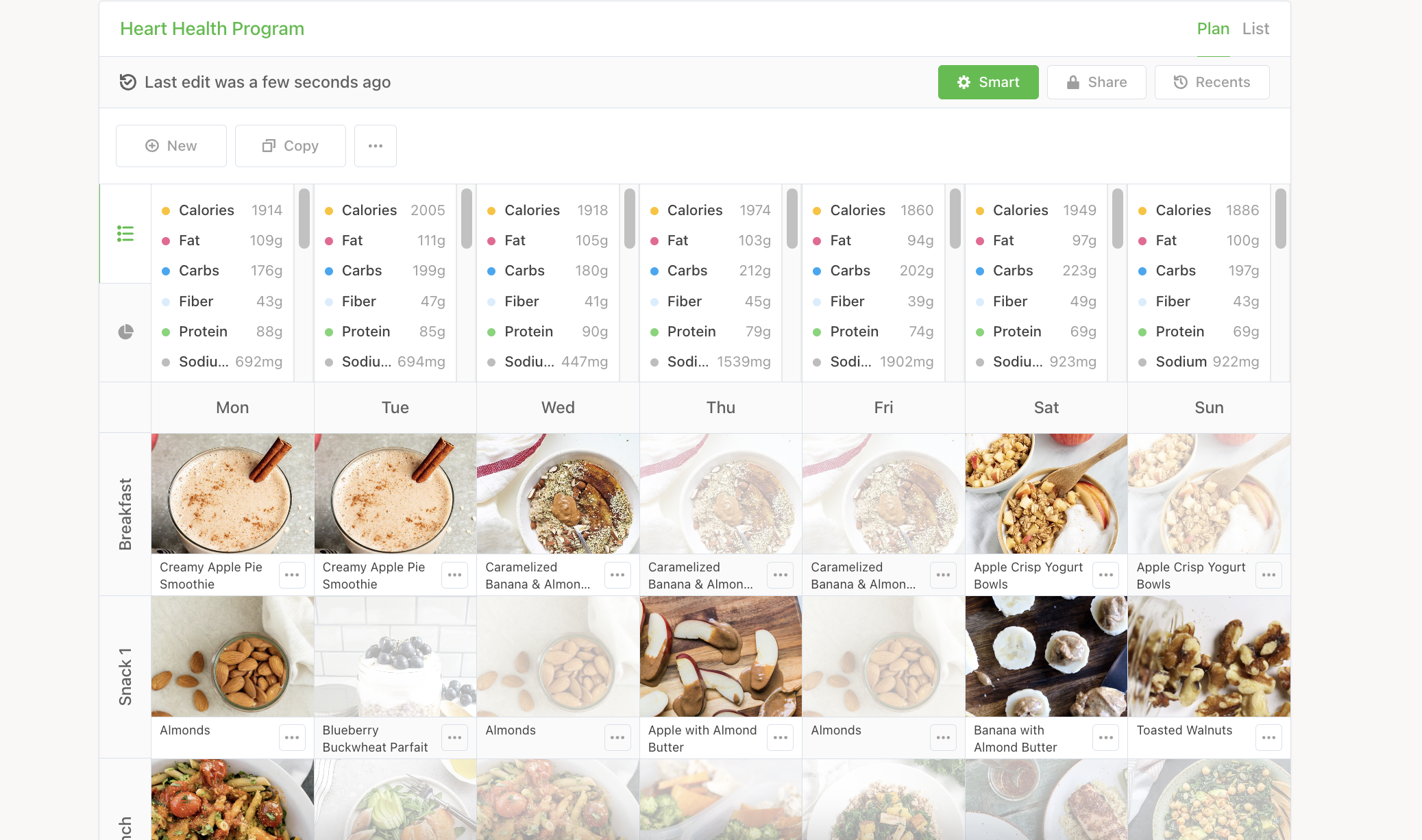 Digital downloads
Mandy's next revenue stream is offering instantly downloadable meal plans and recipe books on her website's "shop" section. Mandy noted that these resources need to be actively promoted in order to generate sales.
Mandy also uses the "shop" section on her site to direct potential clients to the weekly meal planning subscription or her custom meal planning options in case the non-customized meal plans and recipe books don't meet the person's needs.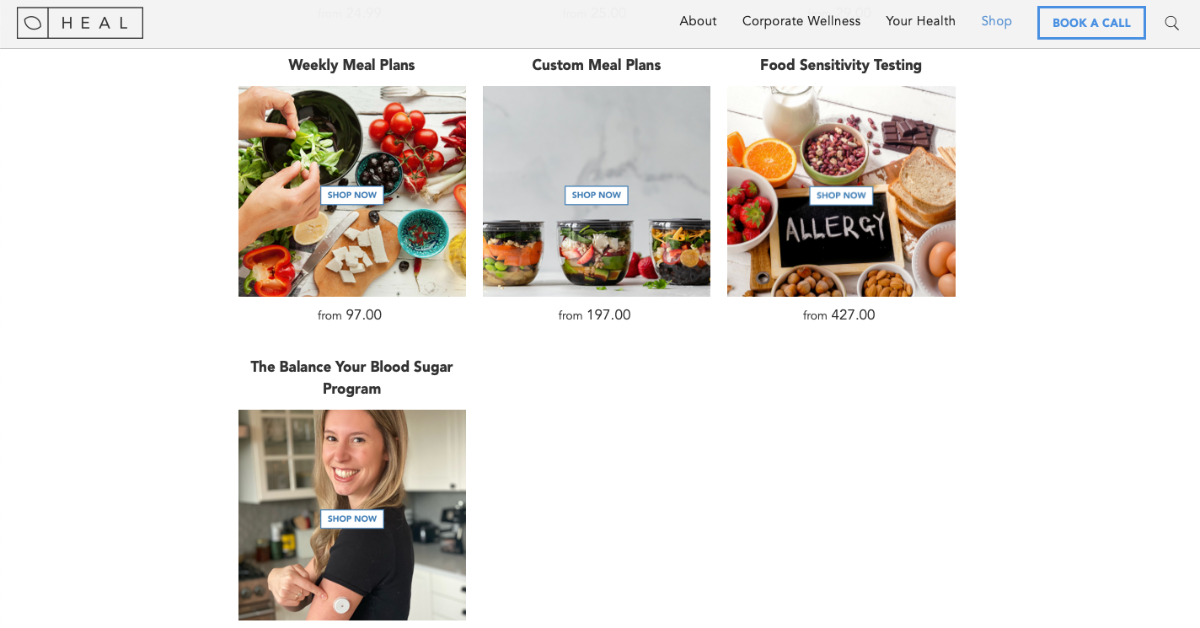 Prab Kaur
Plant-Based Registered Dietitian, Prab Kaur owns her dietetic practice NutriKaur which offers various types of services to appeal to different learning styles and budgets.
Prab says she has a more introverted personality and has intentionally chosen revenue streams that take this into consideration. She offers services like an online course, digital downloads and meal planning bundles, which provide a break from virtual counseling and reduces burnout.
One-on-one coaching packages
Instead of offering individual sessions, Prab has different coaching packages based on the client's health goals, level of support needed, and budget or how much their insurance might cover. Prab chose to offer packages to set the precedent that in order to create sustainable health changes and see results, her clients need to commit to a longer timeframe.
Prab also offers add-on services with her one-on-one coaching packages such as an additional customized 7-day meal plan, which she uses That Clean Life to create.
Online nutrition course
Prab created an online nutrition course called Plant-Based Eating with Confidence as a way for clients to learn at their own pace. Prab understands that people have different learning styles and that not everyone wants to work with a practitioner one-on-one. Her online nutrition course provides not just an additional revenue stream, but also another way to meet clients where they're at.
One of the lessons in Prab's Plant-Based Eating with Confidence course is dedicated to teaching meal planning skills with meal plan templates.
Offering an online nutrition course is a great way to scale your nutrition business and reduce practitioner burnout. Nutrition courses allow you to take the information you would typically teach to a client in a one-on-one setting, record it and continue to sell over and over again.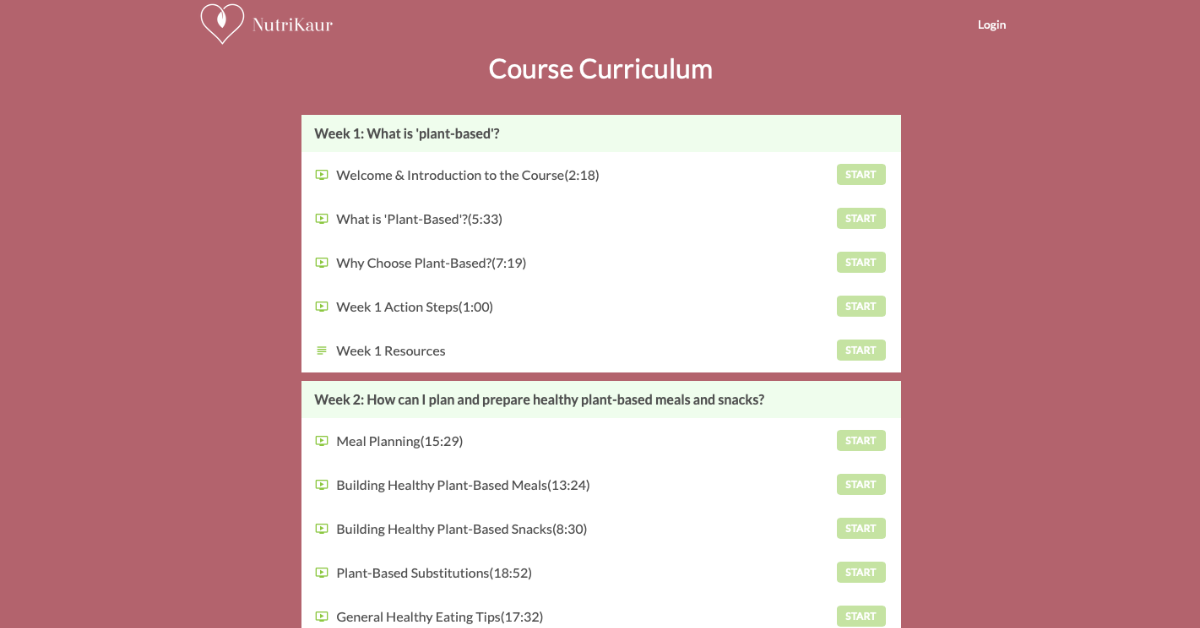 Corporate wellness and media
Prab's corporate packages include lunch and learns, workshops, and cooking classes. For her media services, she does blog content, social media posts and food photography.
Digital nutrition downloads
Prab has a "shop" section on her website which offers recipe books, meal plans, merchandise and a meal planning bundle. This allows Prab to offer resources to leads who might not be in the same location to access her services and start their plant-based journey. It also allows her to provide a lower-cost resource to help those who may not be ready to make a bigger financial commitment.
Because Prab uses That Clean Life, it is easy for her to create professionally branded meal plans and recipe books without having to spend a ton of time on them.
"Having access to That Clean Life makes it really easy and quick to create digital downloads like meal plans and recipe books. If I were to develop all the recipes on my own and professionally create the resources, I would never even see one book."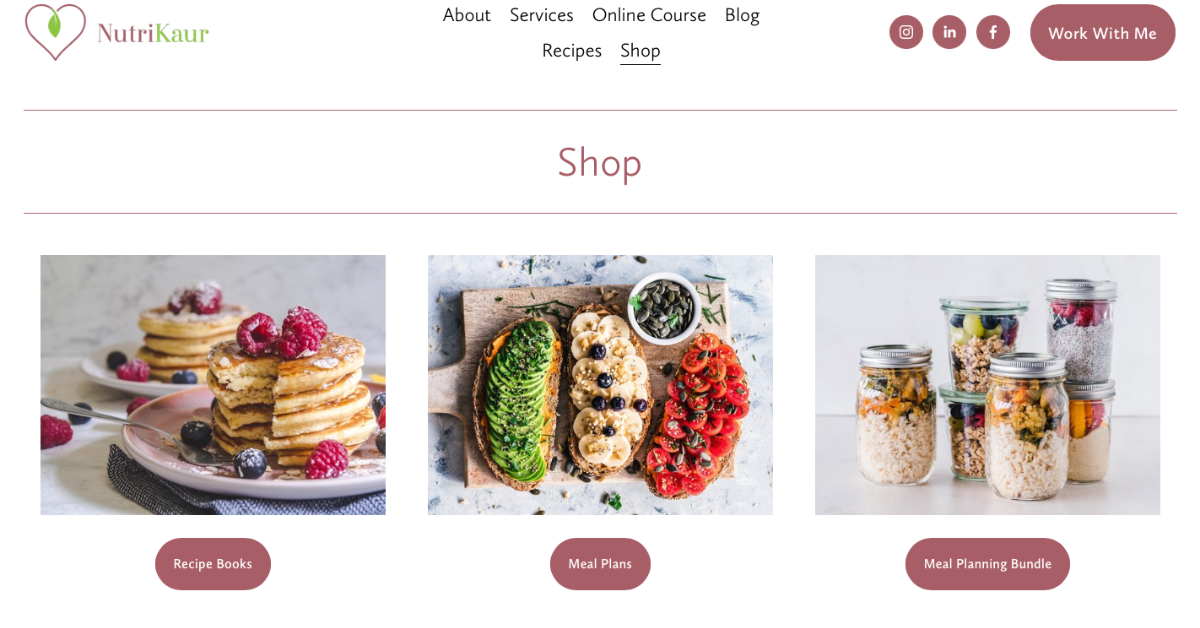 Wendy Hill
Naturopathic Nutritionist, Wendy Hill is a female hormone specialist and founder of Hill Start Nutrition. Wendy offers different levels of services and nutritional support to meet an ideal client's budget and preferred level of guidance including a membership service, a group program that she runs three times a year, and a one-on-one signature package which requires a minimum six-month commitment.
Wendy's ideal clients are experiencing symptoms in perimenopause. She has structured her services to offer various solutions to their nutrition challenges. Each service has varying commitments, prices and knowledge levels allowing clients to choose the option that works best for them.
Wendy's advice for creating multiple revenue streams is to work out what you enjoy doing the most and then find a way to package that up.
"It's easier to start by thinking about what you are good at, rather than what you 'think' you should be doing. Then work your programs and services around your genius – we all have one!"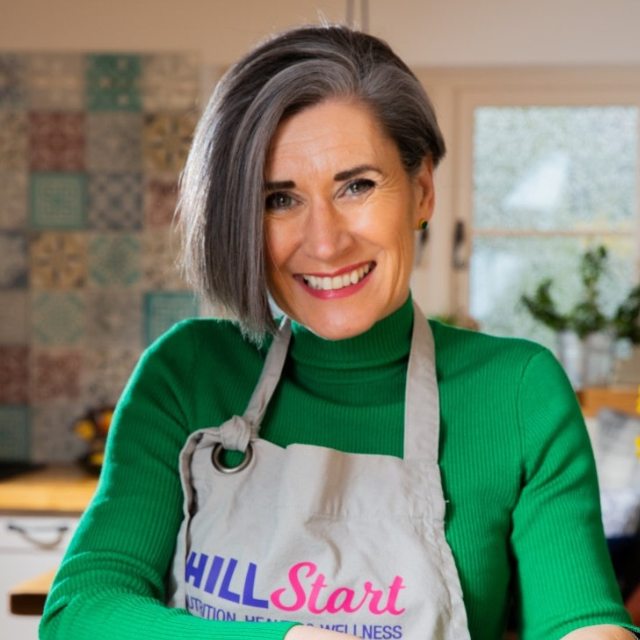 Membership subscription
Wendy's Fabulous and Female membership is a service for all women who feel they need support with balancing hormones, particularly through perimenopause and beyond. Members get access to a bank of recipes with new additions every month. There are bonus monthly challenges, live training sessions and cook-alongs with a new theme every month.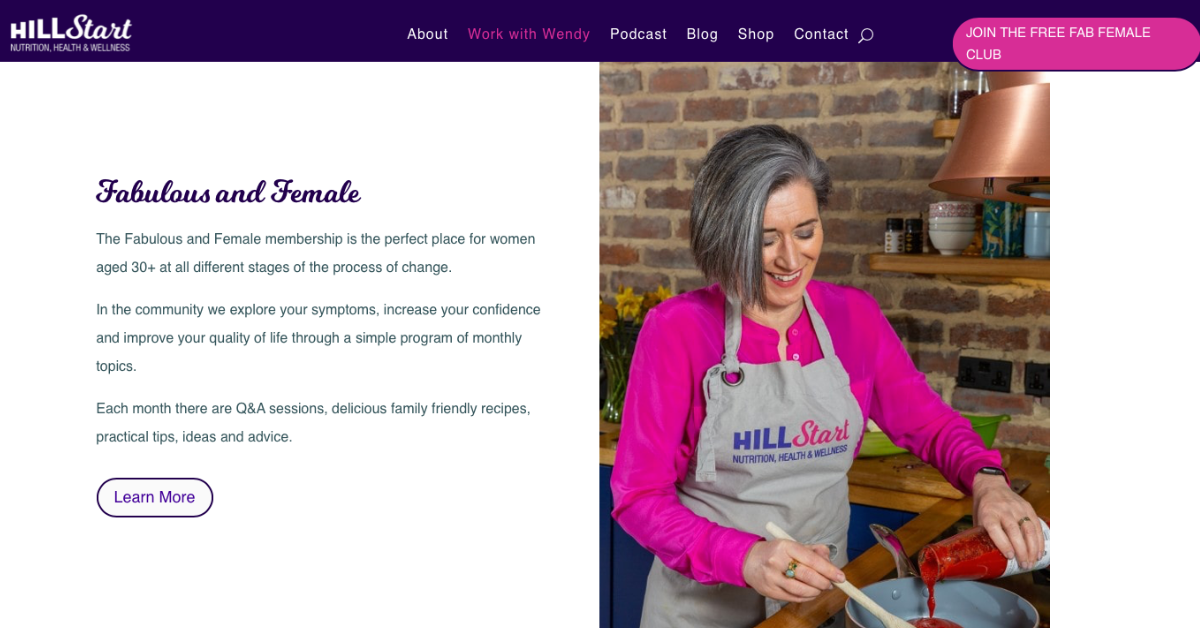 One-on-one signature package.
For Wendy's custom coaching, she bundles it as a package with a minimum six-month contract. The package offers personalized nutrition planning and clients also get free access to Wendy's Fabulous and Female membership.
Wendy offers intolerance testing, which allows her to provide more personalized nutrition guidance and customized meal plans. Clients love having a meal plan to follow that takes into consideration their test results.
Group program
Wendy's five-week Transformation Program gives members support and guidance along with meal plans, recipes and shopping lists for five weeks.
Workshops and retreats
Wendy also offers events including a Detox Retreat Day. Not only do retreats act as an additional revenue stream, but they are also a great way to bring her community together.
In an upcoming session, Wendy is partnering with a yoga instructor and will offer a delicious lunch demo serving recipes she's chosen from That Clean Life. She's able to export the recipes from That Clean Life with her own business branding so that participants can take them home.
---
Creating multiple revenue streams offers several benefits to your nutrition business and ultimately helps you grow and scale your expertise.
Start by offering one-on-one coaching services to first understand your ideal client and then continue to build your revenue streams based on your client's needs, business goals and what you enjoy doing.