Sure, Halloween is known for copious amounts of candy but we've put together such an awesome snack bar to share with your clients, they won't even miss it.
Here's how your clients can throw a ridiculously fun Halloween bash using super easy treats everyone can enjoy.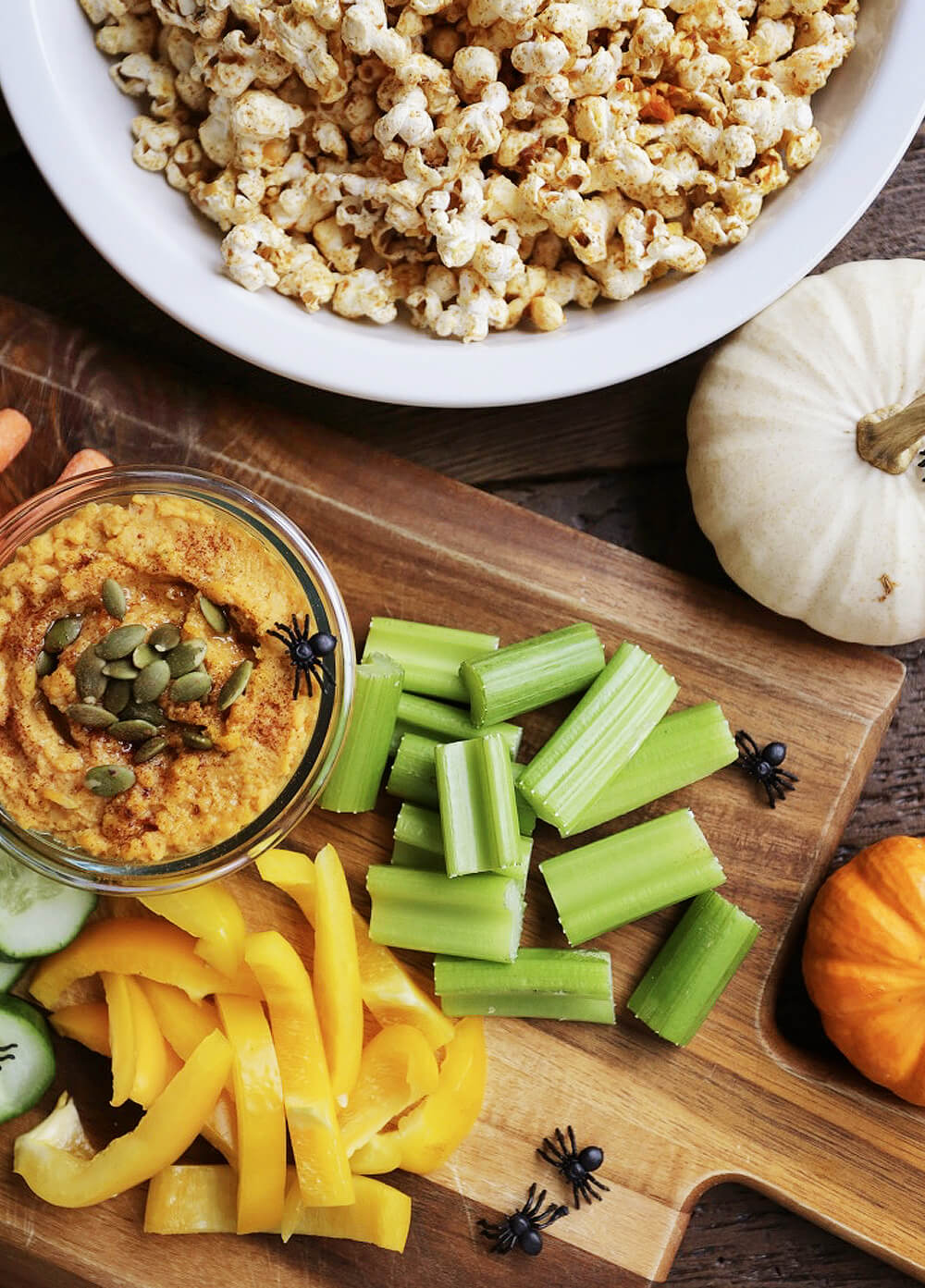 1. Shepherd's Pie Ghosts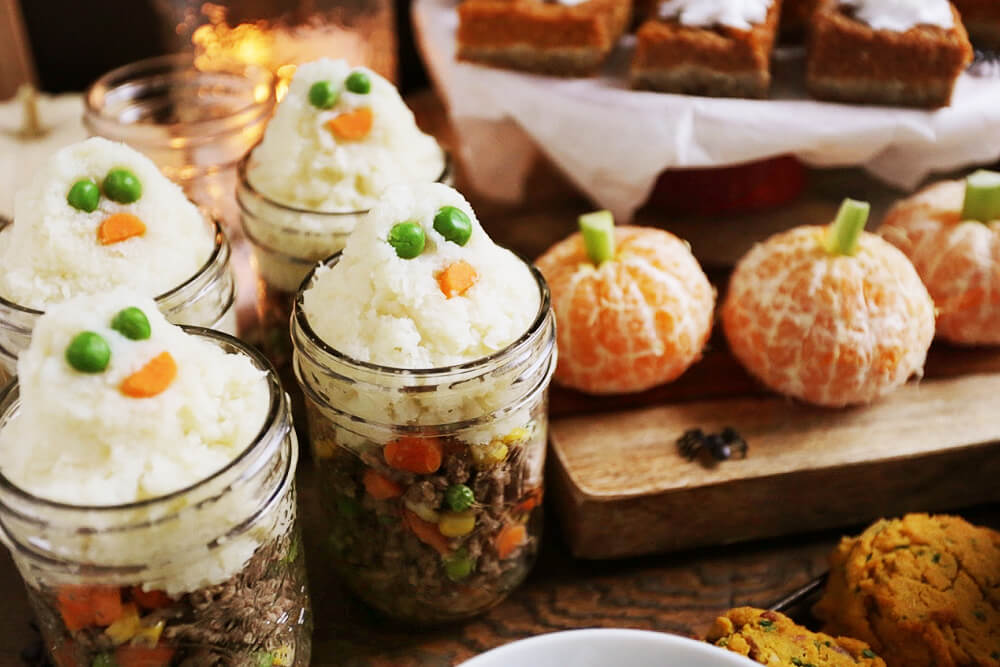 Click here to add this recipe to your client's meal plan.
We used our cleaned-up version of shepherd's pie and divided the recipe into single-serving 250ml mason jars. Instead of potatoes, steam and mash a head of cauliflower with almond milk and sea salt to taste. Mould the cauliflower mash into ghosts and create faces using peas and sliced carrots. You can also pop your shepherd's pie ghosts quickly in the microwave if they cool down before guests arrive.
2. Clementine and Celery Pumpkins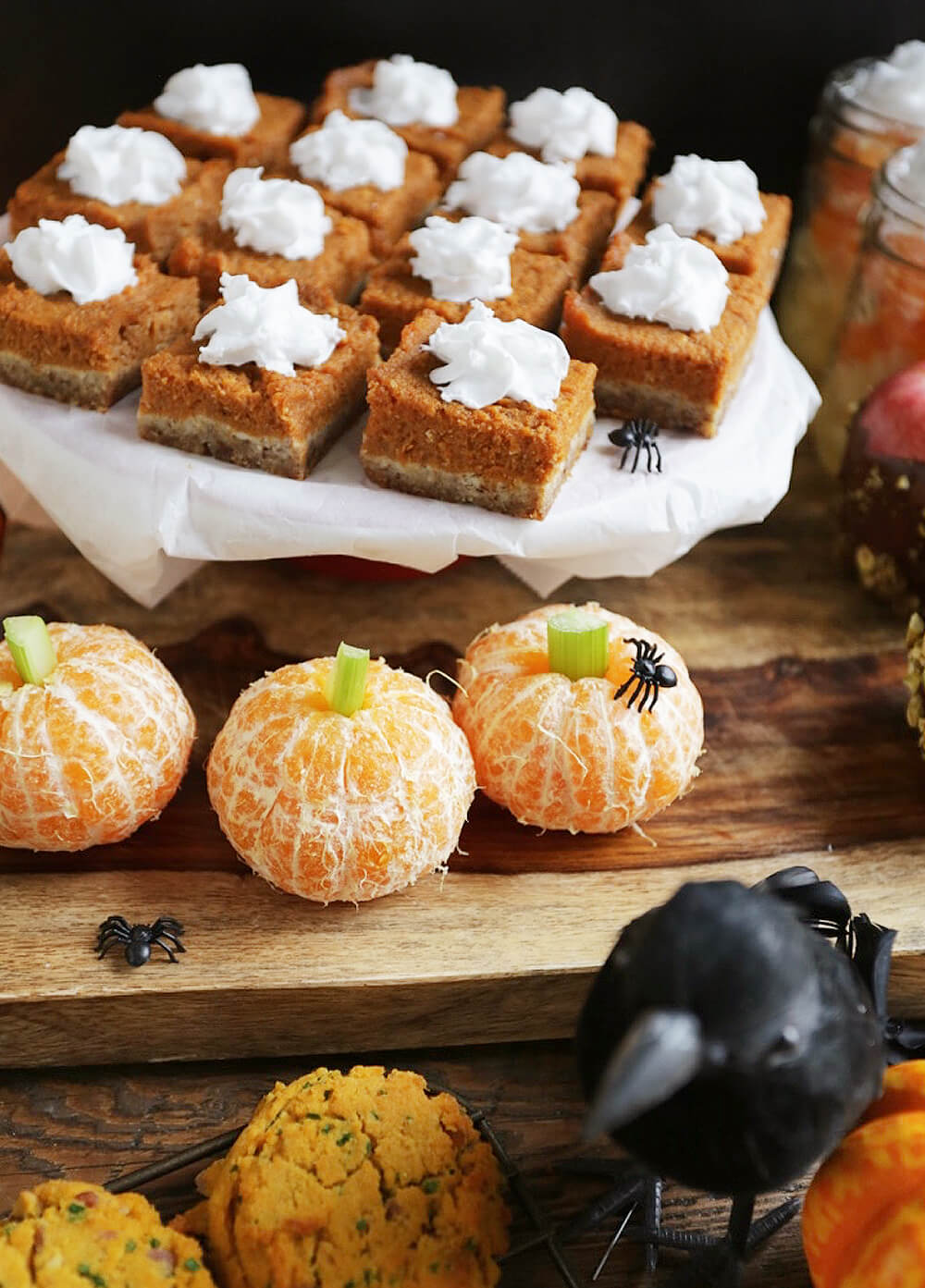 Clementines make the most perfect little pumpkins! Remove the peel and insert a celery stick for the pumpkin stem. Easy peasy.
3. Pumpkin Pie Squares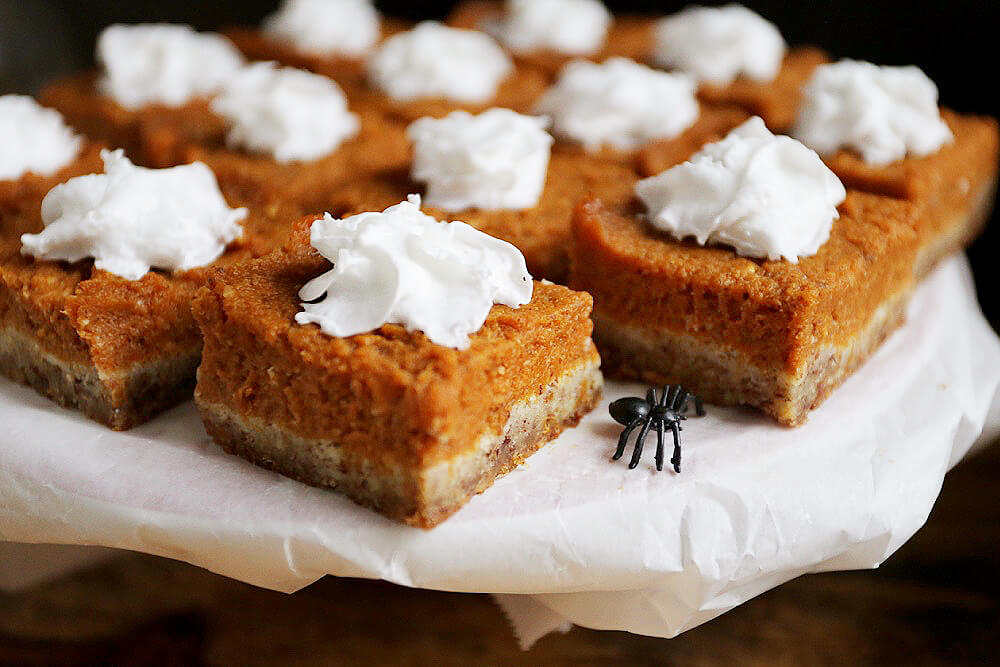 Click here to add this recipe to your client's meal plan.
To save time, we took our recipe for Pumpkin Pie Tarts and turned them into squares! Press the "pie crust" mixture into a parchment-lined pan and spread the pumpkin filling evenly. Bake according to instructions and refrigerate overnight. You can make this a few days ahead, keeping it sealed and stored in the fridge. Slice into squares and top with coconut whipped cream just before serving.
4. Candy Corn Fruit Cups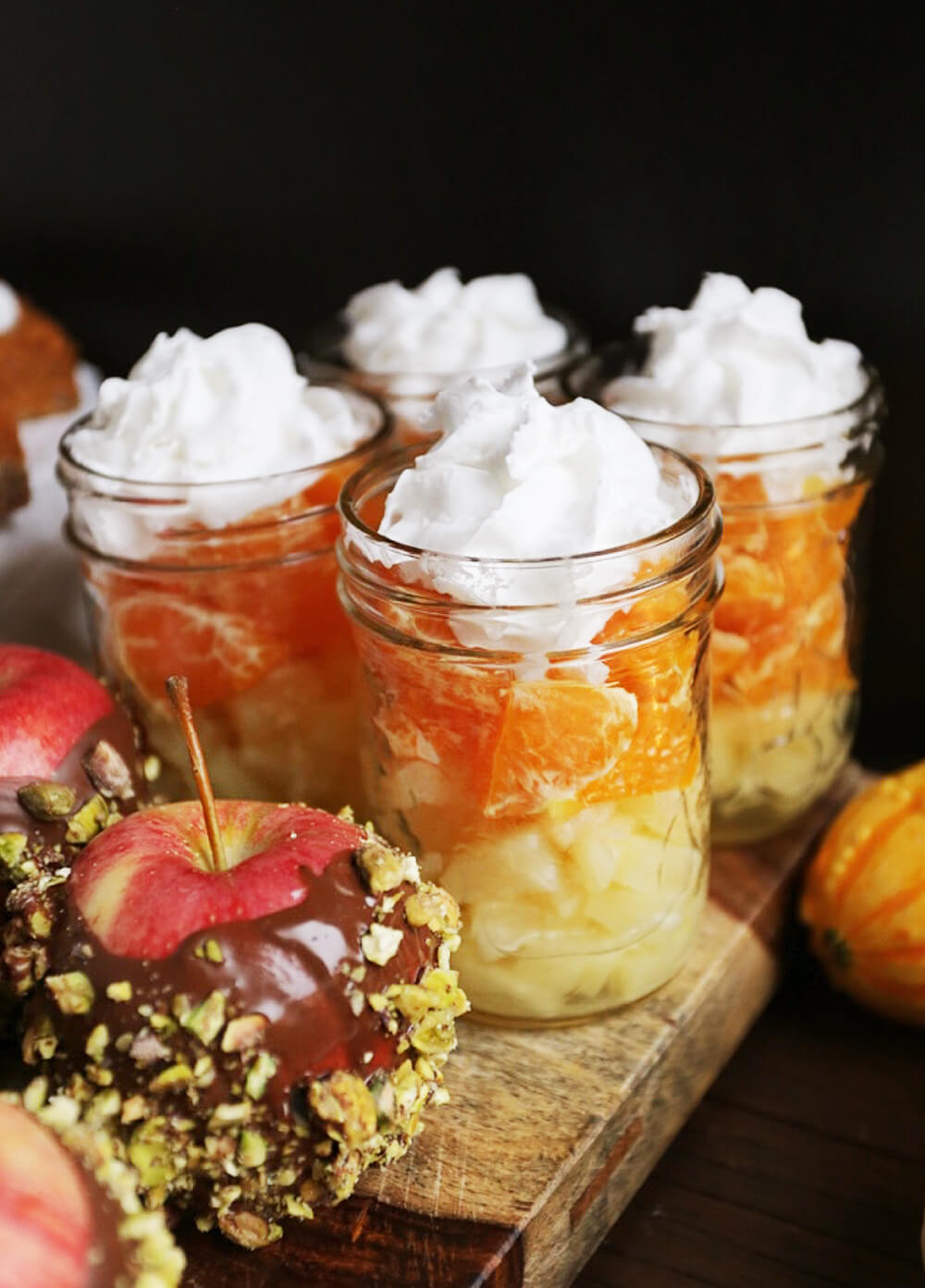 Chunks of pineapple, clementine and of course, coconut whipped cream. So easy!
5. Pumpkin Hummus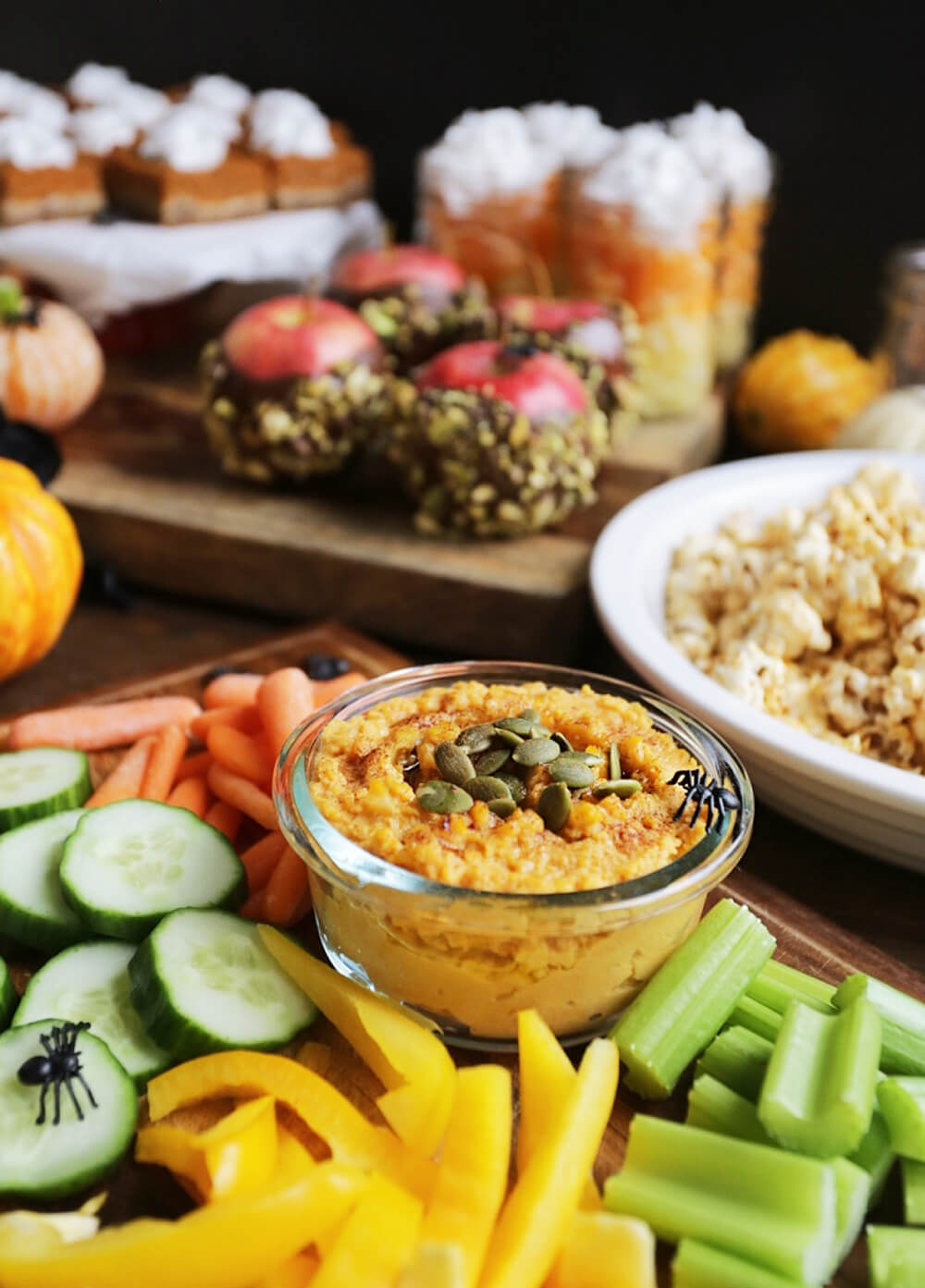 Click here to add this recipe to your client's meal plan.
Add pureed pumpkin to your favorite hummus recipe and serve with assorted veggies or brown rice tortilla chips. You can make this up to 5 days ahead, refrigerated in an airtight container. When ready to serve, spruce it up with a drizzle of olive oil, pumpkin seeds and dash of cinnamon.
6. Pistachio and Dark Chocolate Candy Apples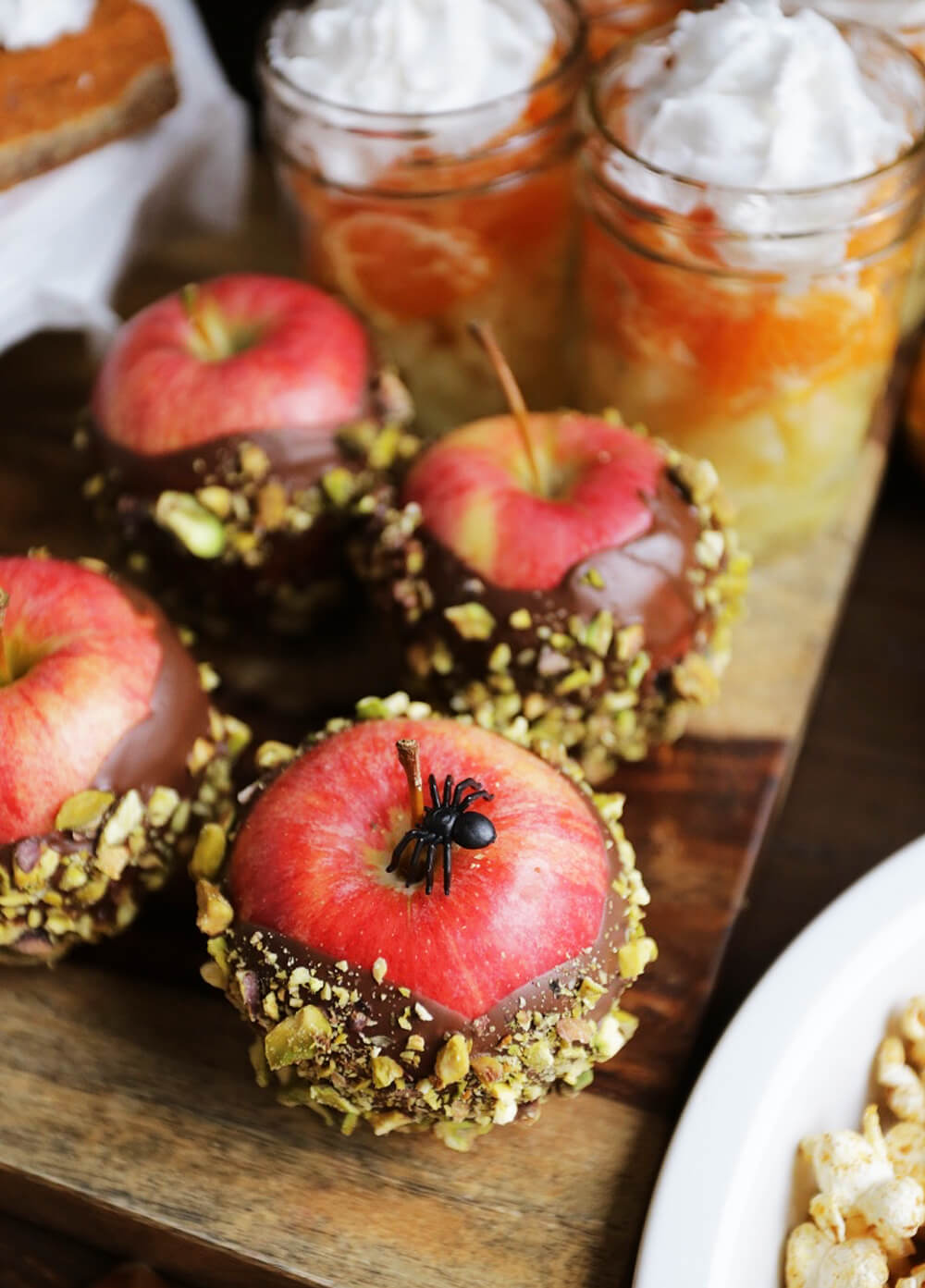 Snack-sized gala apples are perfect for this healthy twist on traditional candy apples. Melt some organic dark chocolate using a double boiler, microwave or using two pots. Holding the stem, dip your apples into the melted chocolate and swirl until evenly coated. Next, coat the apples in your choice of:
Crushed nuts (pistachios, almonds, hazelnuts, pecans, etc.)
Seeds (pumpkin, sunflower, etc.)
Coconut flakes or shreds
Crushed gluten-free pretzels
or a sprinkle of sea salt
To make it more kid-friendly, cut the apples into individual slices before dipping. If you plan to keep the apples whole, you can make and refrigerate them way ahead of time.
7. Maple Pumpkin Popcorn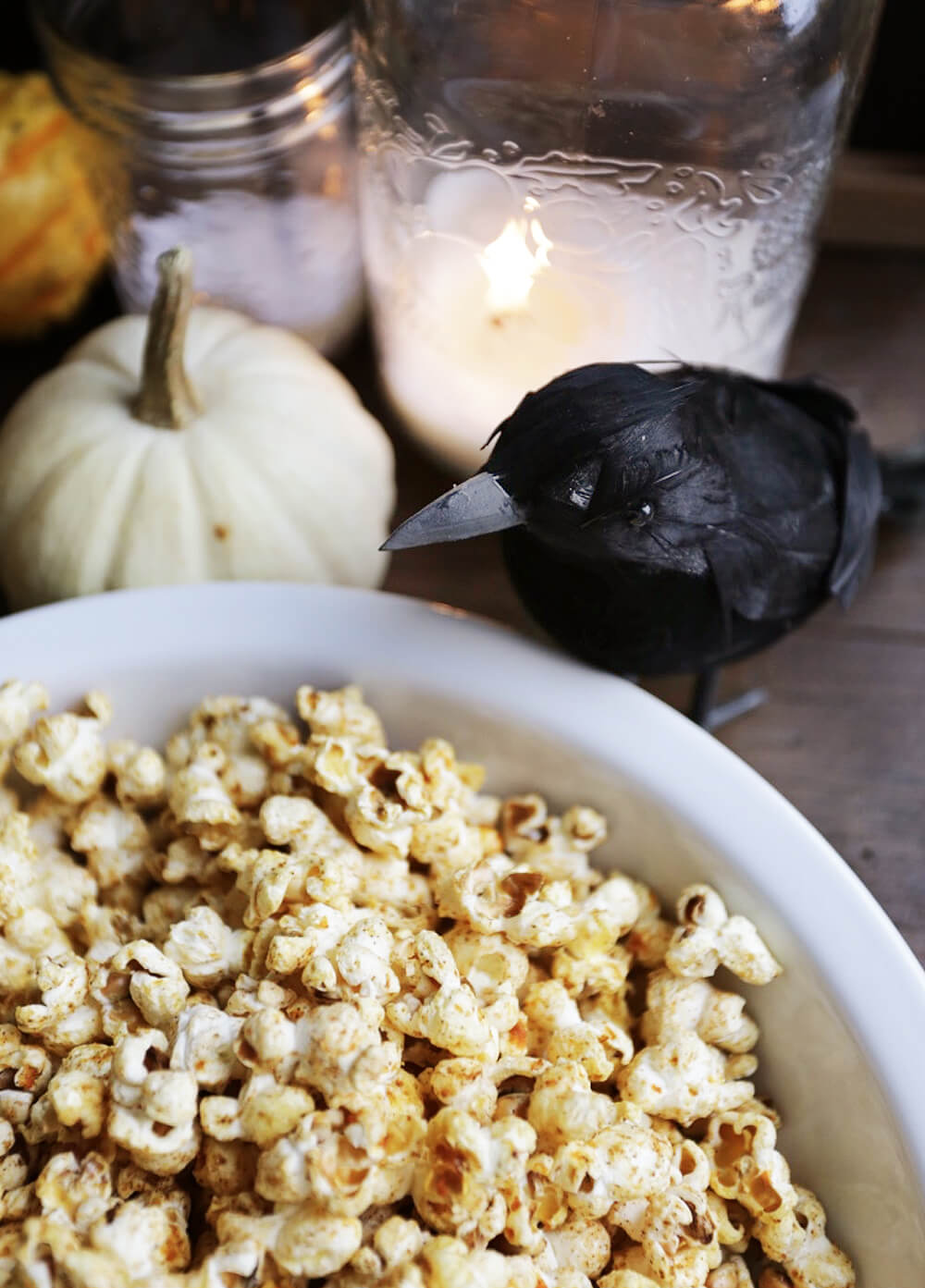 Click here to add this recipe to your client's meal plan.
Dress up plain popcorn with a sweet, creamy drizzle of maple pumpkin syrup! Make your own by combining maple syrup, pureed pumpkin, cinnamon and sea salt. If you don't have time to make popcorn over the stovetop, you can buy a bag of organic popcorn and make the syrup ahead of time!
8. Spider Web Pumpkin Soup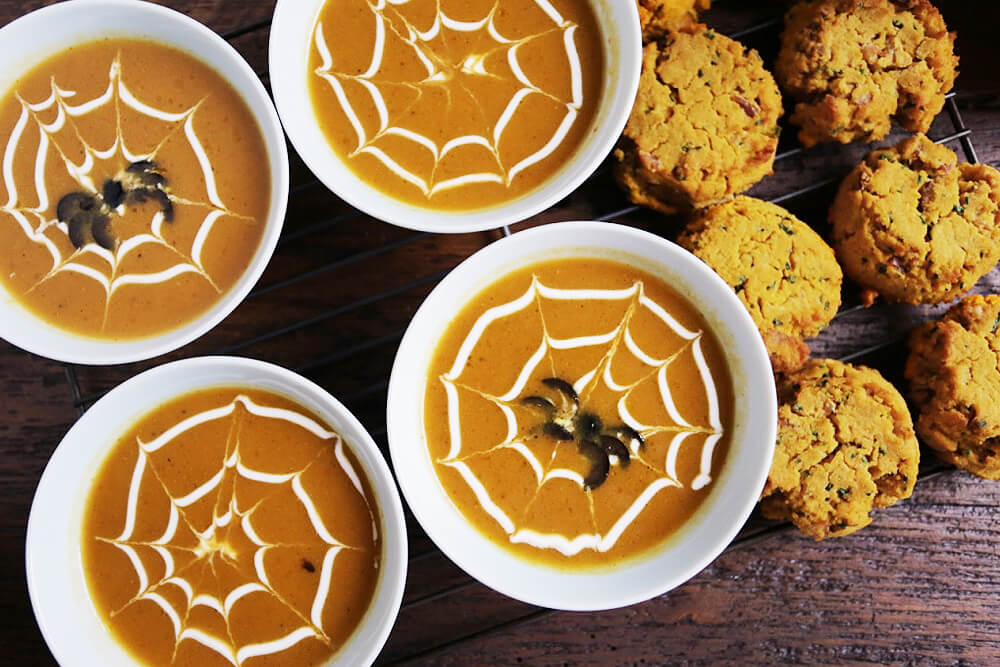 Click here to add this recipe to your client's meal plan.
We love this creamy pumpkin soup with olive spiders because it comes together in 20 minutes and tastes incredible. And whether you're serving soup or pumpkin spice lattes, these spiderwebs are a must-try. Fill a squeeze bottle or a sandwich bag (tip cut off) with coconut milk and gently draw a spiral into each serving. Run a toothpick from the center of each spiral to the outer edges. Ta-da!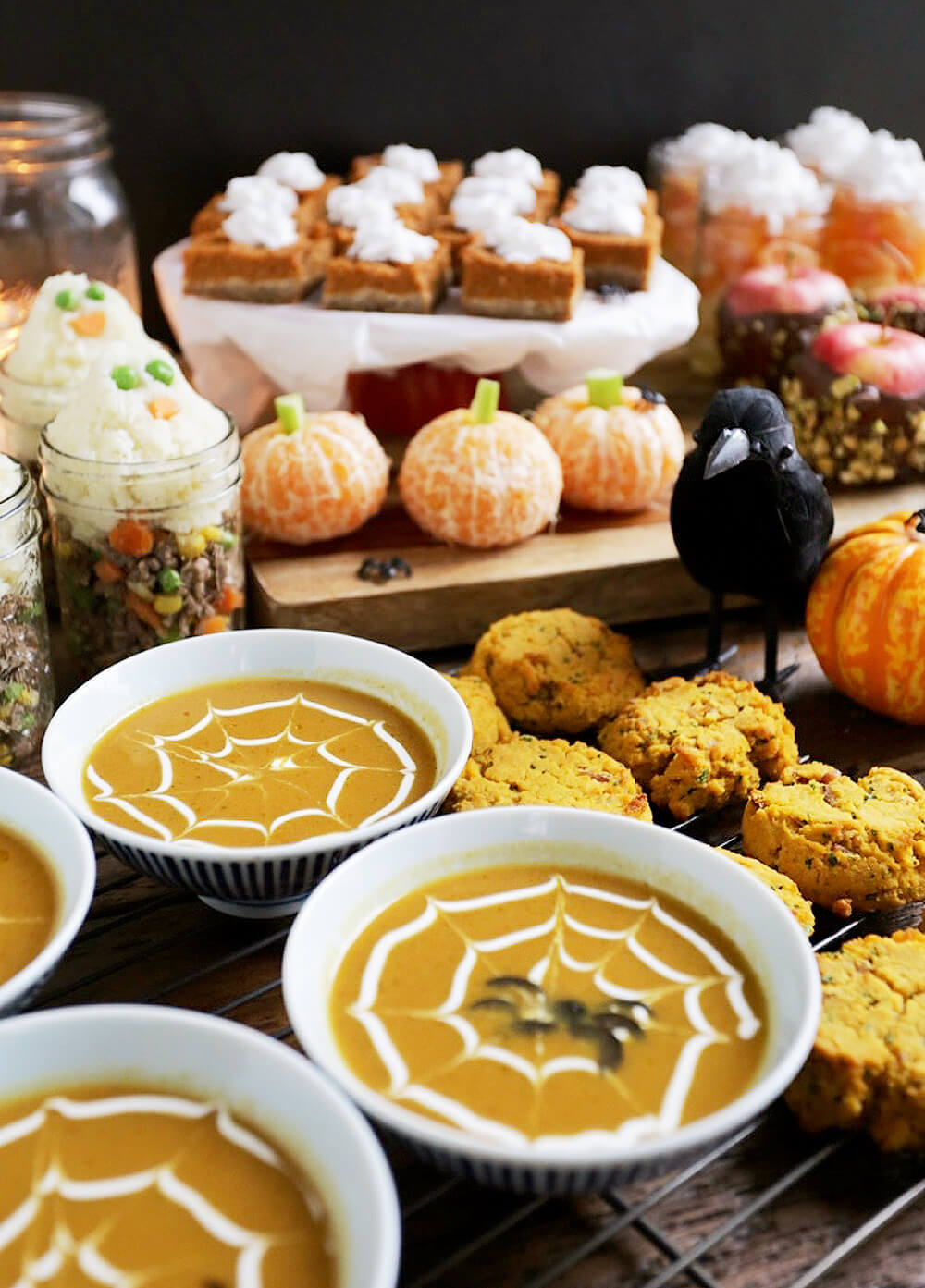 Why wasn't there any food left after the monster party? Because everyone was a goblin! HA.