Intuitive Eating is a weight-inclusive, evidenced-based, mind-body health approach that honors both physical and mental health.
Meal planning is the action of deciding meals in advance based on the person's schedule, food preferences, etc.
At first glance, it appears that intuitive eating and meal planning are at odds. How can you plan your meals while eating intuitively?
However, a deeper look will reveal that meal planning can actually be a powerful tool in food relationship recovery.
Alyson Roux is a Certified Nutrition Specialist®, Licensed Nutritionist, and Certified Intuitive Eating Counselor. She specializes in working with clients to support healing their relationship with food by combining Intuitive Eating, a Health at Every Size® approach, and an integrative nutrition therapy toolbox.
Today we are breaking down Alyson's approach, and exploring how she uses both intuitive eating and meal planning in her practice to help clients in eating disorder recovery.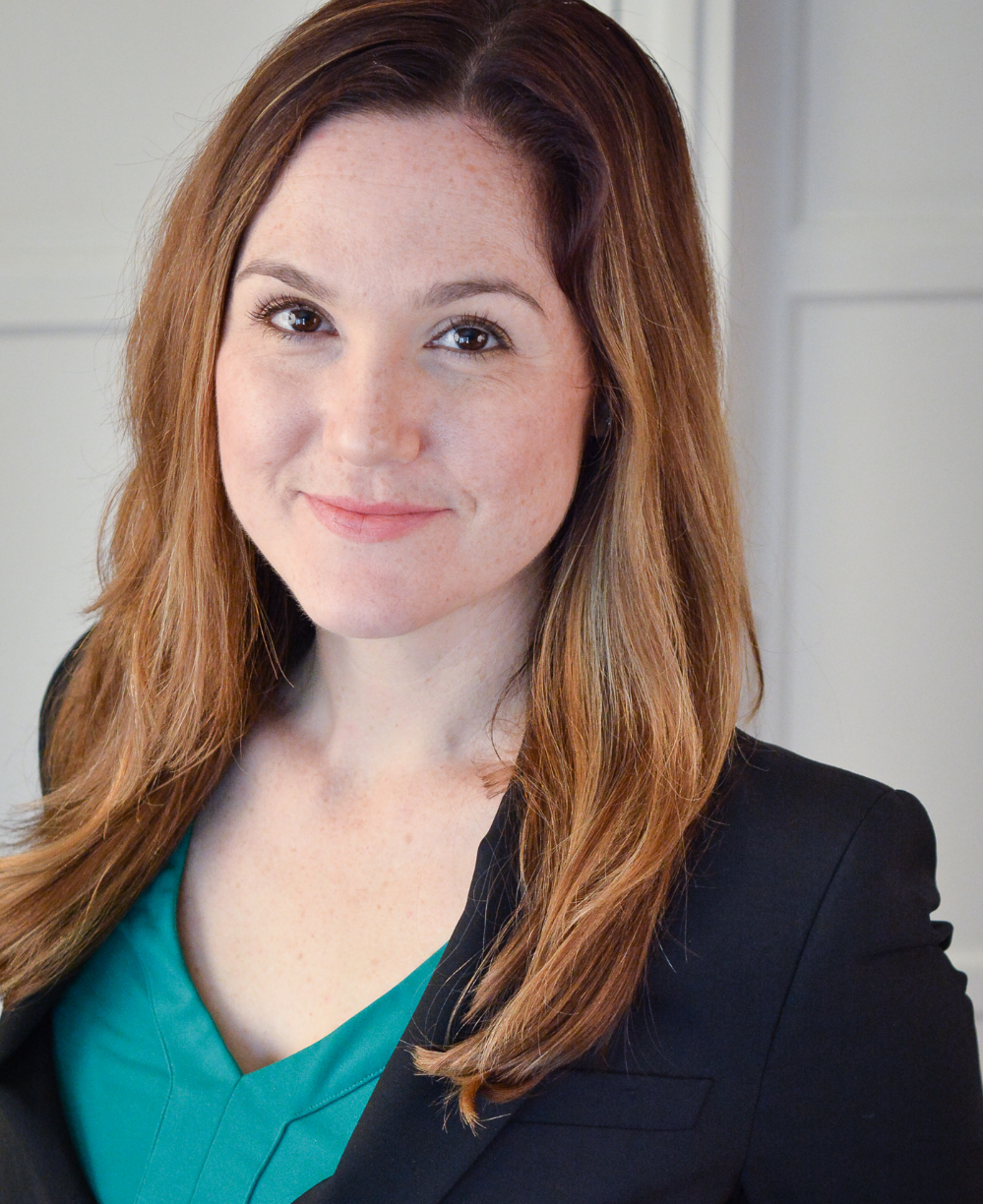 Do meal plans have a place in intuitive eating?
Let's start with the most obvious question that many nutritionists ponder: do meal plans have a place in intuitive eating?
Alyson believes they do.
"When a client is building their bodily autonomy and shifting away from the rigidity of their eating disorder, a meal plan can be a safety net to make recovery possible, and then they can progress to intuitive eating where they build a gentle plan according to their schedule."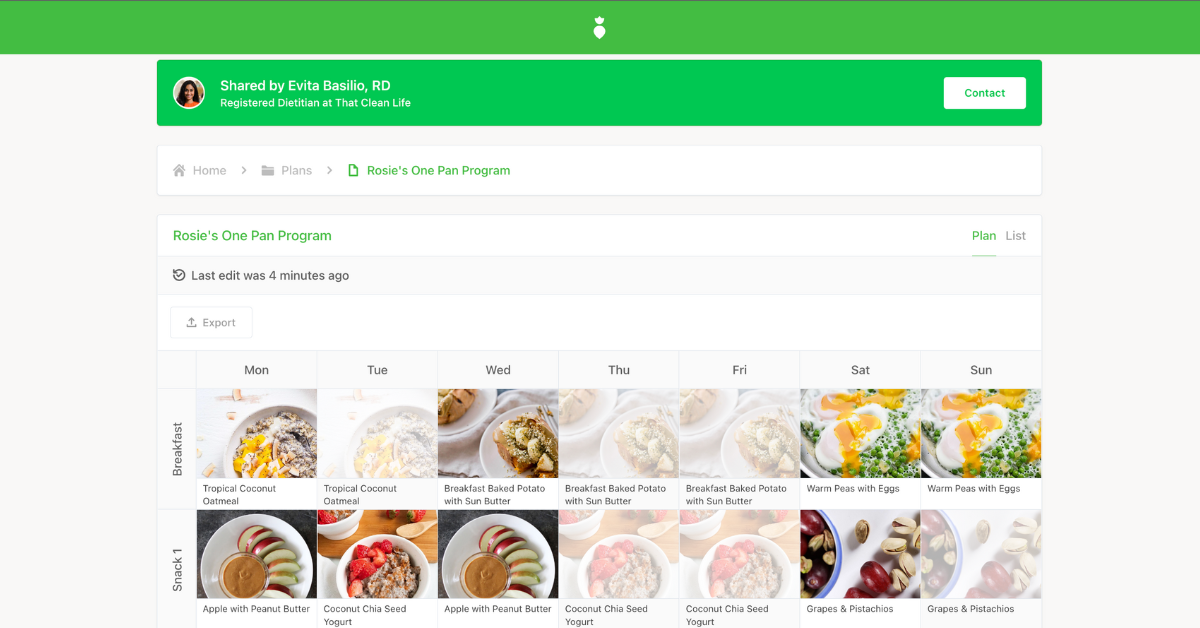 Alyson says that when a client has never prepared food for themselves, having a meal plan can be extremely therapeutic. It helps build self-efficacy and trust.
"It can encourage curiosity to try new foods, encourage confidence where we build skills like stress tolerance, and ensure food is available in a form that can be consumed."
Start with a conversational assessment.
Through her practice, Nutrition Hive, Alyson and her team offer nutrition therapy for chronic dieting and eating disorder recovery, digestive issues, as well as fertility support for those in recovery from an eating disorder.
Depending on the client's stage of recovery, Alyson provides different nutrition planning resources (a meal plan, recipe book, or a meal planning guide) and uses a collaborative effort with her clients.
Alyson creates custom plans and recipe books for each client based on their safe and fear foods lists, sensory needs, nutrient requirements, food skills, kitchen appliances, time, schedule, and recovery stage.
With each client, there are many things to consider, so gathering the right data is incredibly important. Alyson's process is to first conduct an assessment by having an in-depth conversation and using an intake form to understand each client's preferences and their relationship with food.
Identifying 'safe foods' and 'fear foods'.
During the initial assessment, Alyson begins to work with her clients to create a 'safe foods' list. Safe foods are foods that the client knows and likes and the list is developed over time at the client's pace.
Next, Alyson and her client will create a 'fear foods' list. Fear foods are divided into foods that are feared either due to the eating disorder and body image or related to a co-occurring condition the client may have like an allergy, medical condition, or gastrointestinal issue.
Throughout the nutrition care process, Alyson will do sensory work with the client where she asks about textures, temperatures, and colors of foods the client prefers.
Creating the meal plan using a collaborative approach.
Once Alyson has conducted her assessment, it is time to meal plan.
She starts with a blank template and works through the week together with the client to create a plan that works for them. She screen shares the recipes and recipe book builder with her clients and they love being part of this process. Often the plan can look like preparing two to three meals a week and then using meal delivery for the rest of the week as they build their food skills. The plan can identify opportunities to shop and cook that fit into a busy schedule.
Finding the right recipes.
Putting together a great meal plan for clients involves locating the right recipes.
Searching for recipes based on ingredients to include.
Food exposure therapy is used to help clients overcome anxiety and fear that they associate with certain foods. During this work, Alyson uses the "include ingredient" filter within That Clean Life so she can easily locate recipes that use a specific ingredient and add them to the plan.
When a client is ready to welcome a new fear food into their diet in different ways, Alyson will build a "Fear Food Recipe Book" collaboratively with the client. She may choose recipes that use a cooking method her client is comfortable and familiar with to make it approachable and prevent activating the eating disorder.
Alyson usually shows her client the different recipe options which include the ingredient and asks them which recipes they would like to try, and then adds this to the recipe collection.
Incorporating easy one pan meals.
Alyson often uses the "onepan" tag within That Clean Life, which makes it easy to find simple, one pan recipes:
"This filter is the recovery friend. Cooking can feel intimidating and like so much work for someone in recovery, or when I'm working with people who are caregivers or partners, but when we use an ease-forward approach where the client can throw everything on one pan, they feel relieved."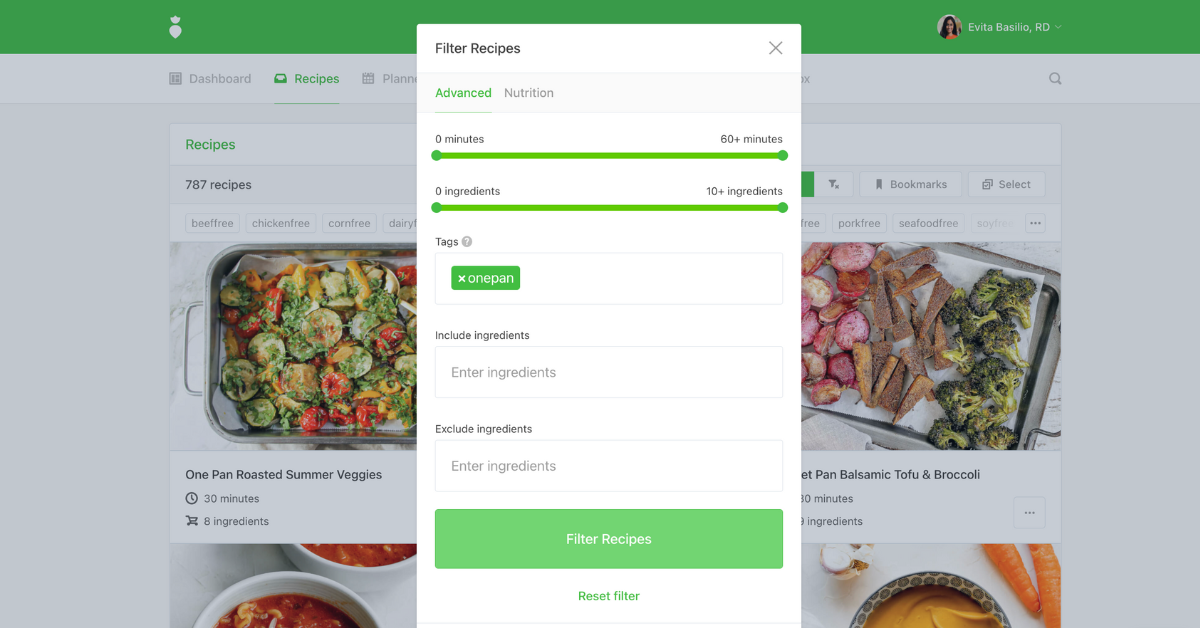 Finding meals based on food temperature.
Cold or hot foods can sometimes feel safe to a client. Alyson uses filters like "salad" or "soup" to find options that her client will prefer during a certain week in recovery and then create a recipe book like "Fridge-Friendly Salads".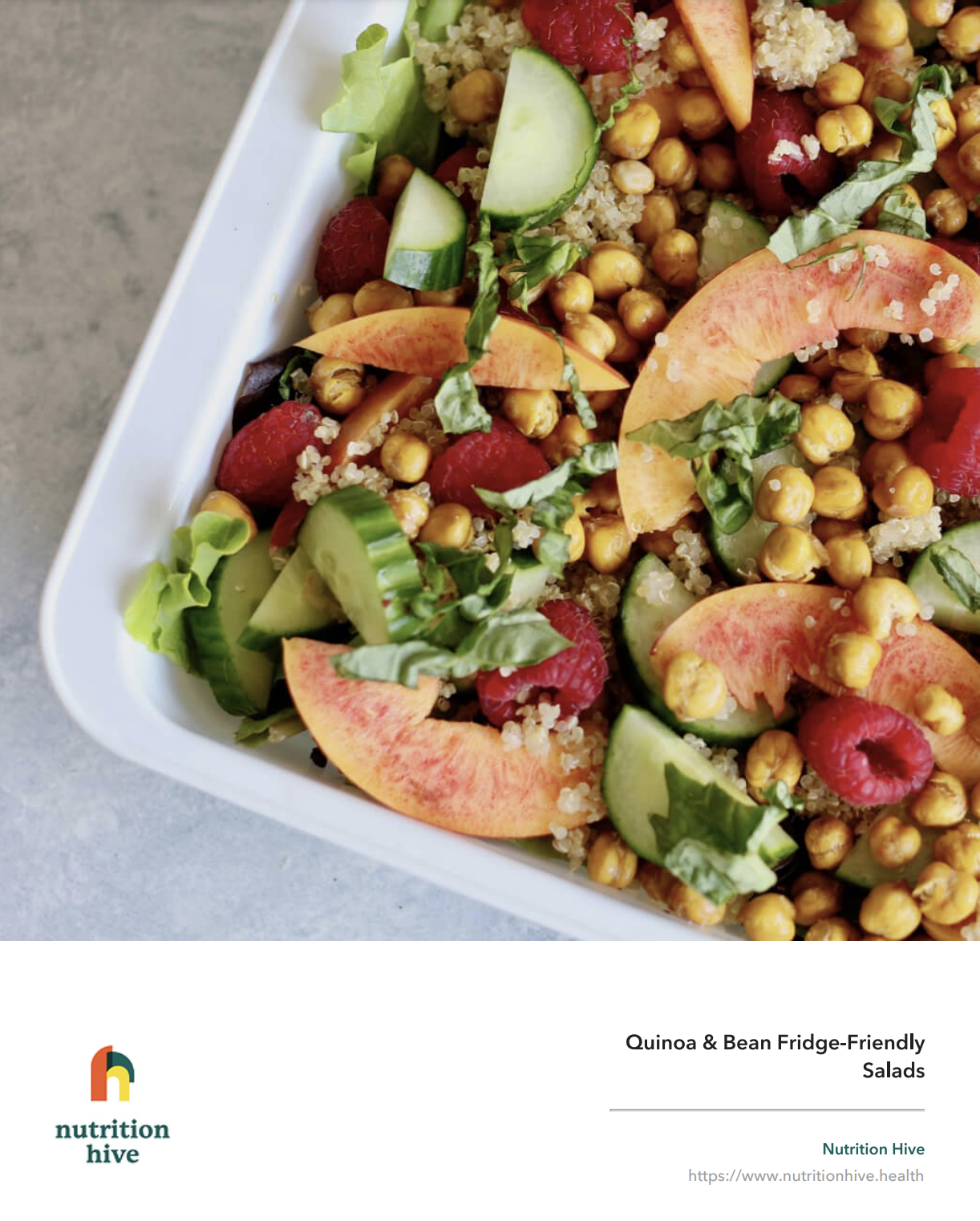 Searching for meals based on nutrients.
Some of Alyson's clients have comorbidities or are taking medications that she needs to consider when meal planning. For example, a client taking Warfarin might need to limit foods high in vitamin K.
Alyson can easily use That Clean Life's nutrient filters for macro and micronutrients to find recipes that meet a certain requirement.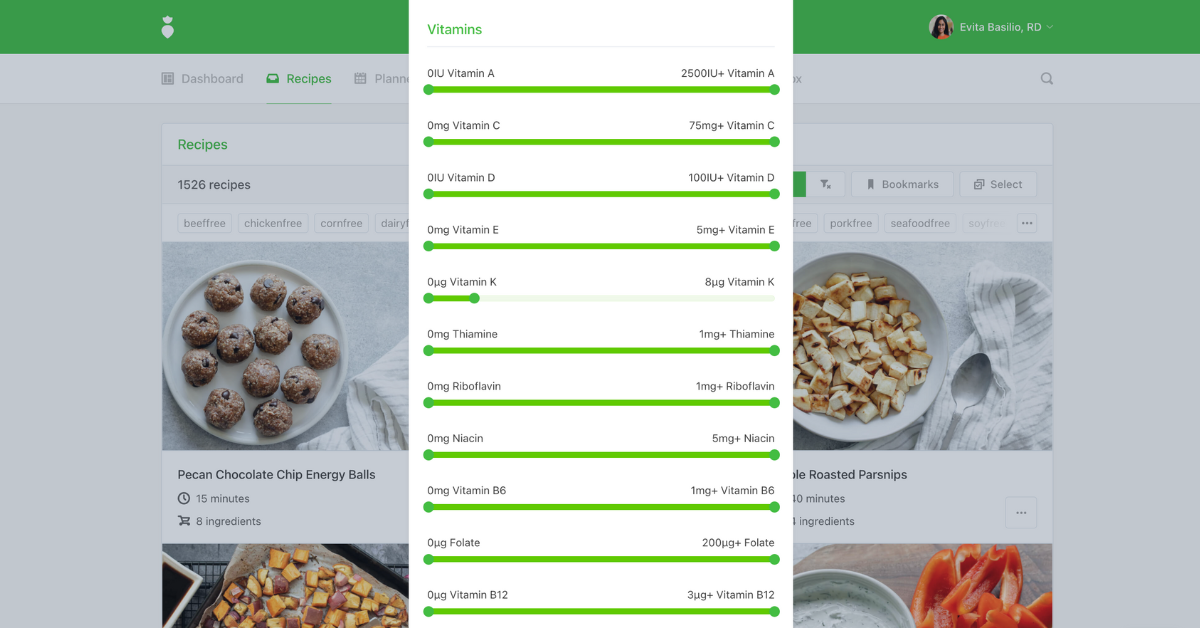 Formatting the plan.
Removing nutrition facts.
A meal plan being used with intuitive eating is never based on calories but instead focuses on variety and choice. So while Alyson uses nutrition analysis to help create plans and recipe books, she turns the nutrition facts off before sharing the plan with her client.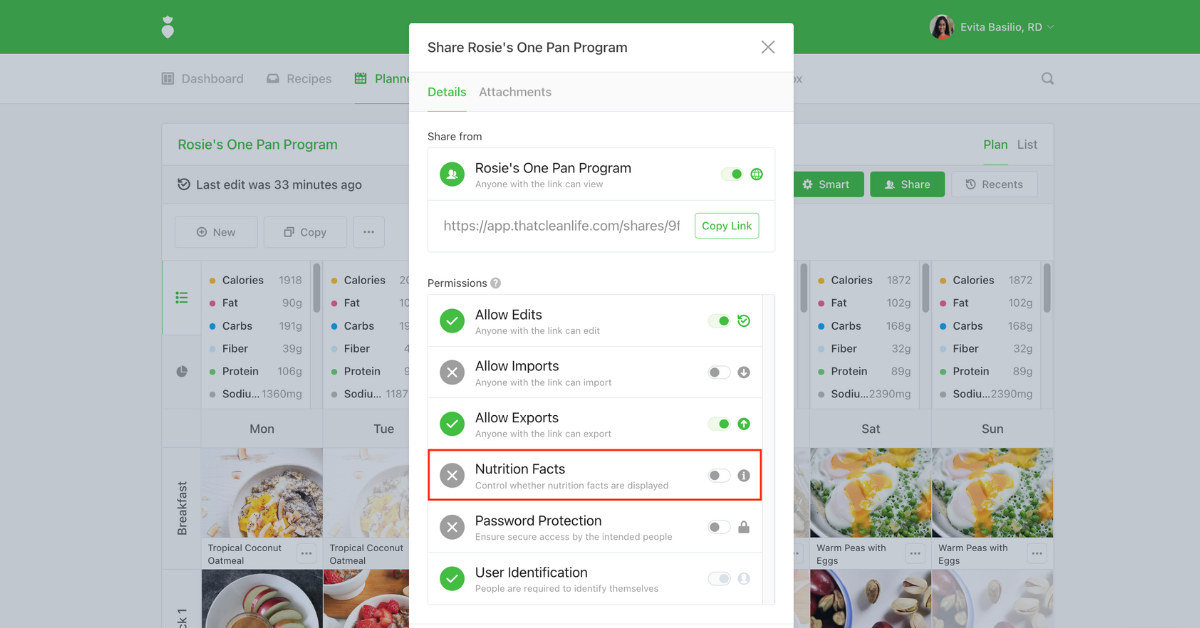 Providing guidance on food safety.
Alyson explains that it is important for recipes to include clear directions and notes that offer clients comfort for food safety.
Food trauma can often happen in childhood when a child isn't taught how to prepare food safely or if the parent is overly focused on food safety. Into adulthood, the client develops a fear of how long food takes to cook and how to store leftovers safely. Alyson says her clients are appreciative of That Clean Life's recipes which clearly outline the directions of how to cook the recipe, the notes for how long leftovers can be stored safely, and ingredient swaps if they don't have a certain item.
"Having the steps be really simple and clear, and the notes about replacing ingredients is so helpful. The ability to edit a recipe or add more notes if I know a client doesn't like a certain ingredient helps make the food feel safer."
More than just a meal plan.
While meal planning is often viewed as rigid, Alyson takes a gentle approach to meal planning. This means she offers additional recipes along with the plan so the client can have the flexibility to swap meals as needed. She sometimes calls this approach a "Cooking Plan", as that can feel less rooted in diets for clients.
Using meal plans with intuitive eating.
Alyson's approach shows that gentle meal planning paired with intuitive eating can help clients recovering from eating disorders. By using a collaborative approach, client-centered care, evidence-based counselling techniques, and personalized plans, Alyson and her team at Nutrition Hive are doing incredibly impactful work.
---
For practitioners looking to learn more from Alyson, be sure to check out Clinician's Incubator, a program that helps nutrition graduate students translate what they have learned in school into clinical practice through clinical supervision. Check out their website or follow them on Instagram.