Thouands of health professionals around the world love using That Clean Life to create nutrition plans for their clients. The beautiful recipes, interactive design, easy customization, and professional look of the final product – these things are all a part of what That Clean Life is known for.
But let's face it. Delivering a PDF meal plan to your client isn't nearly as fun as having them use That Clean Life themselves, right?
What if your client wants to swap a meal out of the plan for a new one?
What if they need to change the serving size to feed extra guests?
What if they are working with you over the course of several weeks and need multiple meal plans?
None of these adjustments are possible if your nutrition plan is in a PDF format.
Sure, you could make the adjustments to the meal plan for your clients and then re-export the PDF. However, doing so dramatically increases the time you need to spend as a practitioner and it also keeps your client waiting, negatively impacting their experience. Not to mention, in the end, your client still has a stagnant PDF file that can't be modified again without your help.
We've realized that PDFs aren't always the best experience for your clients. So we've added a new way for your clients to access their nutrition plans.
That Clean Life members can now share interactive meal plans, collections, recipes, and more with their clients through a single secure link at no extra cost. Yes, this is all included in your membership.
A much better experience for you and your clients
Sharing is a more fun, interactive and empowering experience for your clients. Using Sharing, you can easily share single recipes, meal plans, or even entire Collections with your clients.
Here's how it works:
Let's say you want to share a nutrition plan with your client. All you need to do is open the plan then click "Share" to generate a link.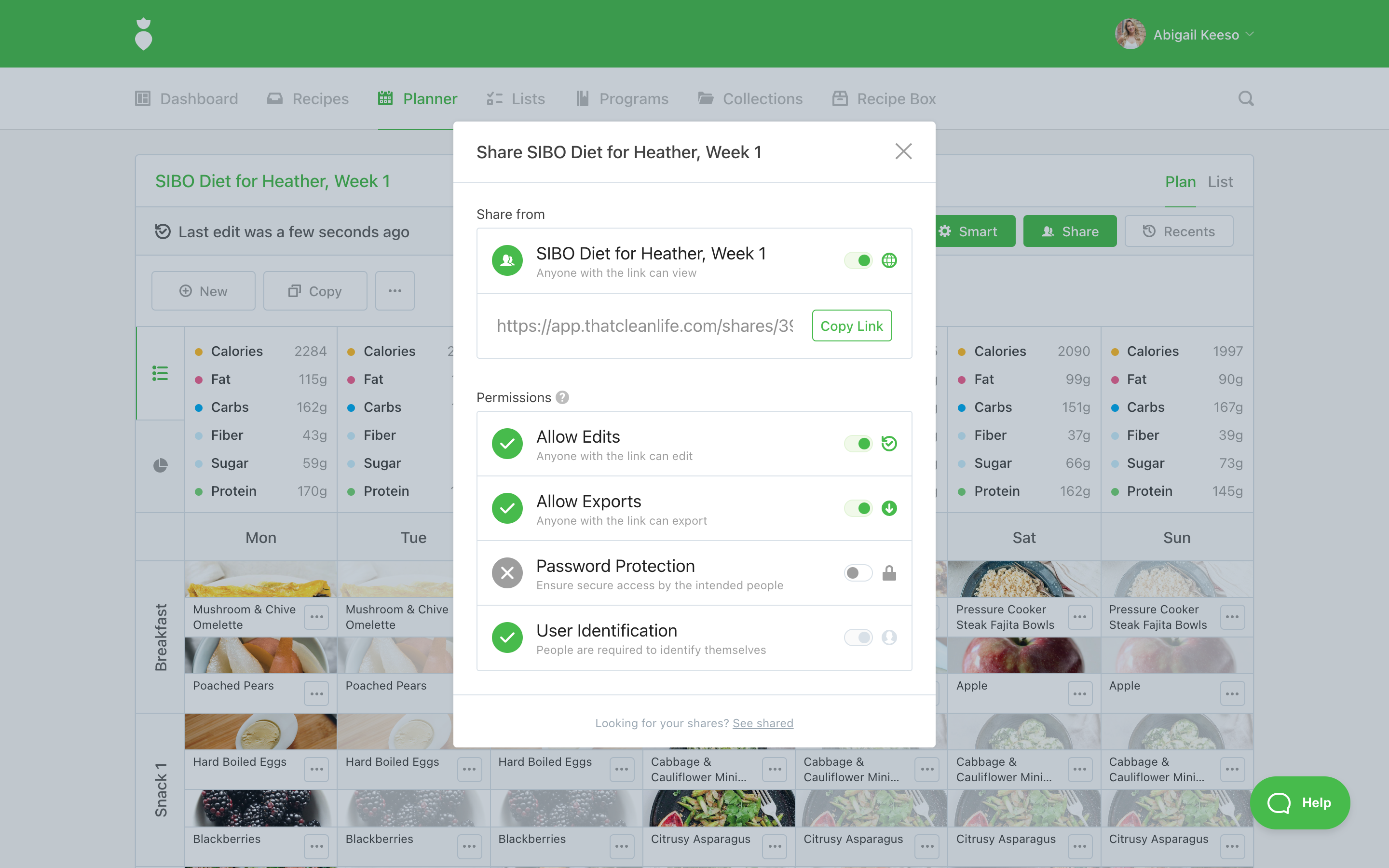 You can choose to make the plan editable, allow for your client to export the plan as a PDF, password protect the link, and/or require the user to identify themselves so you know who is accessing the content.
Next, click "Copy link" to copy the link to share and you can send that to your client through any channel you choose, whether that's through email or your practice management software.
To recap, you select "Share", set your options, copy the link and send it along. Simple as that! Your clients do not need to sign up or join That Clean Life to view what you share with them.
How to view a shared That Clean Life link
When your client opens the link in their web browser, they'll see one of two things. If you've allowed anyone to view the link without requiring their information or password, they'll be taken straight to the shared content. If you've specified that you want the user to identify themselves or enter a password before viewing, they'll be asked to enter their name, email, and/or password.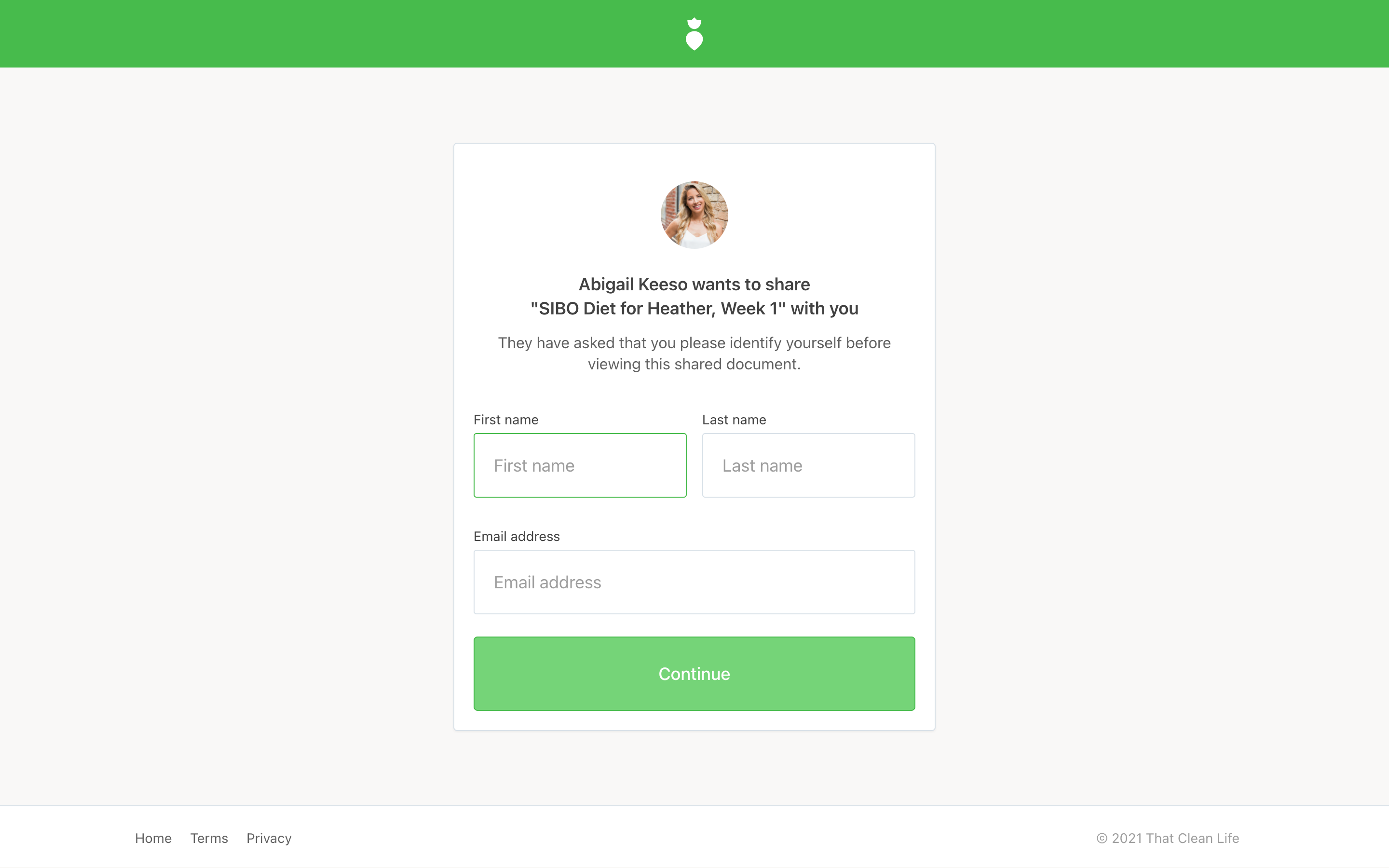 A professional look and feel
When you share a That Clean Life link with your client, whether that is a single recipe, a meal plan, or a collection, your profile and business information will appear at the top of the page. Your client will know who created the plan and have an easy way to contact you or visit your website.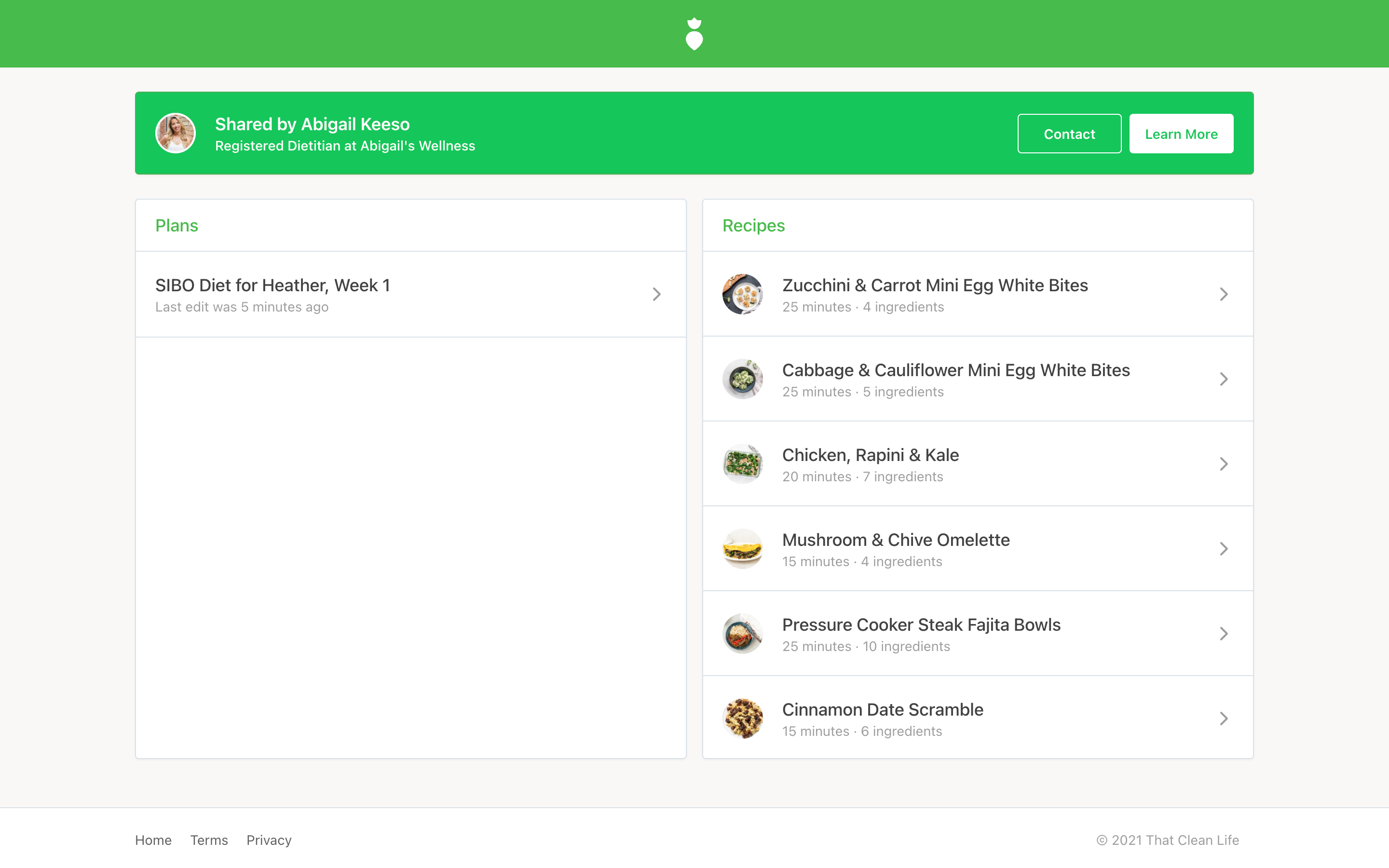 A fun and engaging experience for your client that will increase their success
If you allow for editing, your client can now make modifications to their plan. They can change serving sizes, remove meals, add meals, make swaps, edit their list, and more!
If you allow for exporting, your client can export the content as a PDF if they wish. As usual, every page of the PDF will include your business branding so that it looks nice and professional.
Make changes in real-time
If you make changes to any of the plans you have shared with your client, your client will be able to see the changes immediately. If your client makes changes to their plan, you'll also be able to see the changes reflected on your end. No refreshing is required. This is a super fun way to collaborate with your client on their plan in real-time!
Track what links you have shared and who has viewed them
Under the "Shared" tab in your account settings, you can see what links you have shared along with the number of views and exports. If you enabled user identification for the link, clients will be required to enter their name and email. This information can be found here in your account settings too. Need to edit or delete a link that you've shared? No problem. You can do that here too.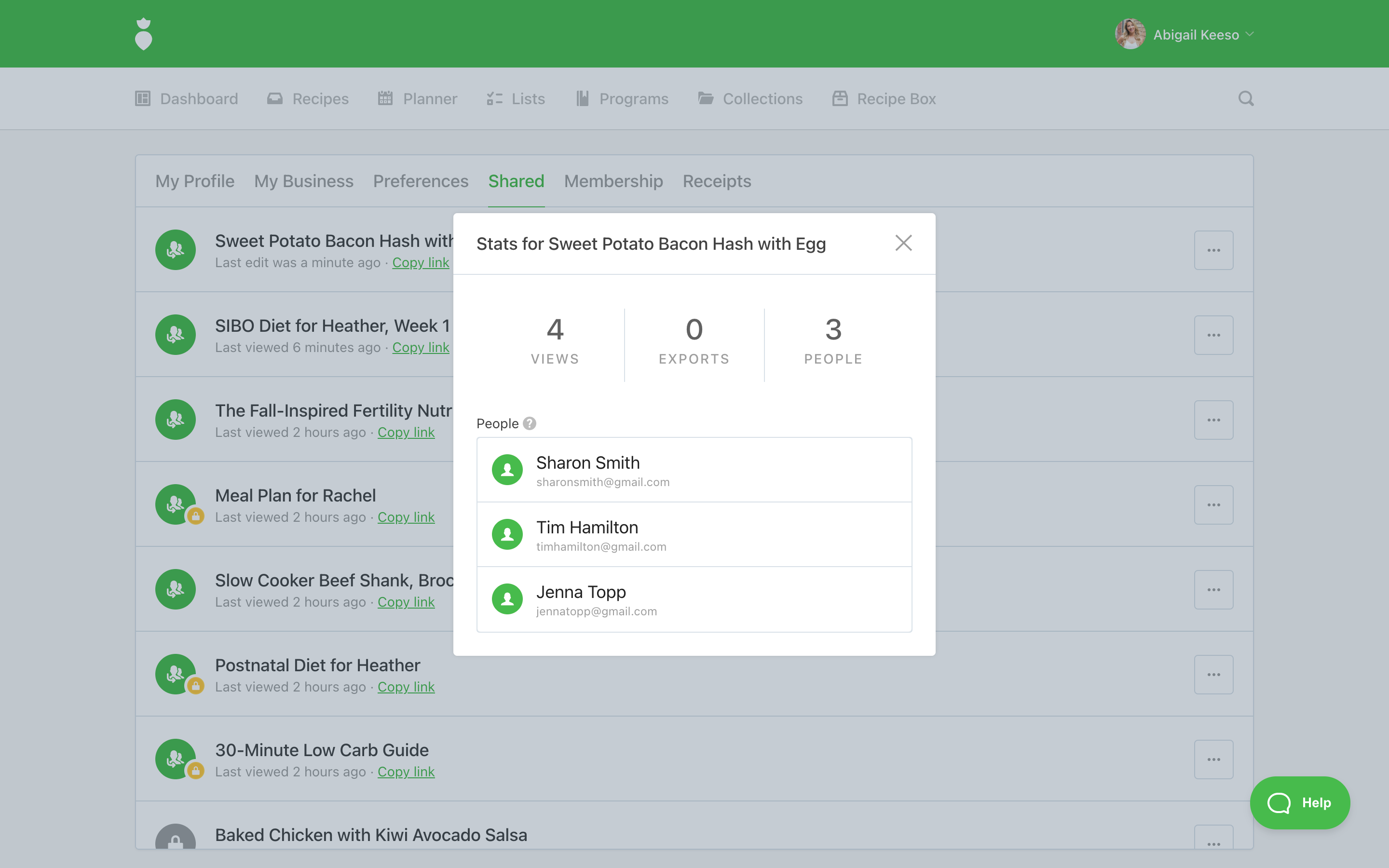 A more engaging experience = happy, successful clients
Exporting PDFs can be cumbersome, time-consuming, and generates a stagnant document. Sharing, on the other hand, is easy, quick and gives your client full control to make changes as they wish, without you having to do a thing.
We know that keeping clients engaged and on track with their health goals can be a challenge. Sharing provides a more fun, interactive experience for your clients that will keep them excited, engaged, and more likely to achieve their health goals. When your clients are successful, so are you.
So, if you are already sharing nutrition plans with your clients, let's make it an even better experience for them. Let's give clients engaging, interactive, and personalized nutrition plans that empower them to implement your nutrition guidance. Let's make our world a healthier place.
Sharing is now available to all members of That Clean Life. If you haven't already, join That Clean Life and start bringing your nutrition plans to life today. For detailed step-by-step instructions on how to use Sharing, visit our help center.