What do mealtimes at your client's dinner table look like?
Do they find themselves making three different recipes most nights? Do the kids stare at them blankly after they present them with a gourmet supper?
It's unlikely their toddler will love that Fig, Arugula and Goat Cheese Quesadilla as much as they do and we can't expect them to eat chicken fingers forever. So today we're sharing creative tips to help your clients craft a flexible menu. Here's how your clients can transform simple meals to meet their whole family's needs.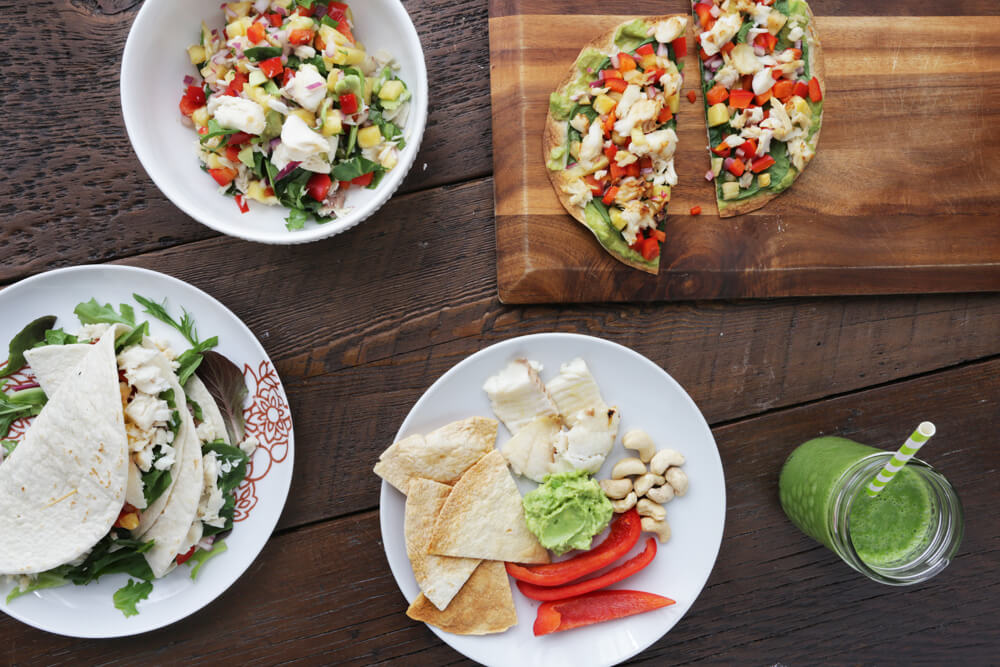 Fish Tacos, 4 Ways
These fish tacos are among our favorite That Clean Life recipes but we quickly discovered how amazing they were as tortilla pizzas too! The toppings alone make a delicious and complete salad. We kept the kids version super simple and finger-friendly with a basic guacamole (tomatoes omitted). The spinach is blended into a green smoothie, sweetened with leftover pineapple from the recipe.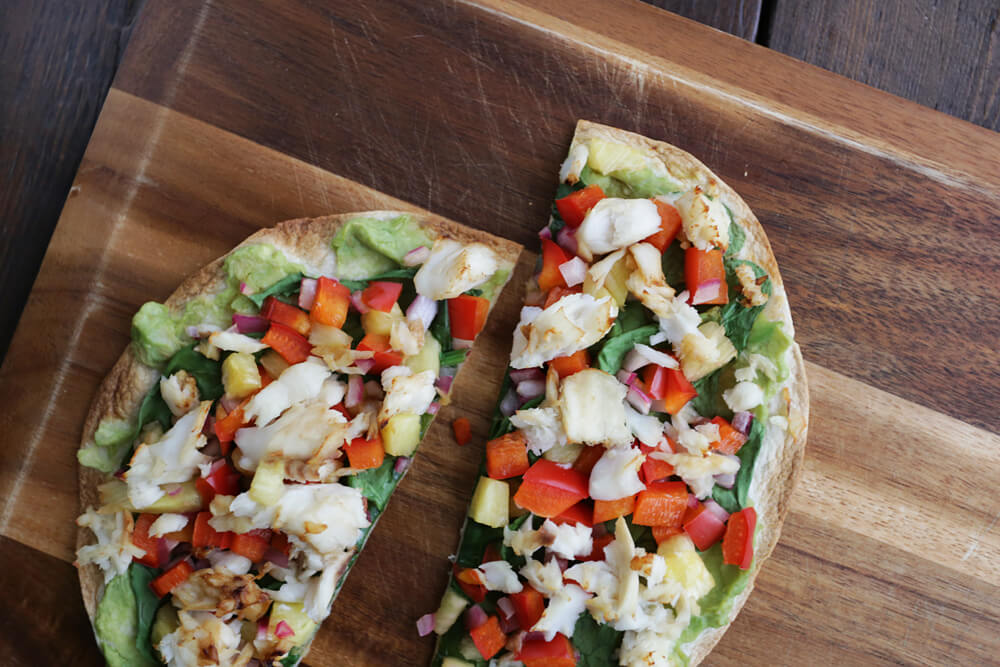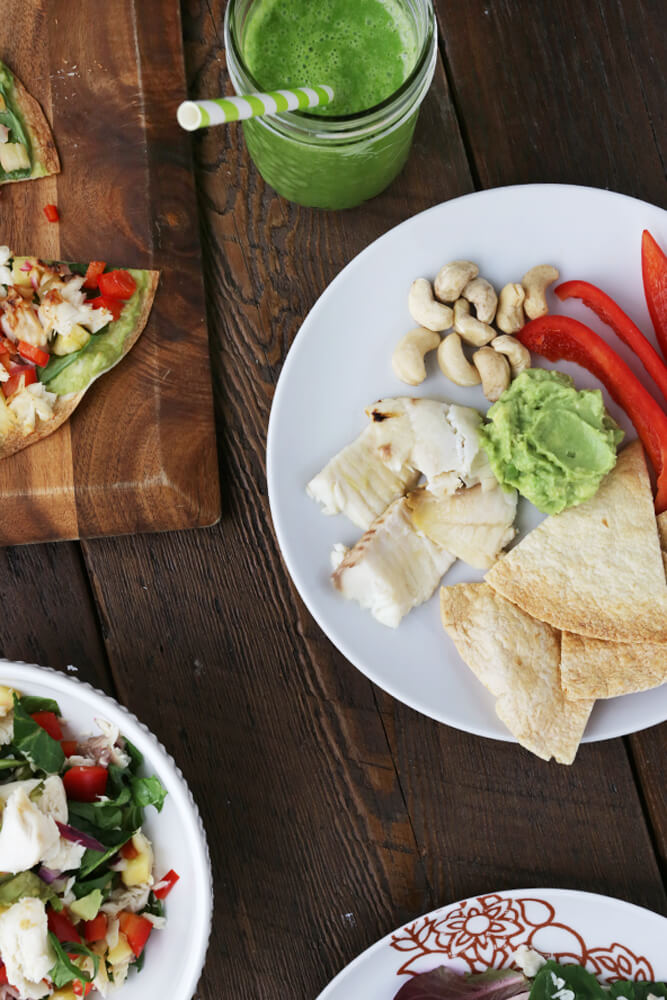 Not everyone enjoys the same recipes and making more than one dish for the family can be time-consuming, expensive and stressful. It also increases the likelihood of resorting to frozen or pre-made, heavily processed foods that are nutrient-deficient and have added salt, sugar and fat.
Strategies to revamp a single recipe:
Wrap or Toss: Many recipes work surprisingly well as a wrap or salad. Think of some of your favorite recipes and see which ones could actually work well in a brown rice tortilla or tossed with mixed greens for a completely separate meal.
Think outside the box: Can you use the same ingredients in a different way? Will it make an awesome tortilla pizza? Can you make soup with the leftovers?
Add staple ingredients: Make a large batch of a few staple ingredients to add to your recipes throughout the week. This is especially helpful if a family member doesn't like the original recipe but can still make a well-rounded meal out of the parts they do enjoy.
At the start of the week, you can make a big batch of quinoa, beans or roasted veggies.
Boost your meals: Some adapted versions of your recipe might need an extra boost in nutrients. Add foods like hemp seeds or nuts for extra protein, or ground flaxseed for a boost of fiber.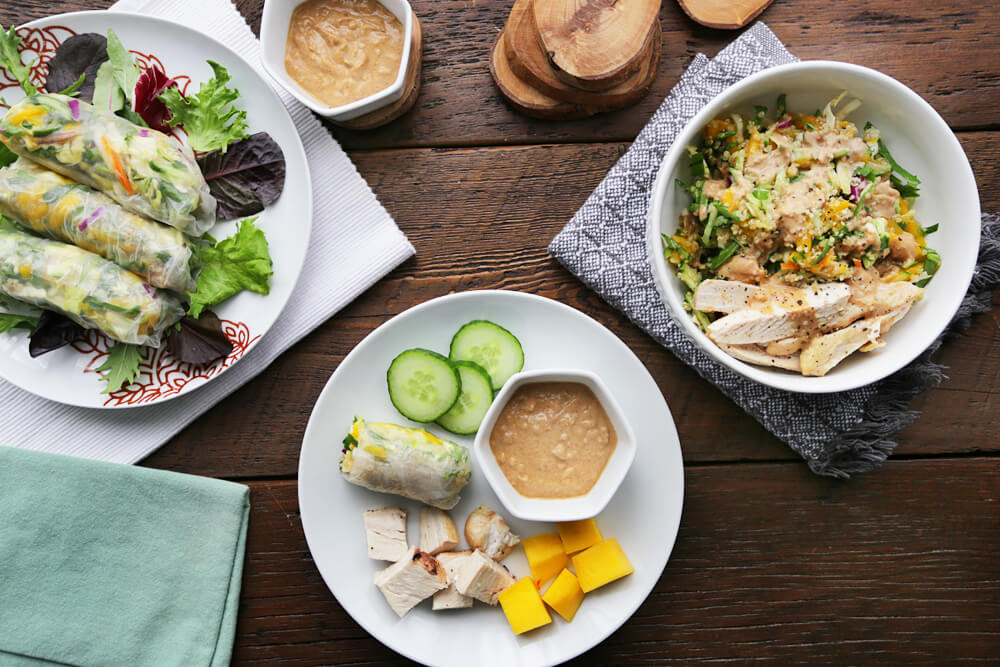 Mango Veggie Spring Rolls, 3 Ways
These veggie spring rolls with creamy almond butter dip are so delicious and come together within 30 minutes. If you're in the mood, the "filling" also works well as a salad. Just add a bit of water to loosen up the dipping sauce so it becomes a salad dressing. We made a large batch of quinoa for the week and added a few tablespoons along with hemp seeds and chicken for extra protein.
The kids might not love this one as much as the grown-ups so we limited their version to the main ingredients, kept everything separate and finger-friendly but still dippable. Oh, and half a mango veggie roll just to be suggestive and hopeful.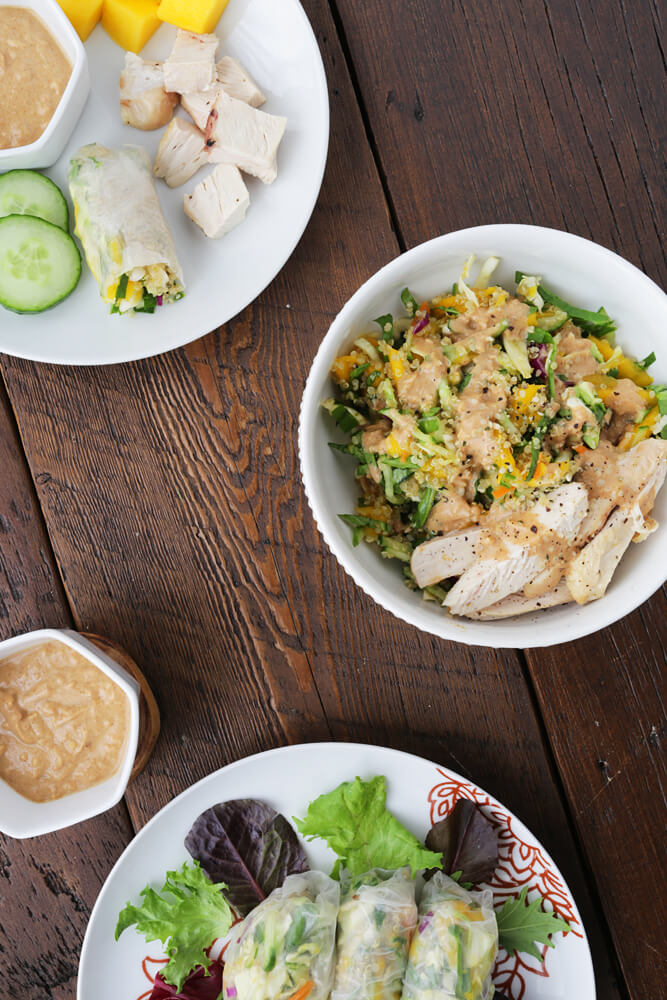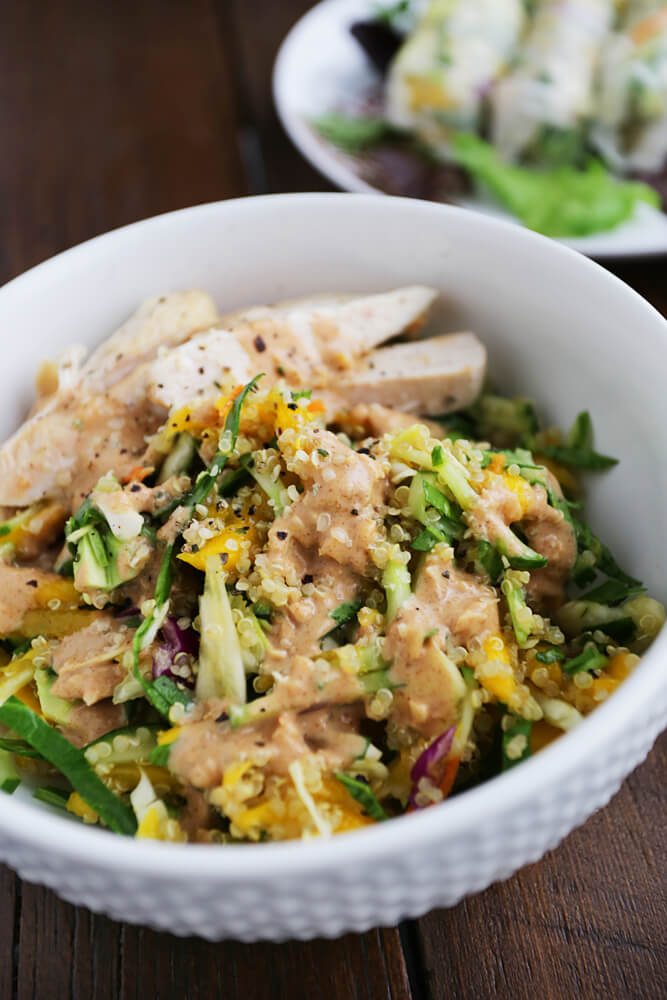 How to make your favorite recipes more kid-friendly:
Food Art: Kids prefer food that looks fun.
Multiple Color or Food Items: Studies show kids prefer having up to six different items or colors on their plate compared to adults who prefer three!
Finger-Friendly: Letting kids interact with food like dipping into sauces is a fun strategy to engage your kids in mealtime. Try a healthy homemade sauce and involve the kids in making it.
Compromise: Your kid won't eat anything but chicken fingers? No biggie. Include a few on the plate but it doesn't hurt to offer a variety of other items you've prepared for yourself anyway.