A great meal plan can make healthy eating simple and fun, but only if it actually gets used. Clients need to understand how the meal plan works, why they should follow it, and how it fits into their lives.
We know that you want success for your clients. So today we are sharing the strategy we use here at That Clean Life to help thousands of people follow our meal plans and get great results.
Prep Guides
A prep guide is a document that lays out the exact steps your client must take to put their meal plan to use. It takes things a step further than simply providing a set of recipes and a grocery list. A prep guide breaks your client's week down day-by-day so that they know exactly when to cook, what to make, and what to do with leftovers.
Providing a prep guide alongside your meal plans will help your clients get the best results by ensuring they never forget or feel overwhelmed when it comes to prepping and packing their meals.
If you're a That Clean Life member, you can save yourself a ton of time by using our pre-made meal plans and prep guides. All of our pre-made meal plans are customizable, so if you modify one of our pre-made programs, you can easily edit the prep guide.
How to Make a Prep Guide for Your Client's Custom Meal Plans
While we wish we could automagically generate prep guides for your custom programs, it does require a bit of human brainpower. If you want to provide a prep guide to go with a custom meal plan you have created, here's how to create it with ease:
1. Create a Blank Prep Guide Template
If you are a That Clean Life member, click on any prep guide and copy or download an editable format of the guide as a .docx. From here, clear out the text so you have a blank prep guide template to work from. You can see how to do this step-by-step here.
If you're not a That Clean Life member, you can easily create your own prep guide template using a basic word document or Google Docs. Simply create a table with three columns. The first column will be for the day of the week, the second column will be for tasks and the third column will be for notes, like this: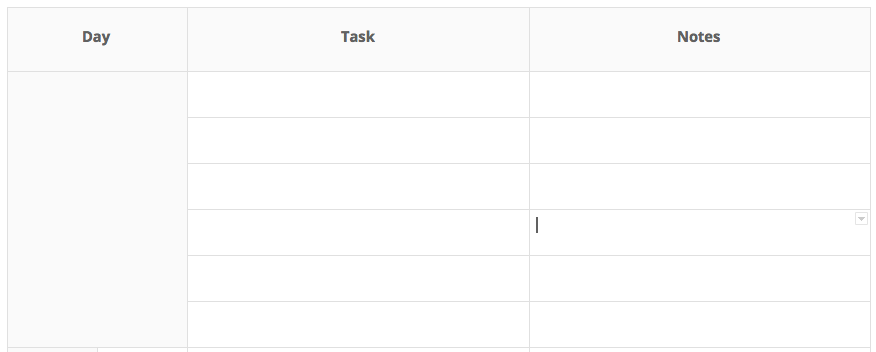 2. Outline the "Day Before" Tasks
The first day on your prep guide will be the day before your client starts the plan. This is where you remind them to do their grocery shopping and meal prep to set themselves up for an awesome week ahead.
Look at the meal plan you have created for them and outline any tasks or meals that can be prepared in advance such as chopping vegetables, dividing out snacks, cooking up proteins, and freezing ingredients that will be used later in the week. Use the notes section to provide any tips related to the task, like food storage instructions.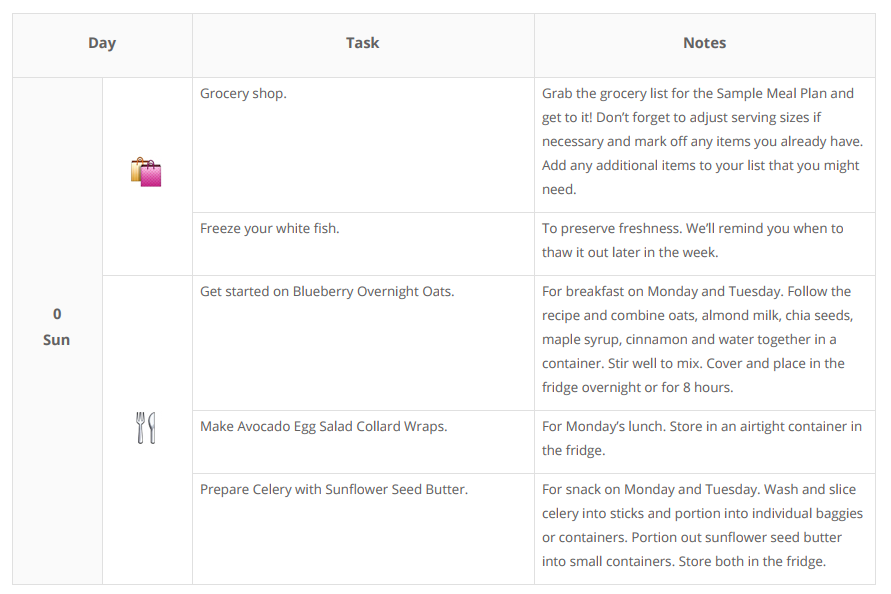 2. Outline the "Day 1" Tasks
The next day on your prep guide will be the day your client actually starts the plan. On this day, divide the daily tasks into morning and evening prep, like this:
Break things down into easy, digestible steps. For example, in the morning we like to suggest preparing breakfast and packing meals if they are on-the-go. At night, we guide them to prepare dinner, pack leftovers for lunch the next day, and complete any other meal prep tasks that will make the next day a bit easier.
3. Outline the Tasks for Day 2 and Onwards
Follow the pattern from step 2 above until you have outlined all days on the meal plan. Consider including guidance on how or when to:
Freeze meals
Take the meat out of the freezer
Use leftovers
Pack meals and snacks for on-the-go
4. Send the Guide to Your Client with Their Meal Plan
Once the prep guide is complete, export it as a PDF or document to send to your client along with their meal plan, grocery list, and recipes.
Encourage your client to put the guide somewhere easy to reference (like on the fridge), and to check it every morning and evening so they know exactly what their kitchen duties will entail that day. They can also cross off the tasks as they work through the plan, to keep them organized and on-track.

When used properly a prep guide will not only boost compliance but also save your client a ton of time in the kitchen and teach them meal prep habits that will last a lifetime. This means more of your clients will get amazing results and become raving fans, which is one of the most powerful sales and marketing tools you can ever have!