Do you have a fry-loving client or two? Share these tips with them to help them make crispy sweet potato fries in their oven. You will quickly become their culinary hero!
Step 1: Preheat Your Oven
There are times when it is efficient to throw your food in the oven before it's preheated, but not if you want crispy sweet potato fries! Before you do anything, turn on the oven to 425ºF (218ºC) and let it fully preheat.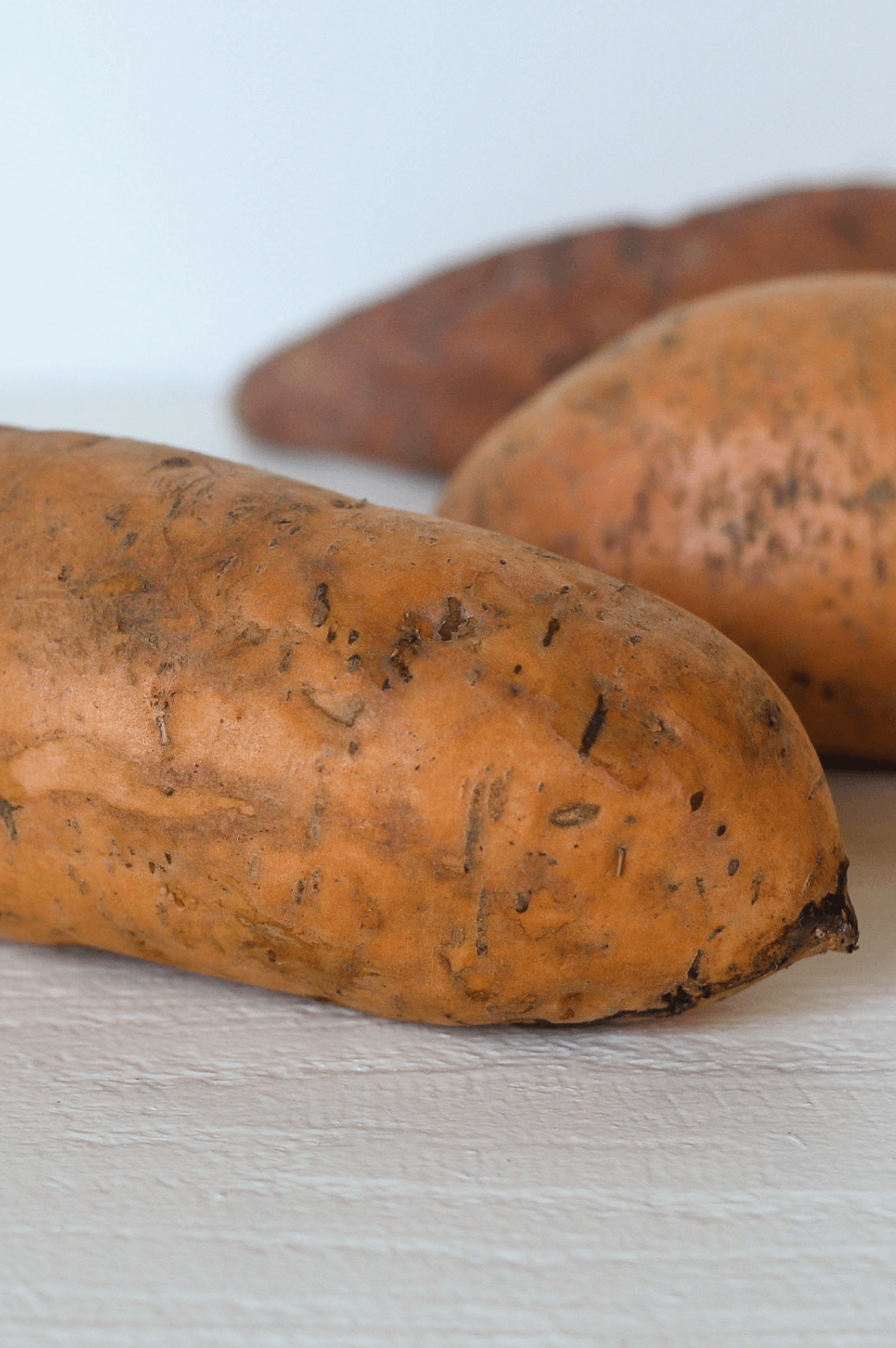 Step 2: Evenly Slice the Sweet Potato Into Fries
When slicing the sweet potato into fries, make sure that they are roughly the same thickness and size so that they cook evenly. For best results, we recommend slicing the sweet potato into fries that are about 1/4" wide. Any thicker and the fries will not get as crispy.
Work lengthwise on the sweet potato. Slice off a 1/4" wide piece from one side.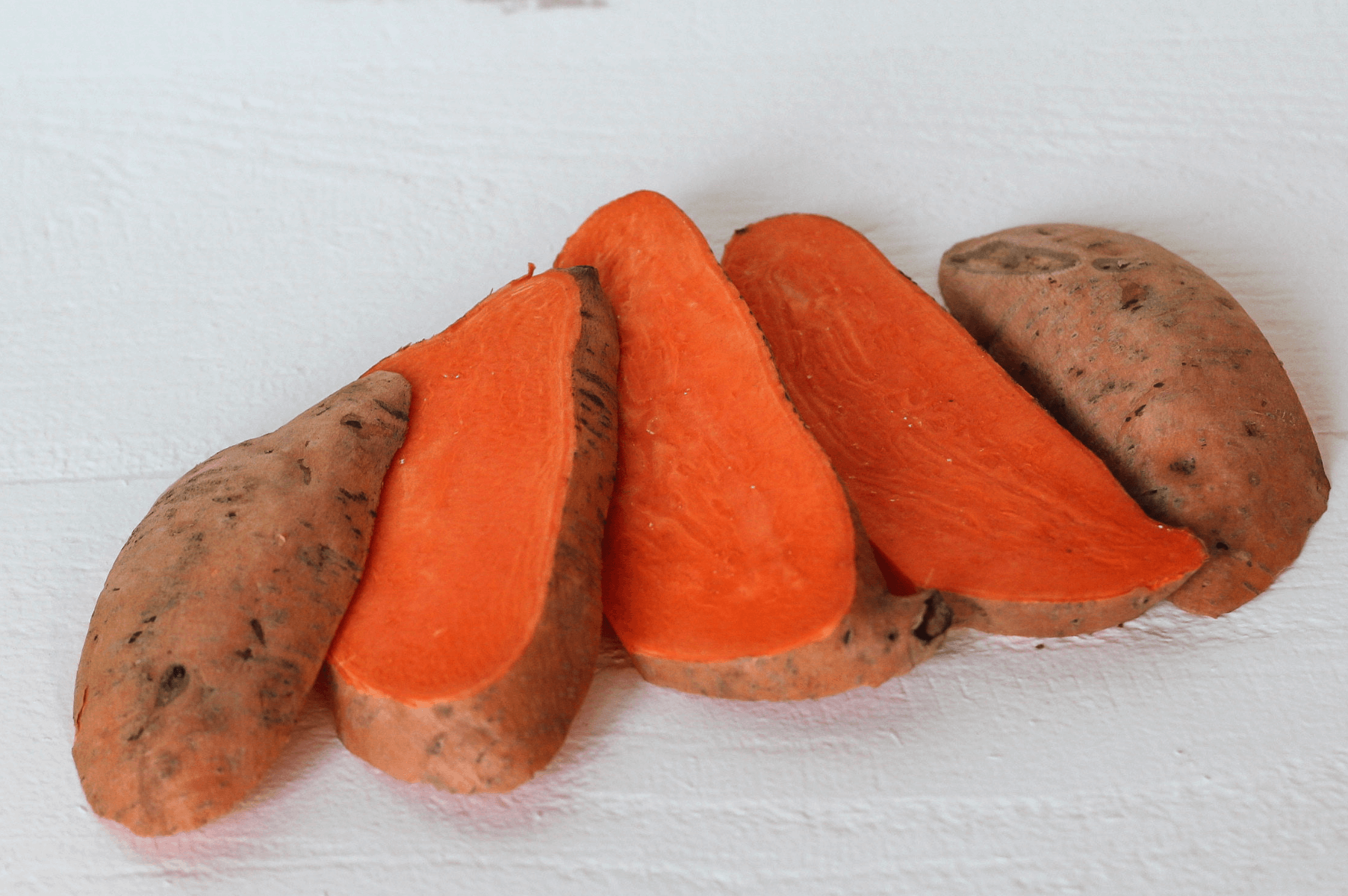 Then turn the sweet potato with the flat side facing down for stability and slice into thin fries.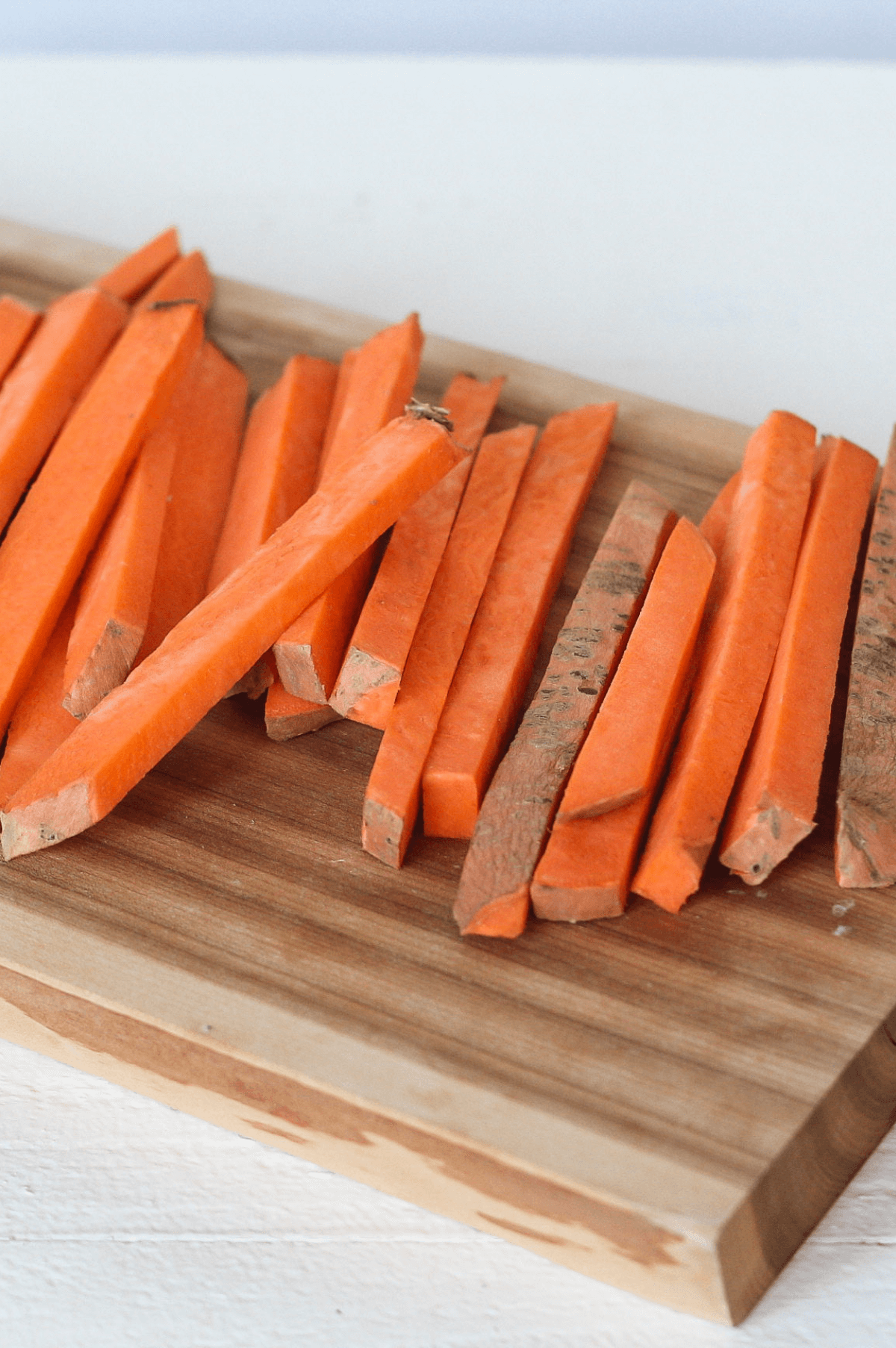 Step 3. Coat Your Potatoes in a Starch
If you look at a packaged bag of pre-sliced fries, you'll notice that they all contain some kind of starch. This is because the starch absorbs moisture to make the fries nice and crispy.
Cornstarch is the most common type of starch and works great for crispy sweet potato fries. You could also use arrowroot starch, tapioca, potato or rice.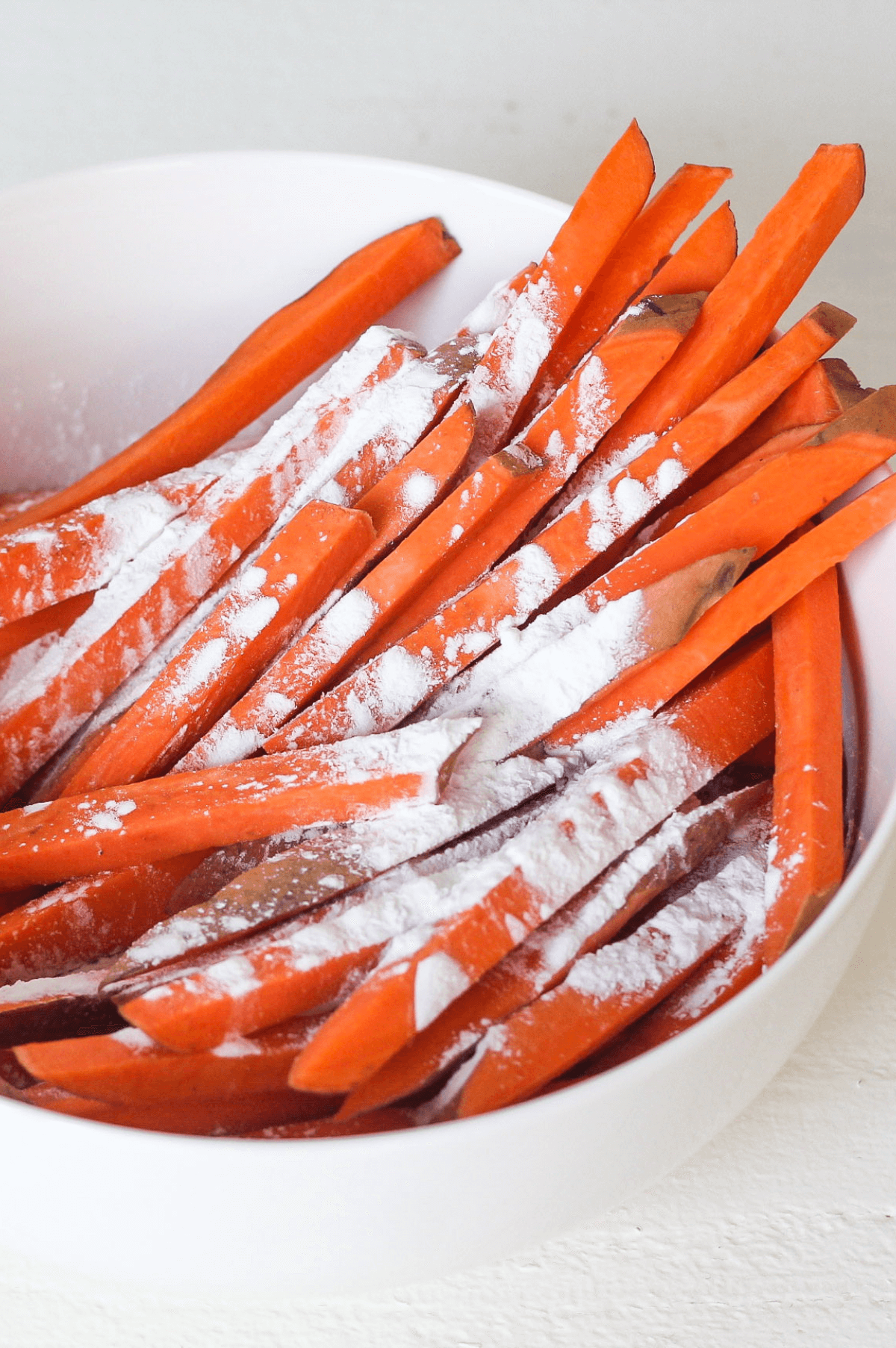 Step 4: Spread the Sweet Potato Fries Out Evenly on a Baking Sheet Lined with Parchment Paper
Ensure that the fries are evenly spaced out on a parchment-lined baking sheet so that they aren't touching. If the fries are touching, they will steam rather than bake, which leads to soggy, sad fries. The parchment paper prevents the fries from sticking to the sheet.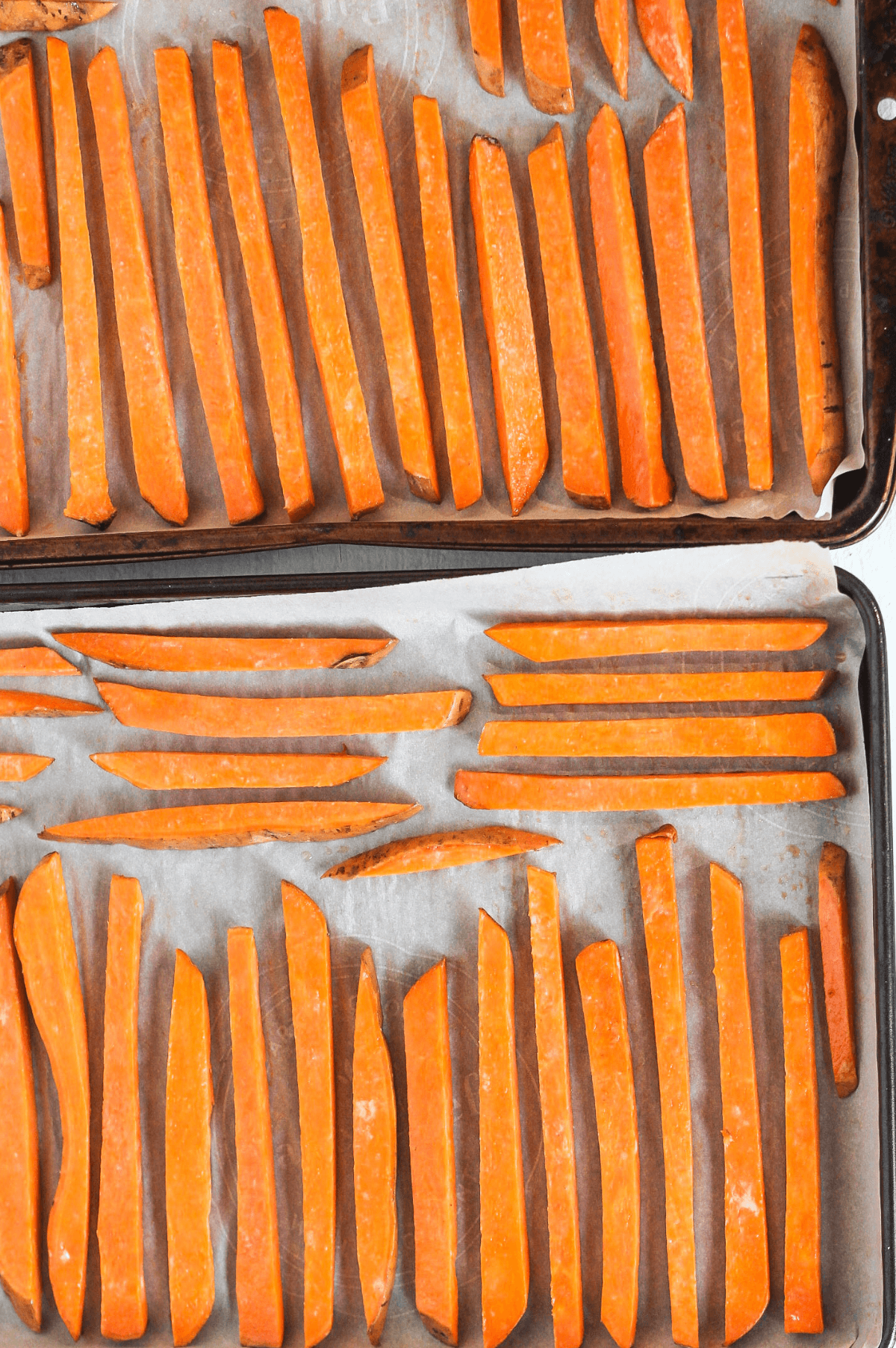 Step 5: Flip The Fries Once
It may be tempting to want to flip the fries continuously as they bake, but it isn't necessary. Simply flip the fries once, halfway through baking.
If you are using more than one baking sheet, rotate the two sheets halfway through so that the sheet that was on the bottom rack is now at the top and vice versa. This will prevent burning and allow for more even baking.
Tip: If you find some fries are baking faster than others, move them away from the center of the pan to the side of the pan so they bake more evenly.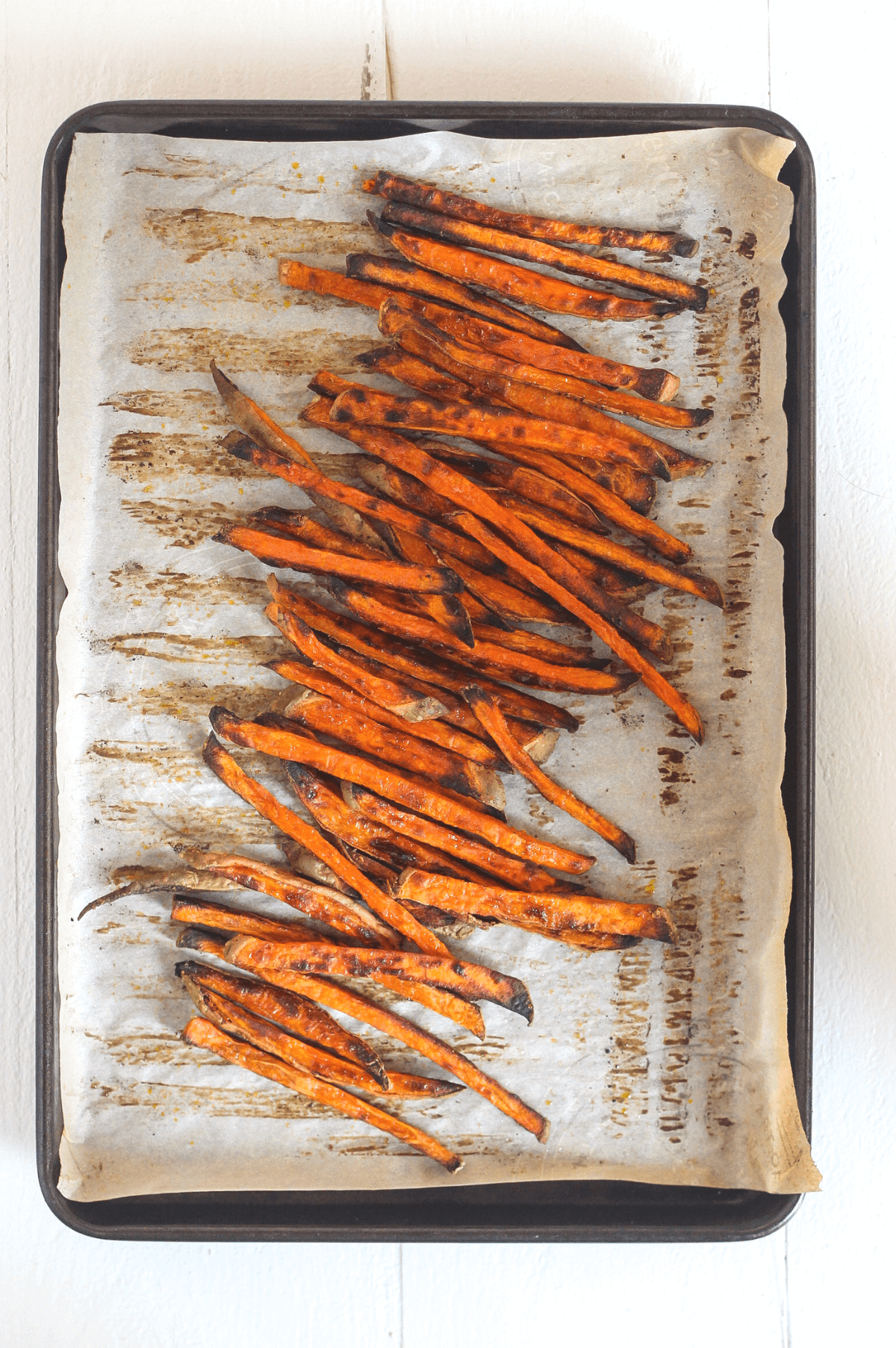 So are you ready to start cooking some delicious, crispy, oven baked sweet potato fries? Here's our tried, tested and true recipe.
Crispy Oven Baked Sweet Potato Fries
Servings: 2
Time: 35 minutes
Ingredients:
2 large Sweet Potatoes, sliced into fries
1 tbsp Arrowroot Powder
2 tbsp Avocado Oil
1/2 tsp Sea Salt
Directions:
Preheat the oven to 425ºF (218ºC) and line a baking sheet with parchment paper.
Toss the sliced sweet potatoes in the arrowroot powder, ensuring they are evenly coated. Add the avocado oil and toss again.
Add the sweet potato fries to the pan, making sure they are evenly spaced out and not touching. Use two baking sheets if necessary.
Bake for 16 to 18 minutes, then remove and flip the fries using a spatula. Rotate the baking sheets if using more than one. Bake for 15 to 16 minutes more, keeping a close eye to avoid burning.
Remove the baked fries from the oven. Toss with sea salt and any additional seasonings you'd like. Serve with your favorite dip and enjoy!