Today, we're sharing a paleo-friendly, gluten-free granola recipe that not only contains heart-healthy fats but is also a great source of protein and fiber that will help your clients power through the day.
The best part is your clients can make the Paleo Granola ahead of time and cut down their morning prep work for the rest of the week.
Click here to add this recipe to your client's meal plan.
This recipe is...
Dairy-free
Egg-free
Gluten-free
Paleo
Pescatarian
Soy-free
Vegetarian
Digging into a handful of granola mid-day is probably my absolute favorite, but here are some other ways your client's can enjoy the recipe!
Paleo Granola with Almond Milk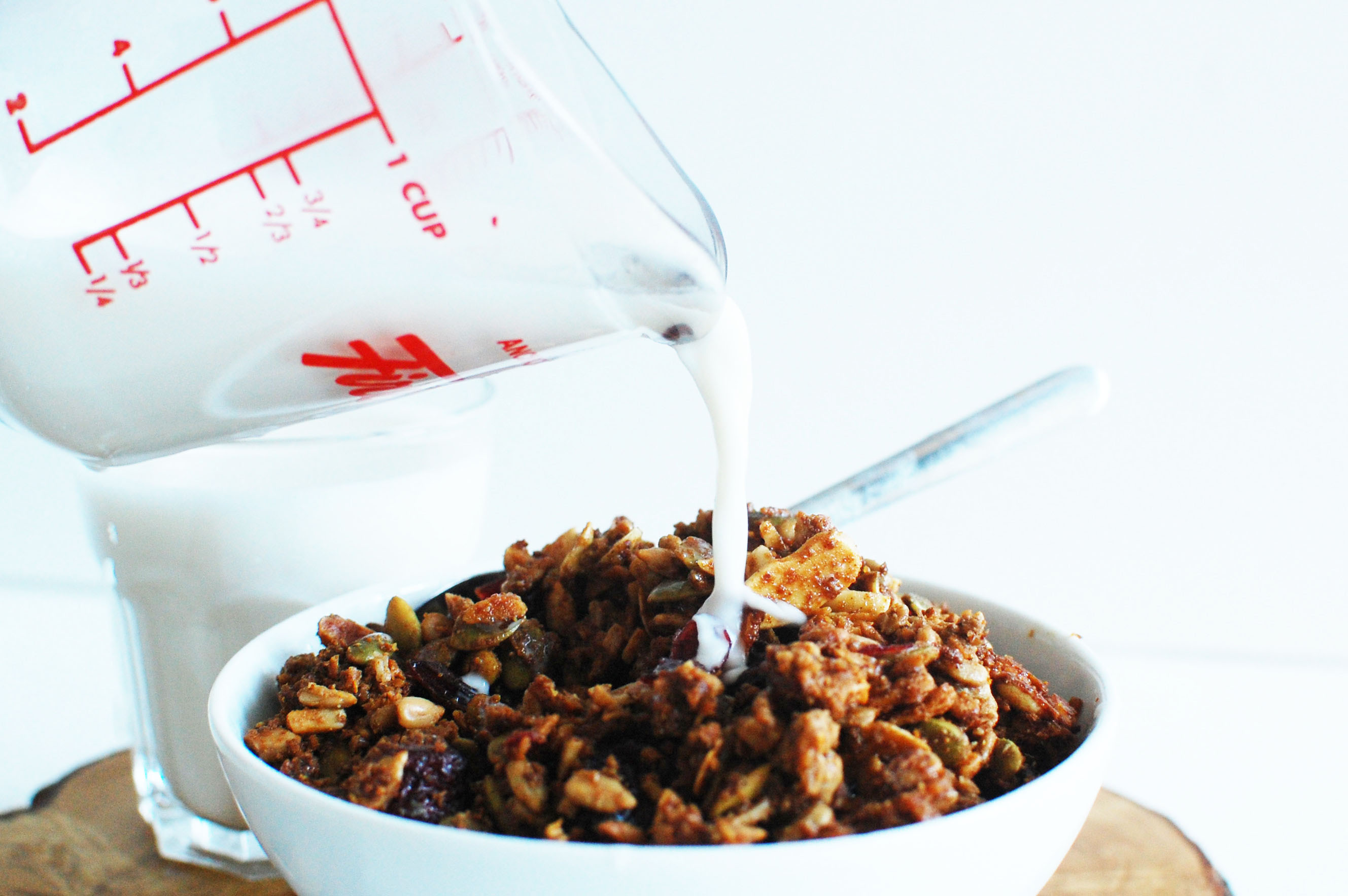 This hearty and delicious granola paired up with cold, fresh almond milk? Swoon. Not to mention, this breakfast can be made portable. Have your clients bring a baggie of granola and a jar of almond milk to work, or leave a stash in the cupboard (at their own risk).
Paleo Granola Yogurt Parfait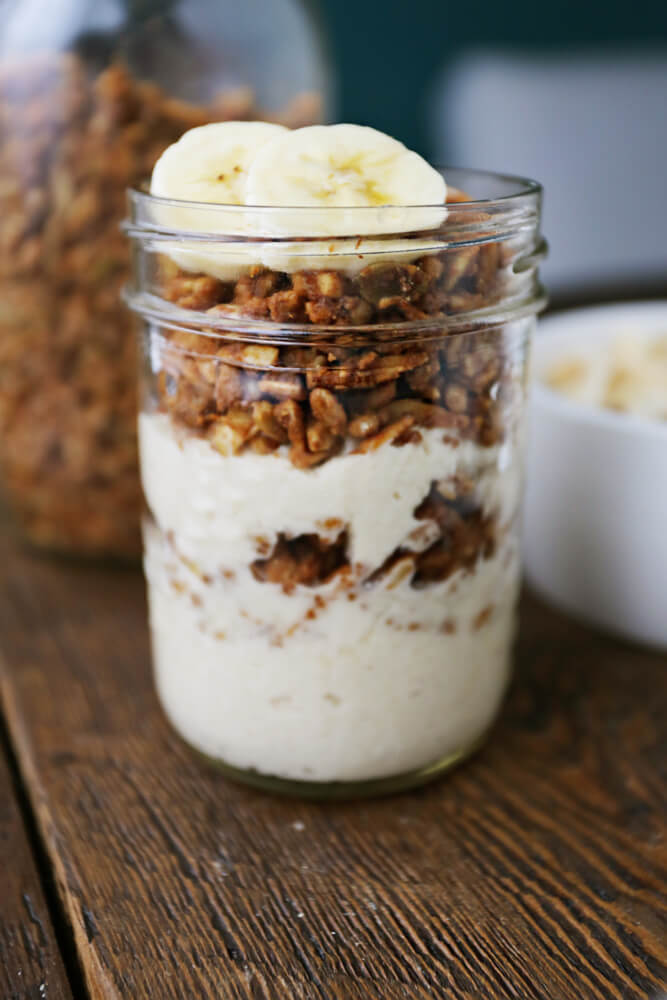 Since the granola can be made ahead of time, a parfait can be quickly whipped up by just adding fruit and yogurt (or cashew-based yogurt!). Dine-in or take it to go, easy peasy.
Paleo Granola on Oatmeal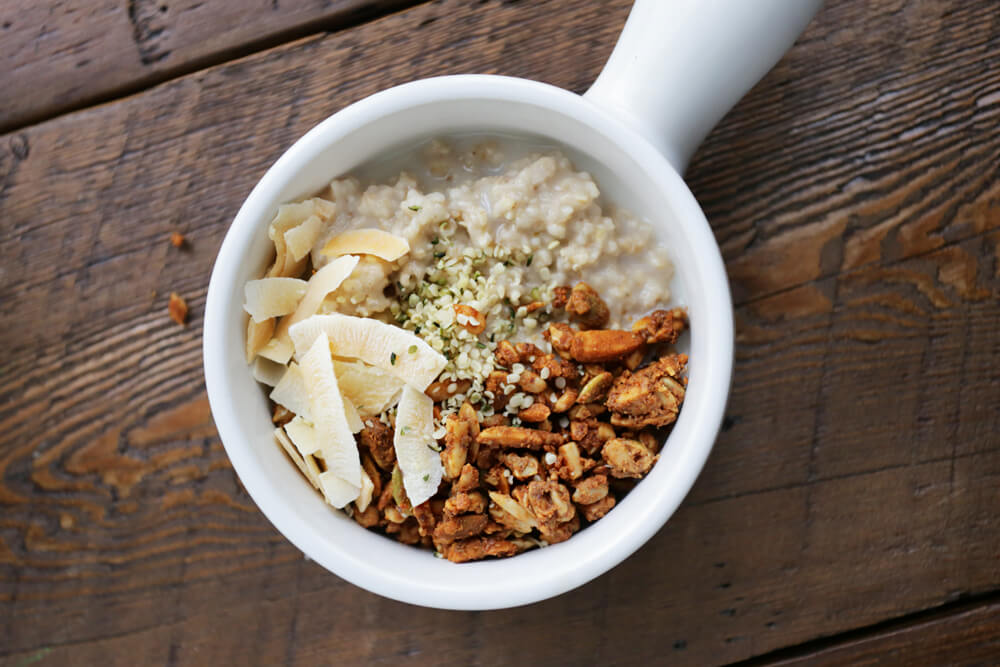 Another way to for your clients to enjoy their granola is overtop of a warm, gooey bowl of oatmeal, alongside any other ingredients they may have on hand. We used coconut chips, hemp seeds and a generous splash of almond milk. You can also top with shredded coconut and dried/fresh fruit, or just keep it plain and simple.
So, what are you waiting for? Add this to your client's meal plan so they can make this paleo granola today and eat it all dang week.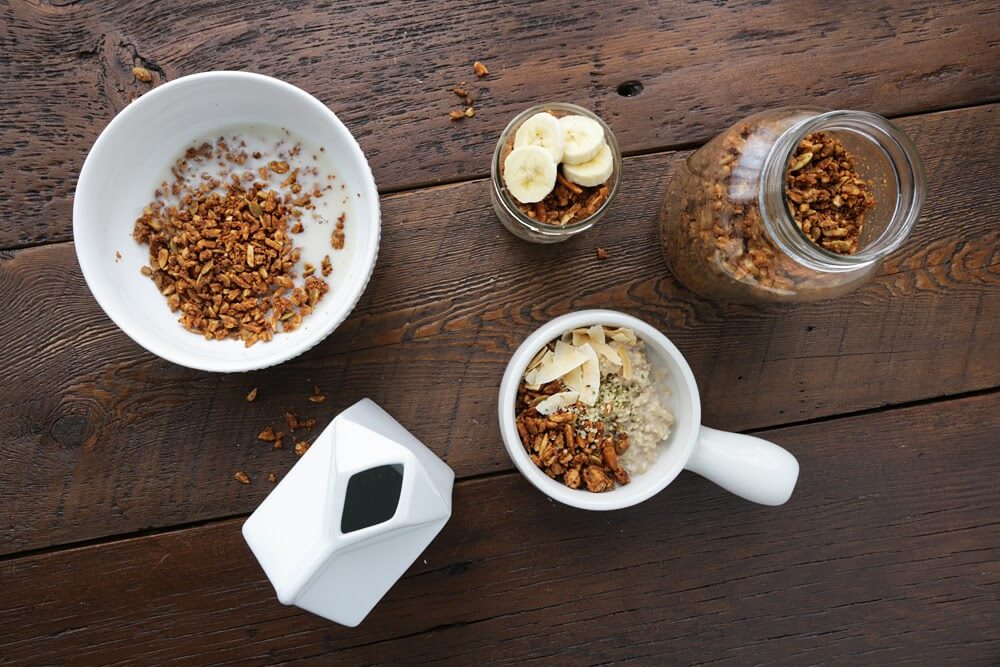 Paleo Granola
Serves: 4
Time: 40 minutes
Ingredients:
1 cup Slivered Almonds
1 cup Sunflower Seeds
1/2 cup Pumpkin Seeds
1 cup Unsweetened Coconut Flakes
4 tbsps Ground Flax Seed
4 tbsps Coconut Oil (melted)
1/2 cup Sunflower Seed Butter
4 tbsps Raw Honey
1/2 tsp Sea Salt
1 tsp Cinnamon
1 cup Dried Unsweetened Cranberries
Directions:
Preheat the oven to 300°F. Line a large baking sheet with parchment paper.
Combine all ingredients except the dried cranberries and almond milk together in a large mixing bowl. Mix very well until all ingredients are evenly distributed. Using your hands works best! Spread the mixture evenly across the baking sheet.
Bake for 30 minutes, giving a stir at the 15-minute mark.
Remove from oven and let cool completely. Once cool, transfer into a mixing bowl and add dried cranberries. Toss well to evenly distribute.
Add to a bowl and serve with a bit of almond milk for breakfast or eat dry as a snack. Enjoy!
Suggestions:
Nut Allergy - Use sesame seeds instead of slivered almonds.
Storage - Store in a mason jar or airtight container in the fridge for up to 1 week.
No Dried Cranberries - Use raisins.