The Fall season is a big time for health professionals. Many people are getting back into a more regular routine after the summer months and their health, which may have been overlooked, becomes a top priority once again.
As a health professional, the Fall season presents a tremendous opportunity for growth. If you have the right services and offerings in place, these are the months you can watch your business soar.
Today we are sharing five unique ideas that will help you attract new clients, convert leads and grow your business.
1. Create a Fall-Inspired Lead Magnet to Attract Clients
If you want to attract your ideal client, then you must have an awesome free resource that will grab their attention.
From our experience, we have found that there are two types of lead magnets that perform best for health professionals:
A short, 5 to 7 day meal plan or...
A curated recipe book.
Now, I want you to put yourself in your client's shoes. Consider how they are feeling after the summer months. What are they deeply concerned about when it comes to their health? What type of meal plan or recipe book could you create to help solve that issue?
Here's an example. Let's pretend you are a Nutritionist who helps women who are trying to get pregnant balance their nutrition. You know that one of their biggest struggles when it comes to eating for their fertility is consistently planning healthy dinners. In this case, you could create an awesome lead magnet called "Fall-Inspired Fertility Nutrition Dinner Guide", which provides seasonal dinner ideas that are full of nutrients that support clients with their fertility, like folate, healthy fats, plant-based proteins and whole grains.
To create this using That Clean Life, simply create a Collection called "The Fall-Inspired Fertility Nutrition Dinner Guide" and then use our filters to search for key nutrients that also contain Fall ingredients. For example, you could look for dinners that contain a plant-based protein source like green lentils, and a seasonal ingredient like pureed pumpkin.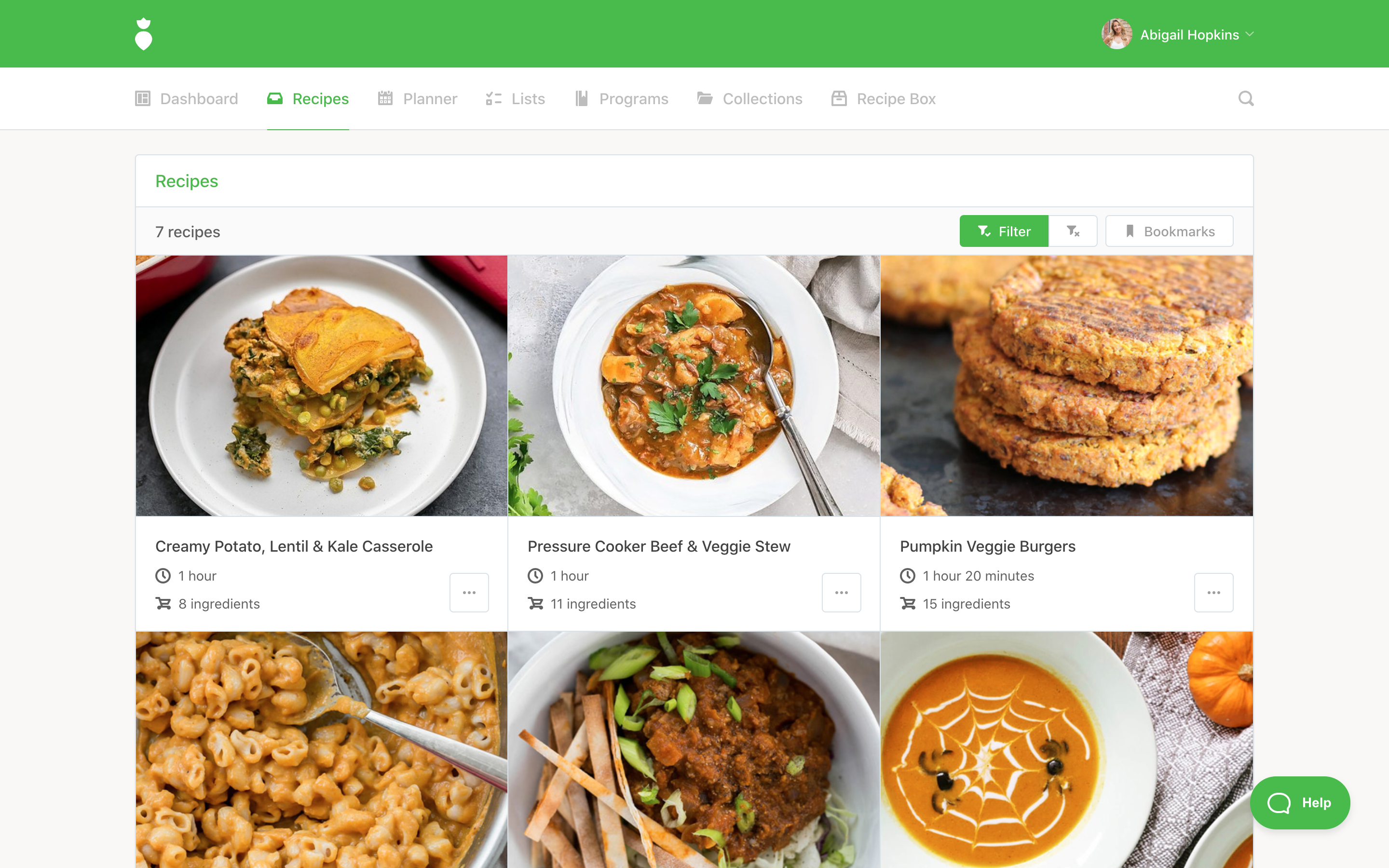 Or dinners that contain ingredients high in folate like spinach and a seasonal ingredient like acorn squash. Dinners that contain beets, but also ingredients high in healthy fats like avocado or citrus, high in folate. Dinners that contain apple and other fertility-supportive ingredients like healthy fats. You get the picture.
Continue to build out your seasonal recipe book this way until you have a beautiful collection of fall-inspired, fertility-supportive dinner recipes. Once you are happy with your collection, you can turn it into a lead magnet by exporting it as a PDF. Don't forget to include a brief, which introduces yourself, explains why you created this guide, discuss the problem it solves and tells them what to do to learn more about your work. Here's an example:
Hi!
My name is Abigail and I am a Nutritionist who specializes in pre-conception nutrition. In simplest terms, I help women eat right to increase their chances of getting pregnant.
Now, I've helped hundreds of women along their fertility journeys, and if there is one thing I know for sure, it is that coming up with healthy dinners that are delicious but still meet your nutrient needs can be tough. That is exactly why I have put together this guide, so you can have healthy Fall-inspired dinners that you will be excited about.
This guide is full of dinners that contain key nutrients to support your fertility including folate, healthy fats, plant-based proteins, and whole grains.
If you love this guide, then you will absolutely love my 12-Week Fertility Nutrition Program, where I work with you one-on-one to optimize your nutrition and fertility. Click here to learn more about that. I would be so honored to be a part of your journey.
Enjoy the dinner guide, and remember to tag me in your snack creations! I am @nutritionfertility on Instagram.
Talk soon,
Abigail
The Fertility Nutritionist
Once you hit export, we will convert it into a PDF with your custom branding. Now you have a beautiful introduction, a gorgeous lead magnet and you are all set to go.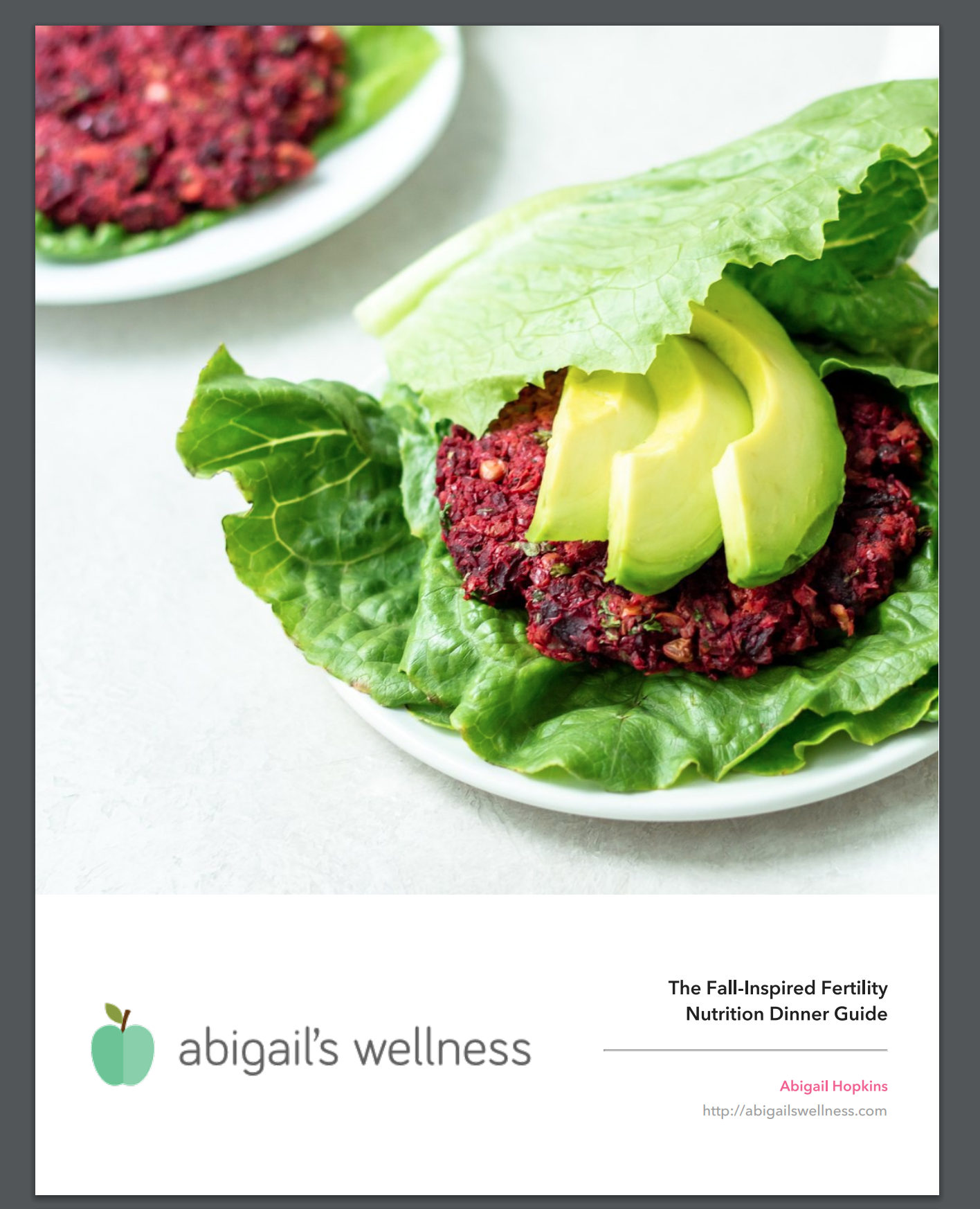 You will need a place where you can upload your lead magnet for people to download it in exchange for their email address. If you need help with this, check out Mailchimp Landing Pages or Convert Kit Landing Pages.
Once you have a landing page for your lead magnet, you can promote it to your ideal clients through social media, Facebook Lives, etc.
2. Run a Fall-Inspired Challenge
A free challenge is a perfect way to nourish your leads and convert them into paying clients. It gives them a chance to get to know, like and trust you.
Again, I want you to think of a problem that your ideal client really struggles with, and think about how you could turn this into a fun challenge.
For example, let's say you are a Nutritionist who works with busy moms who are trying to lose weight. You know that they are struggling to get back into a routine after summer, and need quick meals that they can grab and go while getting their kids off to school and other activities. In this case, you could create a "7-Day Fall Smoothie Challenge for Busy Moms" where you challenge participants to start every morning with an autumnal smoothie that is easy to make, packed with nutrients, and will support their weight loss goals.
To create this on That Clean Life, create a new meal plan called "7-Day Fall Smoothie Challenge for Busy Moms". From here, apply our smoothie filter, then start adding in seasonal ingredients like pumpkin, apple, cauliflower, kale or sweet potato.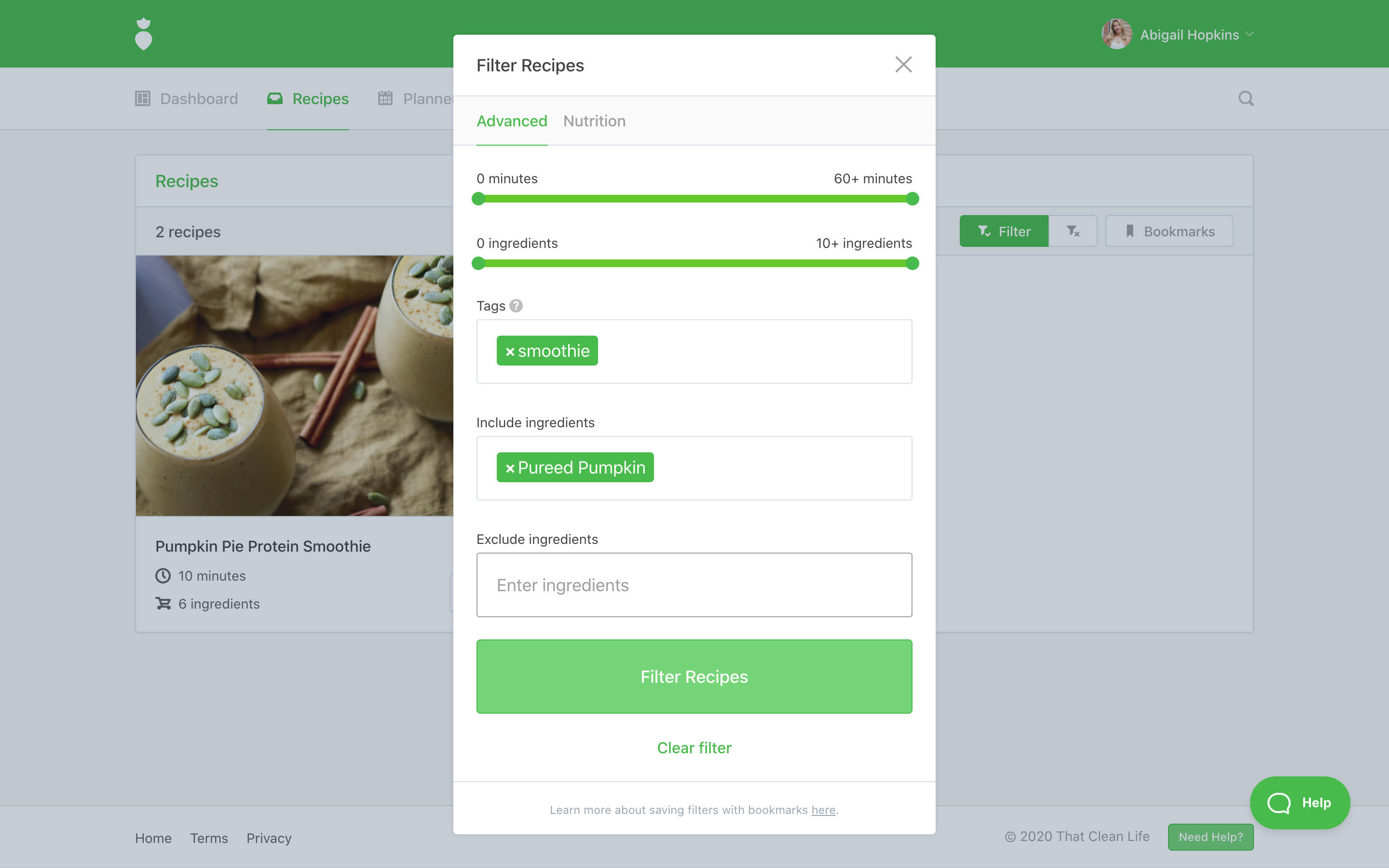 Now you have a 7-day fall-inspired smoothie plan built out!
Don't forget to write a brief to introduce yourself and tell participants about the challenge. Here's an example:
Hello! Welcome to our 7-Day Fall Smoothie Challenge for Busy Moms.
My name is Abigail and I am a Holistic Nutritionist who has dedicated the last five years of my life to helping busy moms eat healthily and feel their best regardless of a hectic schedule.
This is a free 7-day challenge that will help you get back on track and back into a routine after the lazy hazy days of summer. Every day, I will introduce you to a delicious smoothie, packed with nutrients that use fresh Fall produce. These smoothies are designed to help keep you full and reach your weight loss goals.
On the following pages, you will find the smoothie meal plan with an itemized grocery list and recipes. We will start this challenge on Monday, August 31 and we will end it on Friday, September 4. This means you should use the weekend before the challenge to grocery shop and prep.
Be sure to join our private Facebook group, Easy, Nutritious Meals for Busy Moms. This is where you can connect with myself and other women dealing with the chaos of mom life while also caring deeply about their personal nutrition and self-care.
Each day of the challenge, I'll be covering an important topic that will empower you to get back on track after the summer months.
Day 1: Hydration
Day 2: Fitness
Day 3: Meditation
Day 4: Relationships
Day 5: Nutrition
You now have everything you need to get started. Grab the list, mark off any items you already have then get shopping. Join the Facebook group and you will be ready to rock on Monday morning.
I can't wait to see what we can accomplish together in just 5-days!
Abigail
The Busy Mom Nutritionist
Now you are ready to create your challenge materials. Simply export the plan as a PDF, and we'll automatically generate a grocery list and include the recipes - all with your custom branding.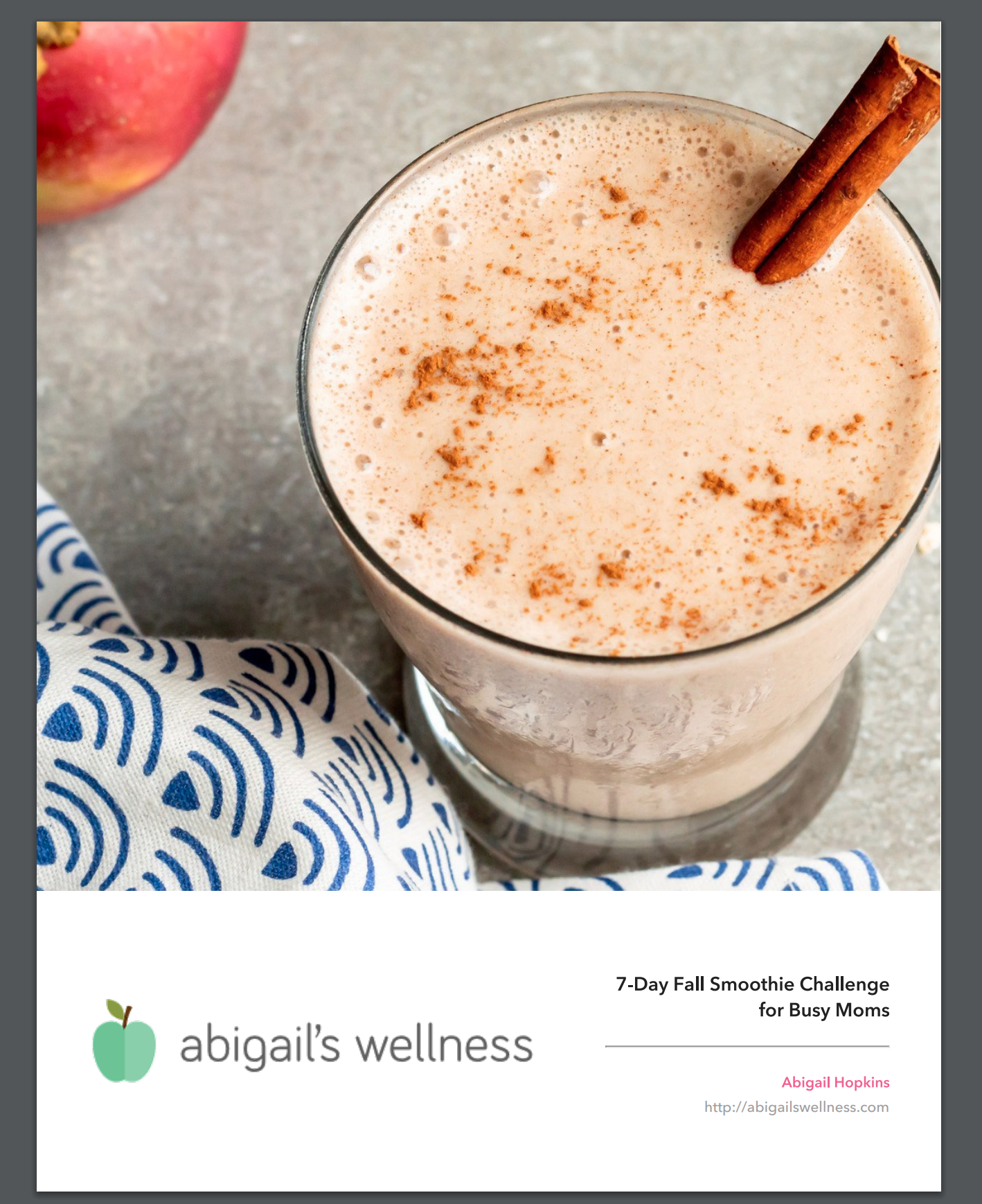 Create a landing page for your challenge and start promoting it. Get as many people signed up as possible, then at the end hit them with an irresistible offer that will convert them into paying clients. This could be a discount on your upcoming group program, or a bonus when they sign up for your one-on-one services.
3. Host a Fall Harvest Cooking Club
The world, for the most part, is still self-isolating and we're all craving a bit of socialization right now. Hosting a recipe club would be a great way to bring members of your community together to connect over seasonal, healthy food. Think of it as a book club, but for recipes. Every week you send out a mini seasonal recipe book focusing on one piece of Fall produce and information about its nutrition value. Then the next week you come together to discuss.
For example, let's say you create a "Nutritious Fall Harvest Club" where every week you focus on one Fall ingredient: butternut squash, apples, beets, carrots, pumpkin, etc. Every week, participants get a mini recipe book that gives them five recipes that shows them how to use the vegetable or fruit. They have one week to work through the recipes, and then the following week the community comes together to discuss.
So let's say week one you are focused on butternut squash. Log in to That Clean Life and use the filters to find recipes that include butternut squash. Add them to a collection, and export the collection with a brief that outlines the nutritional benefits of butternut squash.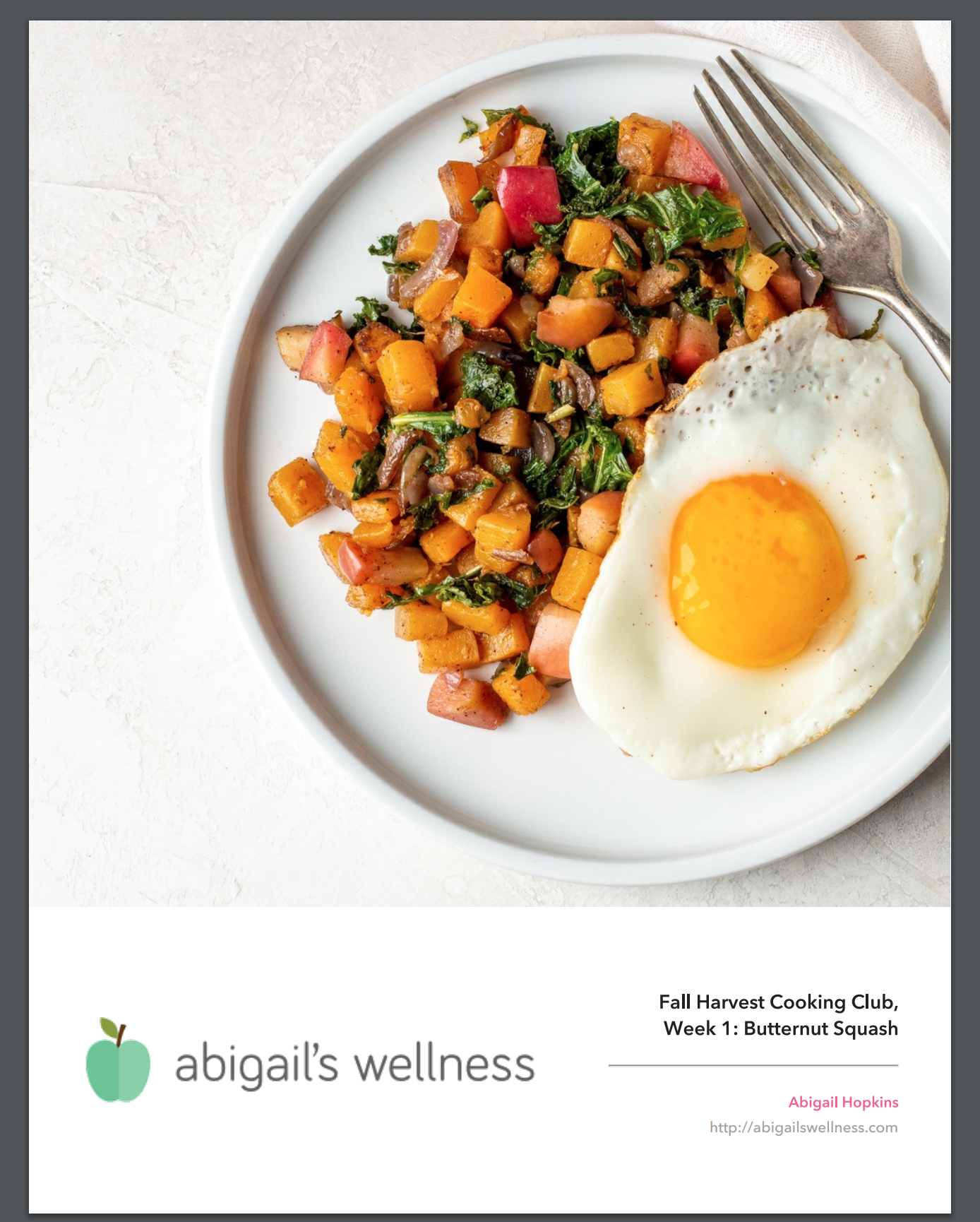 The next week, you could do the same with apples or beets.
Let's say you run this Fall Harvest Cooking Club for 8 weeks in September and October and you charge $20 per person to participate. If you attracted 50 participants, that is an additional $1,000 in revenue for you. Plus, you will build so many great relationships and convert many participants to one-on-one clients.
4. Offer a High-End One-on-One Fall Accountability Program
Fall is a time when many people are ready to invest in their health and the support they will need to reach their goals. Please do not sleep on this! Make sure your potential clients know you are accepting clients and ready to help them.
Maybe you specialize in helping women who struggle with bloating and IBS. After a summer of pandemic drinking and comfort food, there are definitely people out there right now who are ready to make a change.
Your high-end one-on-one program will probably include customized meal plans to help your client implement all the changes you are recommending they make. You can use That Clean Life to create weekly custom plans that will help your clients get amazing results.
Let's say you charge $1,800 for your 12-week one-on-one program. If you attract three people per month to sign up for this program, you could earn an additional $5,400.
5. Host a Healthy Fall Baking Workshop
Everyone loves baking, and most people didn't learn how to bake healthy treats. Fall is the perfect time to teach a workshop on healthy baking right when everyone is ready to turn on their oven, and before the holidays hit.
Use That Clean Life to search for Fall-inspired desserts like cookies, muffins, and healthy twists on classics like apple crumble and pumpkin bread.
Add them to a Collection, then export the collection as a recipe book. Now you have content for your workshop and a beautiful resource for your participants to keep.
We know in-person events aren't happening in most places in the world right now, but do not let that stop you. Simply host your workshop online using a webinar software (like Zoom). From here you can set up your event using a ticketing site like EventBrite or Universe, set your price and market your workshop. When people register, they will receive the webinar link to join the workshop at your set time.
Let's say you marketed this super fun workshop and attracted 30 people to sign up. If you charged $35 per participant, you could earn over $1,000.