There is nothing more discouraging to a client than feeling like their nutrition plan takes all the fun out of eating. As a nutrition professional, it's your job to prove to your clients that eating healthy can be simple and fun, regardless of their food sensitivities.
When a client has a long list of foods to avoid, a meal plan can really help them feel confident and excited about what they can still eat. But without the right tools, tracking down recipes for clients with complex needs can be extremely time-consuming. Combing through multiple websites or cookbooks to find recipes that are free from a client's food sensitivities but yet still meet their nutrient needs takes hours, not to mention the time spent to then put together a plan, grocery list, and prep guide.
Today we are going to walk you through how That Clean Life can help you quickly create beautiful, delicious meal plans for complex clients who have multiple food sensitivities. Using this process, you will only spend minutes on meal plan creation instead of hours.
Step 1: Conduct a Meal Planning Assessment
Before you dive into meal planning for a client, you must conduct a proper assessment to ensure you understand your client's likes, dislikes, and the amount of time they can spend in the kitchen. Grab a free copy of our Assessment Tool to help you gather the right information.
Step 2: Find Recipes Based on Diet Type or Ingredients
That Clean Life's recipe filters are designed for nutrition professionals working with clients who have multiple sensitivities. Instead of searching Google or multiple websites, all recipes are in one place and can easily be filtered based on common sensitivities or specific ingredients that must be excluded.
From the Recipes page, click Filters and apply all tags relevant to your client such as...
Autoimmune Paleo
Dairy-Free
Egg-Free
Elimination Diet
Gluten-Free
Grain-Free
Ketogenic
Low FODMAP
Low Glycemic
Low Histamine
Low Lectin
Low Oxalate
Nightshade-Free
Nut-Free
Oil-Free
Paleo
Pescatarian
Soy-Free
Sugar-Free
Vegetarian
Vegan
For a full list of the tags that you can use to filter recipes, click here.
If your client has a specific food allergy or sensitivity, you can indicate more ingredients to be excluded using the "Exclude ingredients" filter.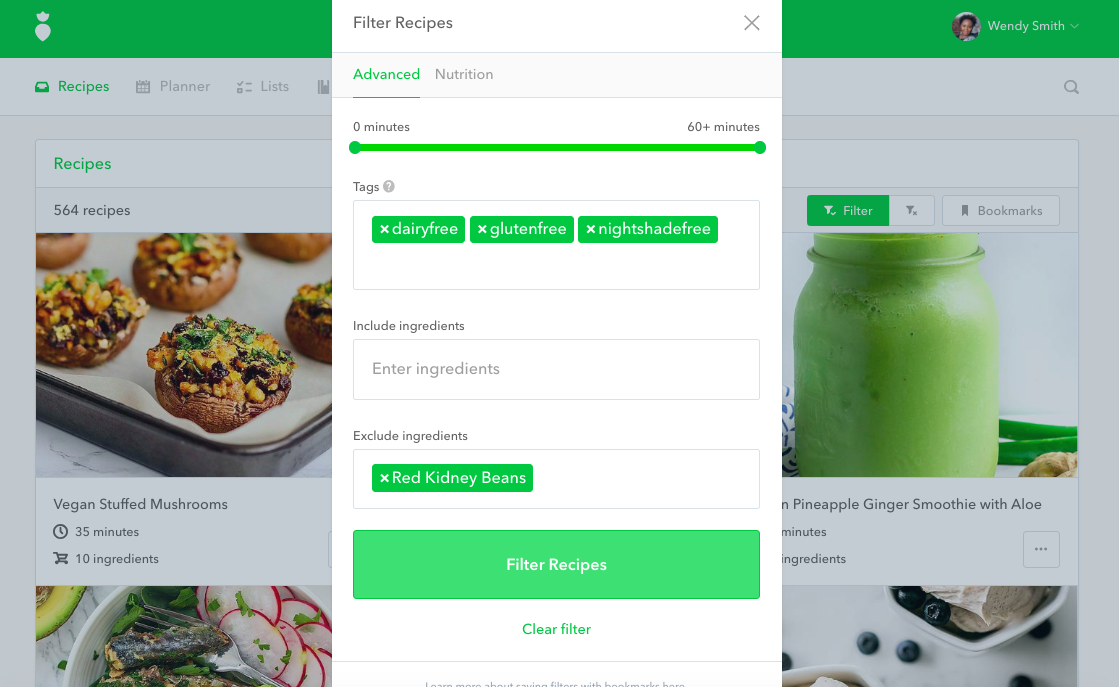 All of our recipes can be modified. So if you see a recipe that contains ingredients your client cannot have, modify it to their needs. For example, you could replace peanut butter with sunflower seed butter to make a recipe nut-free. To learn how to modify recipes, click here.
Tip: If you have created a unique set of filters that you may use again, be sure to bookmark it. This will save the filters so you can use them again in the future.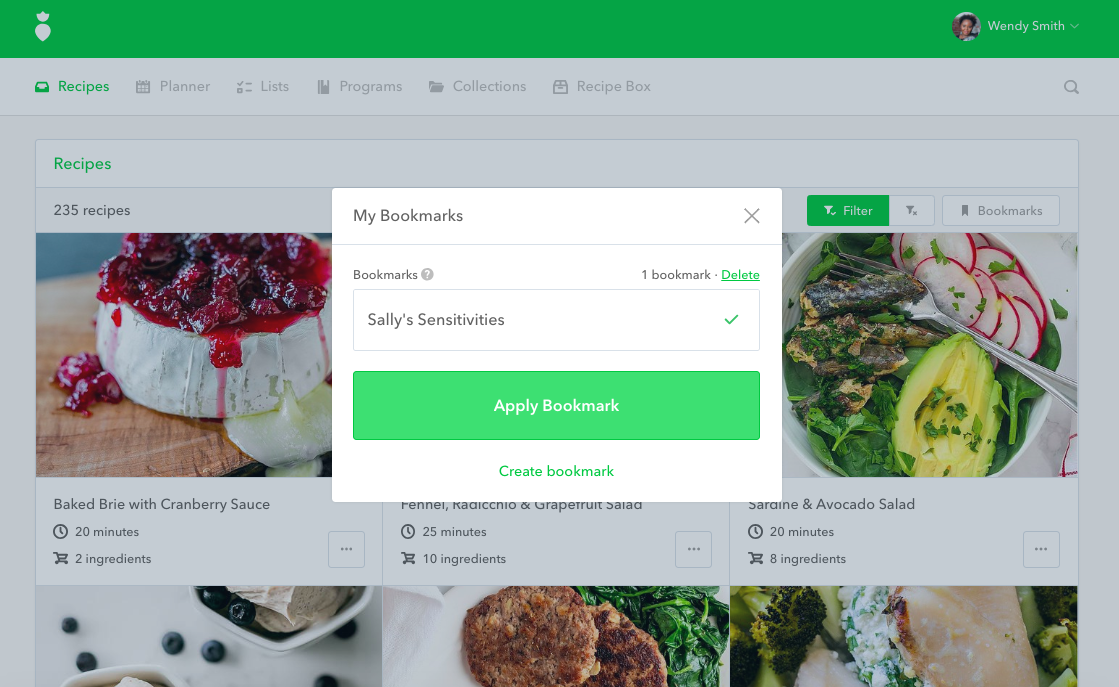 Step 3: Finding Nutritionally Appropriate Recipes
Recipes can also be filtered based on nutrient needs. For example, if you are working with a client who has multiple food sensitivities and also requires a low carbohydrate diet, you can set a maximum carbohydrate content for recipes.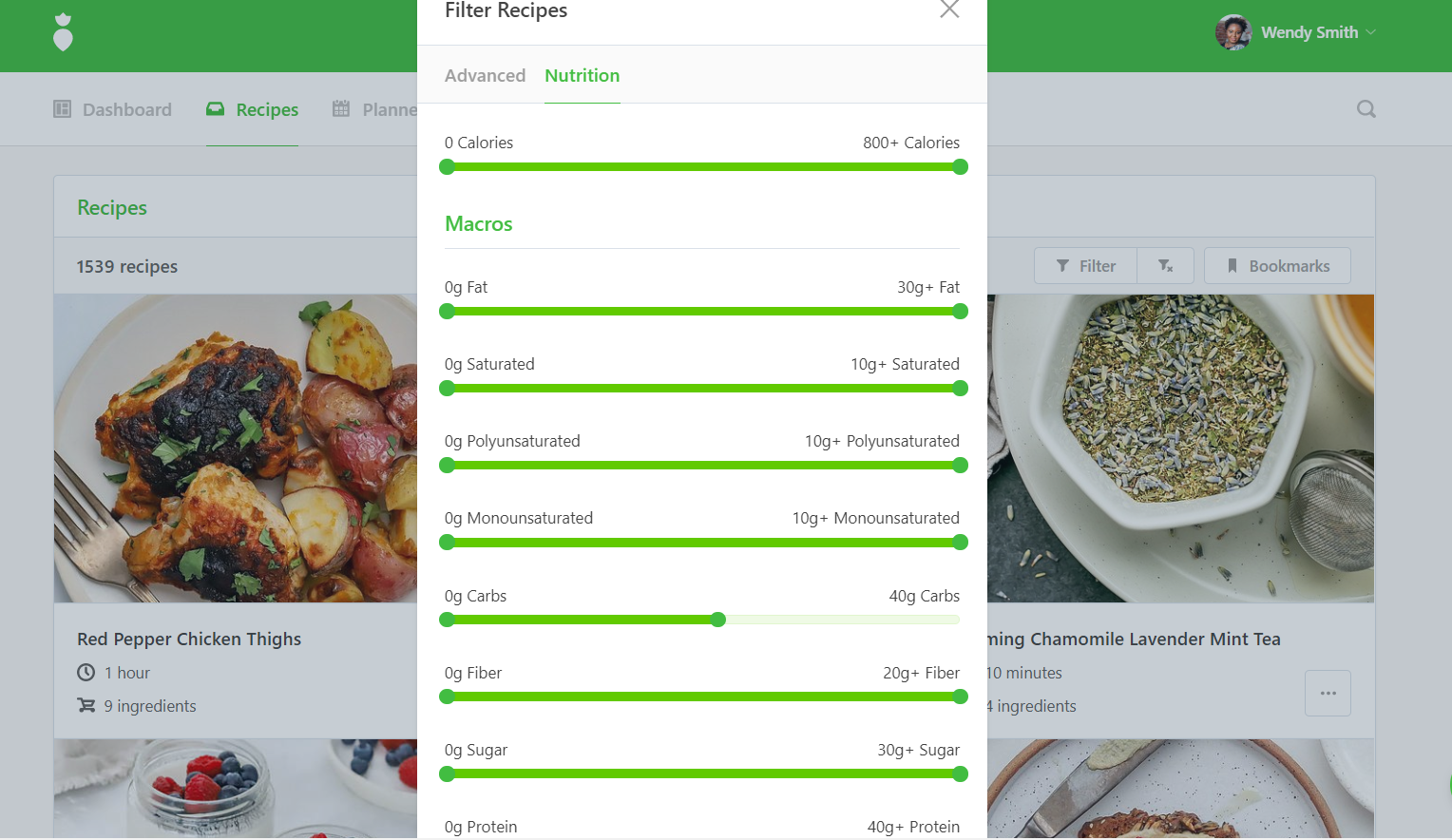 For a full list of nutrients that you can use to filter recipes, see here.
Step 4: Add Meals to the Planner
Once you've found the perfect recipes, you can start adding them to your client's meal plan.
As you add meals to the plan, you can view daily nutrition totals, including both macronutrient and micronutrient content. This way, you can ensure your client is meeting nutrition needs even if they are on a very limited diet. You can also view daily nutrition information as a breakdown of macronutrient percentages.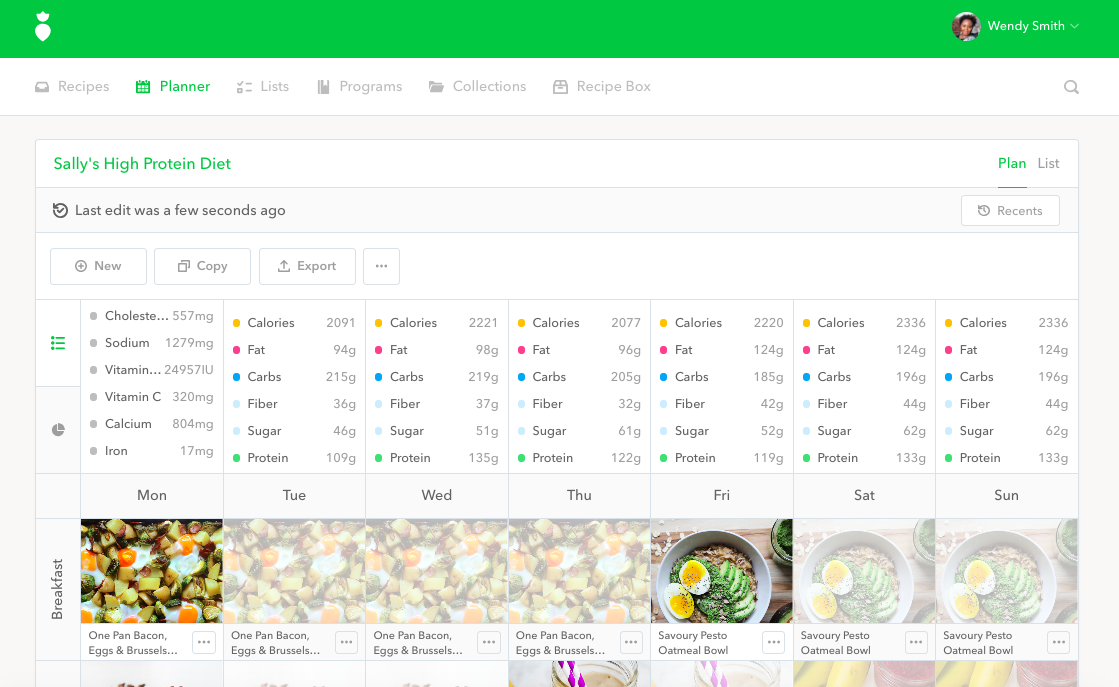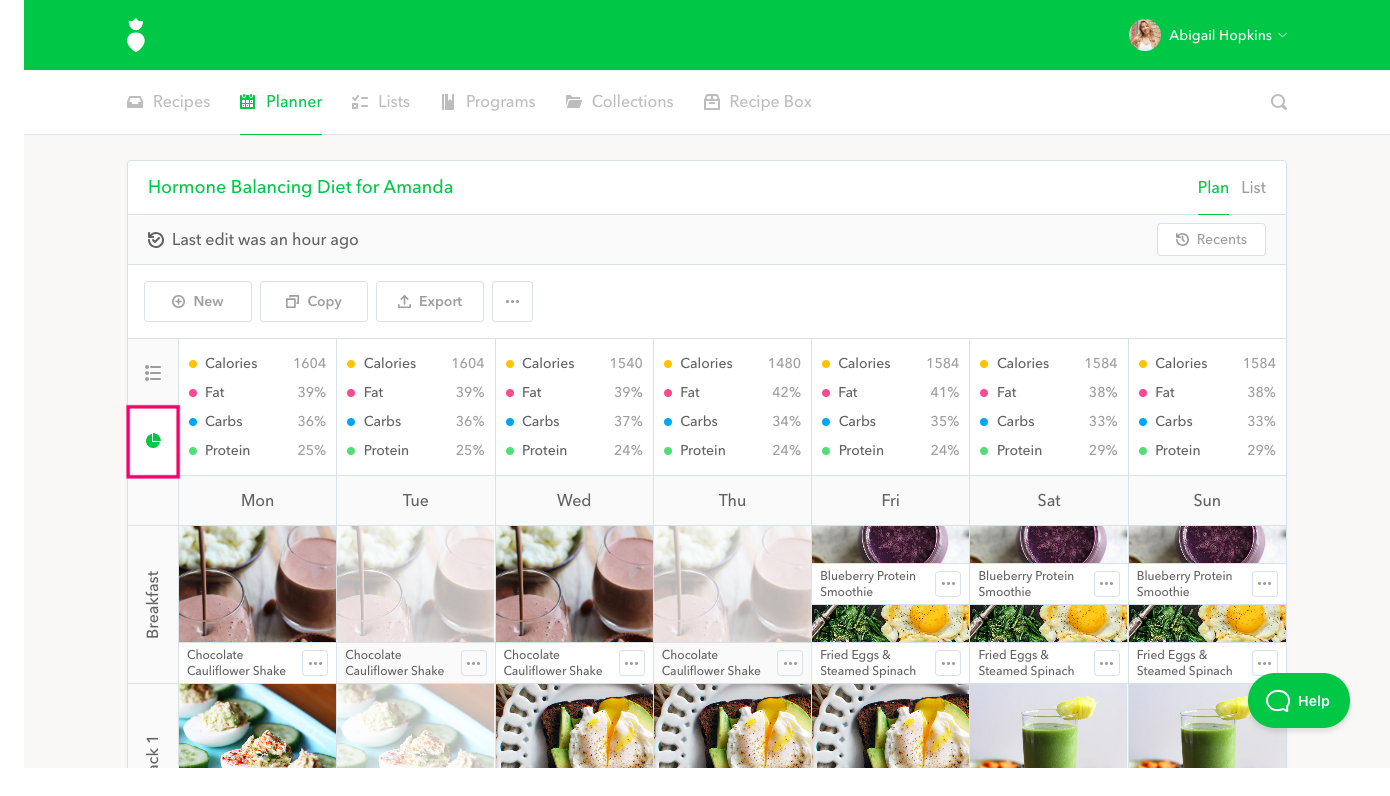 The grocery list will be automatically generated based on the meals you add to the plan.
Step 5: Share a Beautiful Nutrition Plan with Your Client
Now you have a beautiful nutrition plan ready to share with your client. You can either export it as a PDF document or share it with your client through a link. The plan will always include your own personal branding and business information to make it look nice and professional.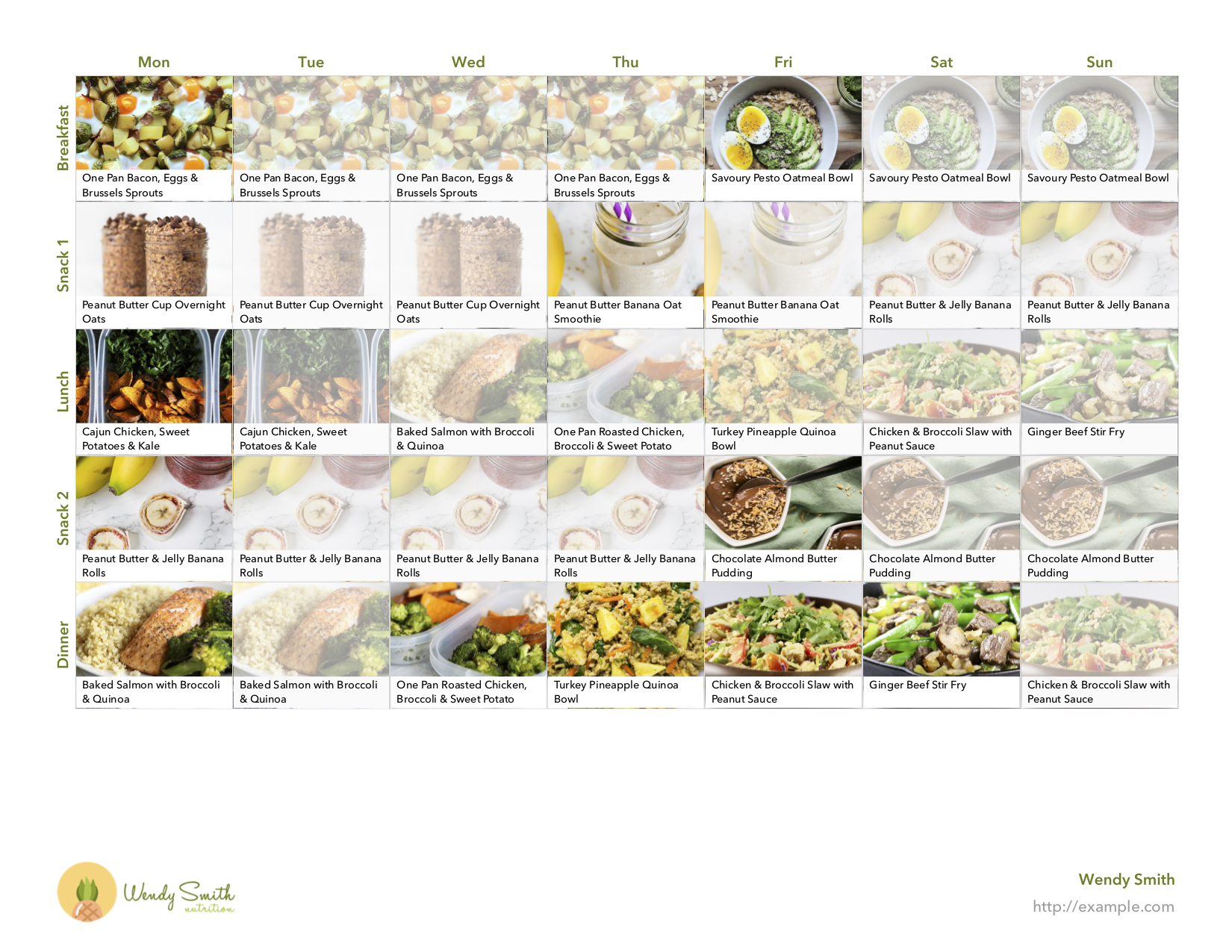 ---
Providing professional, visually appealing resources can make a big difference in terms of how motivated and successful your clients are, which will have a positive impact on the success of your business. With the right tools, you can easily create delicious, enjoyable meal plans and recipe books for any client, no matter how restrictive their diet is.