When we work with wellness professionals who are in the process of growing their businesses, one of the first recommendations we make is for them to get out into their communities to start speaking and giving free talks. We've seen firsthand that this helps them connect with potential clients, create brand awareness, and feel more comfortable promoting their services. It's not always easy, but it is worth it.
Today we are excited to introduce you to one of our amazing That Clean Life members who has proven that giving free talks is an amazing way to book more paying clients. Meet Leanne Dawson, Health & Lifestyle Coach and the founder of My Goodness Health.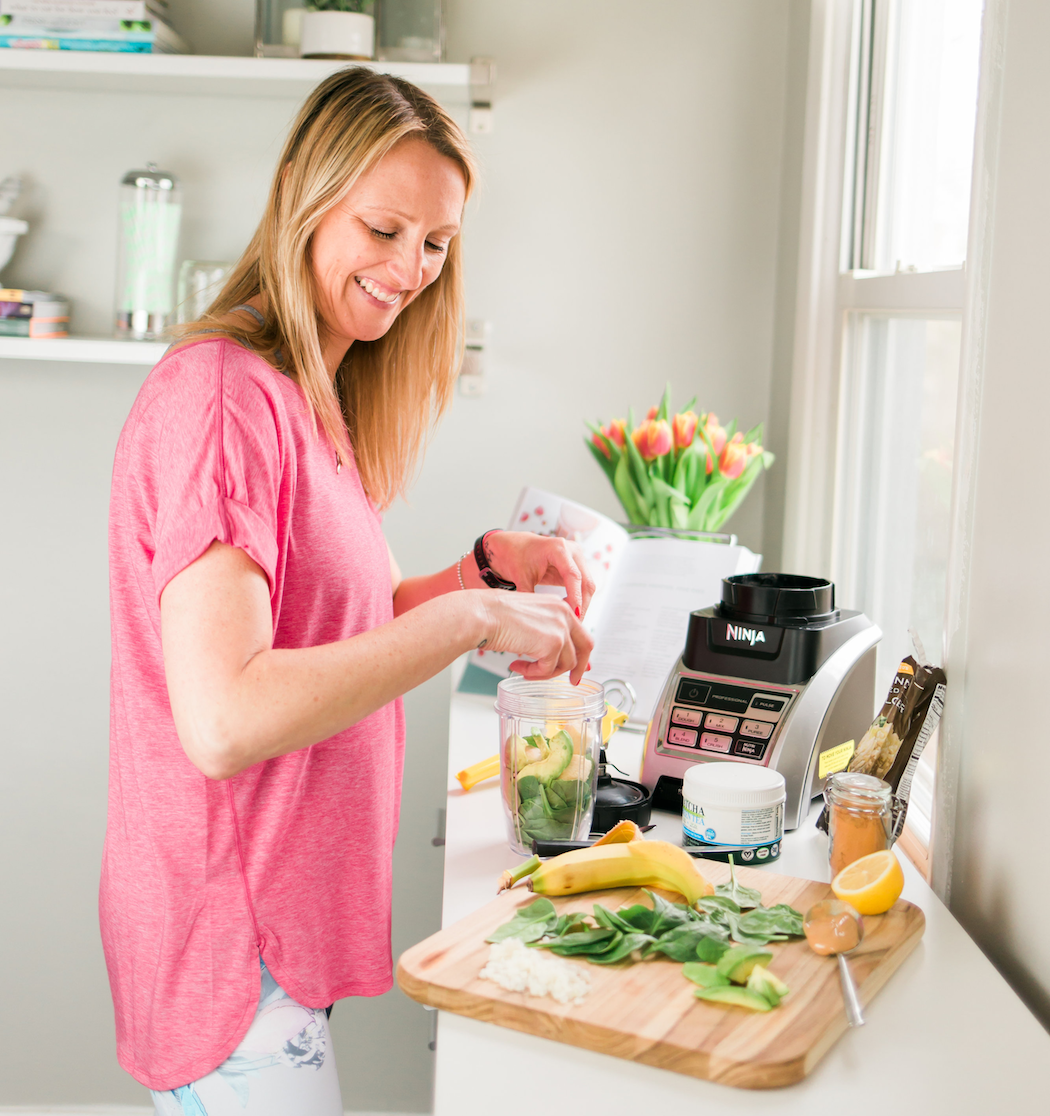 Leanne works with busy families who have young children and she has been leveraging her local community and personal network to grow her business. With only one year in business under her belt, we wanted to know how Leanne was able to start building up her client list so quickly. We learned that she's been doing an awesome job of putting herself out there by giving free talks.
We sat down with Leanne to learn how she's used public speaking and free talks to grow her business. Here are her top five tips:
1. Get Started By Giving Free Talks to Familiar Audiences
Speaking to a group of strangers can be terrifying. But when you start in front of a familiar audience, it becomes a lot easier.
"My first free talk was a coffee morning which I hosted for a small group of friends (an audience of friendly faces!) in my own home. I had recognized that there really was a market to help friends and my community to navigate the out-of-control world of food choices and healthy eating."
Your friends already know, like, and trust you and are most likely to become your first clients. A lot of nutrition professionals miss out on the opportunity to get experience and create success stories by leveraging their personal connections from the start.
If the idea of giving a free talk at a local business to an audience of strangers is scary, start small by hosting a talk for people you know.
2. Choose a Time & Location That Will Work For Your Ideal Client
When you're planning free talks, the setting is a huge factor for how successful they will be. You want to choose a time and place that will appeal to your ideal client.
Leanne started marketing her talks as community "Coffee Mornings" where any local mom could stop by for some social interaction and free health education. Many of her ideal clients are stay-at-home moms who crave opportunities to connect with each other.
"I have continued to host free talks in my own home and at the homes of friends and clients who invite along their own guests. I host them on weekdays when mums can bring along their kids to play while they get to meet other mums. I also hold talks on weekends for working families."
At her free talks, Leanne serves refreshments related to the topic of the free talk. For example, when she gave a free talk on "Eating Good Fat" she introduced the attendees to bulletproof coffee by serving it that morning.
3. Design Your Free Talk to Convert Attendees into Paying Clients
Giving free talks can be a great way to book new paying clients if you plan it out properly. Leanne uses her free talks to really highlight what she offers as a Health & Lifestyle Coach and what it is like to work with her. She starts by introducing herself and ensuring she collects everyone's contact information.
"I open by explaining a little bit about my personal journey, and the services I offer as a Health Coach. I ask my guests to register their attendance on a sign-in sheet so I can follow up after the talk."
Then, Leanne covers the content of her talk which focuses on no more than five teaching points. These teaching points are designed to be as actionable as possible so that everyone who attends will be able to apply what they learned and start making improvements to their health right away.
Since her free talks have a social element, Leanne initiates a group discussion about the topic. This further builds trust because it gives attendees the opportunity to ask questions and to build a relationship with her.
To end the talk, Leanne summarizes the top takeaways and reminds people about her services. She also provides them with a free custom-branded recipe book related to the topic.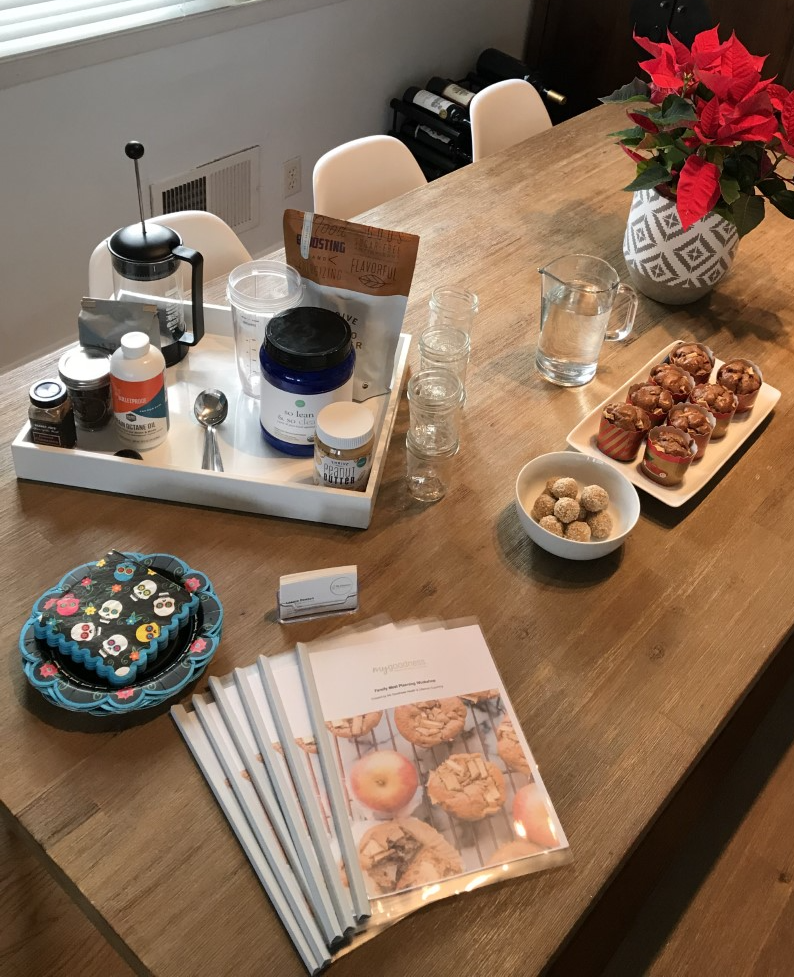 "I use That Clean Life to prepare a small recipe book which usually includes some of the things I made for the talk like healthy muffins, bulletproof coffee, and a smoothie plus a couple of extra family-friendly recipes. I also display a weekly meal plan with recipes and a grocery list, which I prepare using That Clean Life, to show what I can do for private clients."
Finally, Leanne reminds the attendees of the free talk of her coaching services and offers them a free 30-minute consultation so they can learn more about what it's like to work with her one-on-one.
4. Follow-Up, Follow-up, and Follow-Up Again
Leanne knows the importance of collecting the email addresses of anyone who attends her free talks so she can follow-up with them afterward. Once the talk is over, she sends an email to thank everyone for coming, summarize the key points, remind them of her offer and keep the lines of communication open.
"From these talks I have signed private coaching clients, group cleanse participants, and members of the group have also signed up their friends for future challenges."
Once people are on her email list, Leanne continues to stay in touch with regular newsletters, invites to upcoming talks, as well as special programs she is running. She also uses free challenges and short-term programs to convert her clients into her personalized three-month program.
"I run online group cleanses ranging from a 5-day free challenge to a 21-day paid cleanse. I work with most of my one-on-one clients on a 3-month program, meeting once every two weeks for a one-hour session. I have found that this is the optimal length of time to get people to commit to and to see results from working with me. Some clients continue after the three months."
Since most of her clients are in her community, free talks are the main way Leanne is able to connect with and convert new clients.
5. Don't Stop With One! Give Free Talks Regularly.
"When I have written the material, I can repeat the workshop many times to a new audience, so every subsequent event takes very little preparation."
Leanne looks for new speaking opportunities across her community so that she can reach people outside of her own circle. New attendees register, friends bring friends, clients bring family members, and her list continues to grow with each and every free talk.
Her talks have become so popular that she now charges $20 per person to attend, which helps her cover the cost of refreshments and the time she spends preparing.
"I have only scratched the surface with the potential these talks have. They have helped to grow my business, support my community, and the added bonus is that I really love doing them. They will definitely be a focus for my future marketing activity."
We asked Leanne what advice she would give to a fellow wellness professional who is interested in giving free talks:
"Just start! Take the first step, choose a topic, book in a date, start marketing it and then research your material. It may seem daunting at first, but it is absolutely worth the work for the value you will get out of it."
We couldn't have said it any better ourselves! Keep up with Leanne by following her on Instagram and leave her a comment below if you found these tips helpful.