There is no denying that these are tough times we are in. But as health professionals, we have such a big role to play when it comes to helping people cope with this worldwide crisis.
As much of the world seems to be shutting down, we are so proud to see many members of our That Clean Life community stepping up and working incredibly hard to pull through this. We are witnessing many inspiring health professionals continuing to serve their communities when they need them the most, and we want to celebrate that.
Today we want you to meet the team behind C'est la Vie Wellness, a health and wellness clinic in Oakville, Ontario that offers naturopathic medicine, nutrition counseling, mental health counseling, reiki therapy, meditation sessions, workshops and online programs.
C'est la Vie Wellness is run by Nutritionist Lyne Desforges, her daughters Sofie (a Naturopathic Doctor), and Danika (a Mental Health Counsellor) plus Reiki Master, Helen Kwon.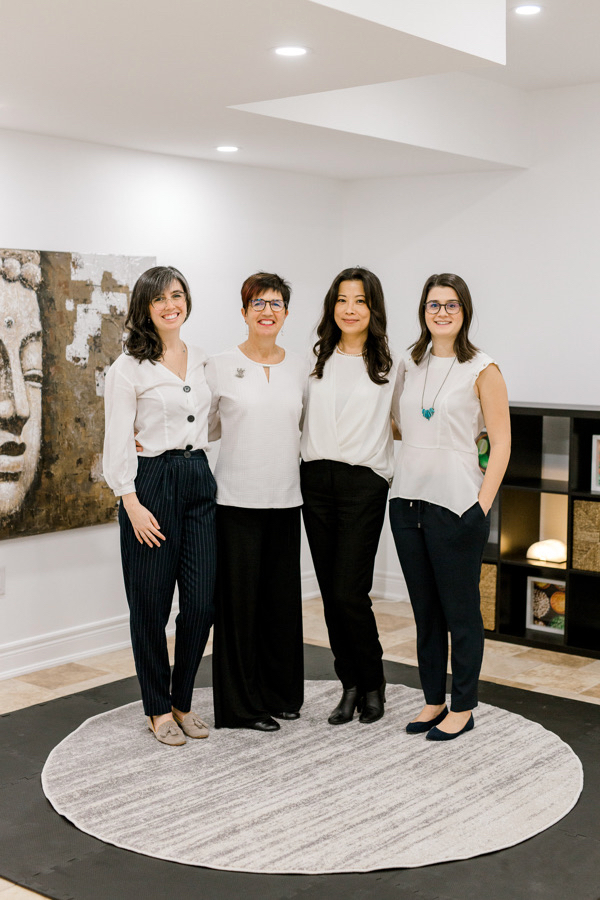 "We strive to motivate our clients to adopt holistic and natural strategies that will support them in everyday challenges. Our mission is to assess our patient's and client's individual needs while guiding them towards a healthier and more balanced lifestyle. Our focus is on overall wellbeing whether physical, spiritual or mental."
Running Online Programs Through an In-Person Practice
Although their business is brick-and-mortar, C'est la Vie has had great success running online group programs. Their signature online program is called "Sugarless in the Kitchen" and it runs twice per year.
"Many people are addicted to sugar and our goal is to help reduce or eliminate it from their diet. We have run this program a couple of times a year, offering different menus each time. We have also run this as a 7-day, 14-day, and 21-day Sugarless in the Kitchen program. Each one includes a basic guide, menu, shopping list, recipes, and daily motivational emails. We usually charge around $10-15 per week. For example, a 21-day program will run at $30-35.
Using That Clean Life makes it so much easier to come up with great menus. Basically, we look at the most recent recipes, since we have many people who do our programs again and again, so we need to vary our menus and keep them new and fresh. We are always conscious of daily fibre and protein intake. If we see that we are low in one of those, then we use filters to find recipes with more fibre or more protein. Being able to filter out maple syrup, honey, or any other source of sugar makes our work so much easier. We have always had a great response to the menus we prepare using a combo of your recipes and some of our own as well (another great feature of That Clean Life is the ability to add some of our own recipes and make it look professional)."
Sugarless in the Kitchen isn't the only online program C'est la Vie offers. Over the last two years they have also run:
14-Day Reset and Cleanse
10-Day Body Reset Detox
21-Day Eat Clean with CLV
14-Day Spring Into Spring
8-Week Menu Subscription Program
"Our programs are always done through emails using Mailchimp. Once they have registered, we send them the menus, recipes, shopping list and some general information, so they can get ready to start on the designated starting date. Then, they get a daily motivational email full of tips and information to keep them on track. Finally, we always have a private Facebook group that people can join to share in their challenges and successes (about half of the participants usually join the FB group)."
Here's an example of one of these emails: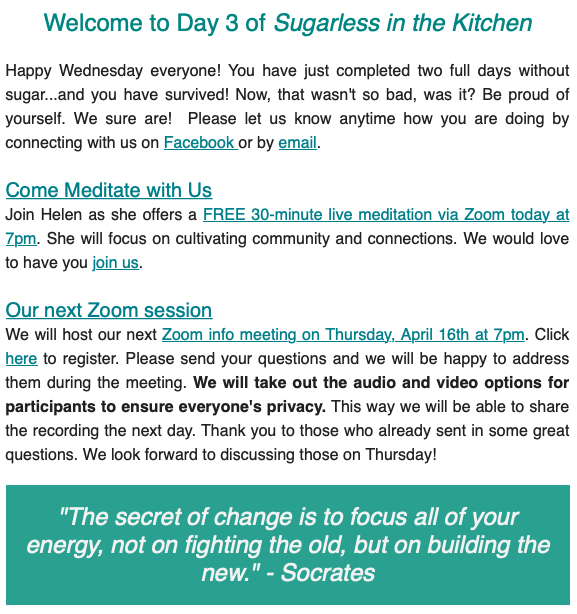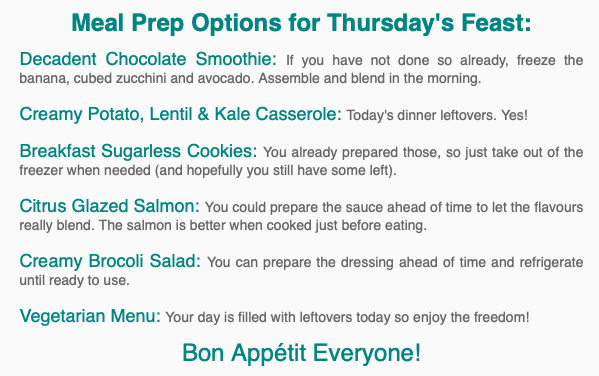 Stepping Up to Support the Community During a Crisis
When COVID-19 hit the C'est la Via Wellness community, the first thing Lyne and her team did was send out a free resource to their community: a 7-Day Immunity Boosting Menu. Once that was out, they started thinking about what more they could do to offer support during a hard time.
"We had heard that local food banks were struggling to keep up with the demand, as many people are finding it difficult to makes ends meet and put food on the table, due to the challenges of the pandemic. We knew right away that we wanted to give back to the community, somehow. As we were putting together the final touches of our Sugarless in the Kitchen program, it just made sense to donate all the proceeds to FareShare (our local food bank). We also wanted to offer our community a low-cost program, so that more people could benefit from it, knowing that for some, their income may have been dramatically reduced with the recent events. So, we decided to charge only $9.99 for the program, which is ½ off our usual price. The response was incredible. People saw it as a win-win situation. They got two weeks of great menus with lots of recipes and they felt good donating to the food bank at the same time."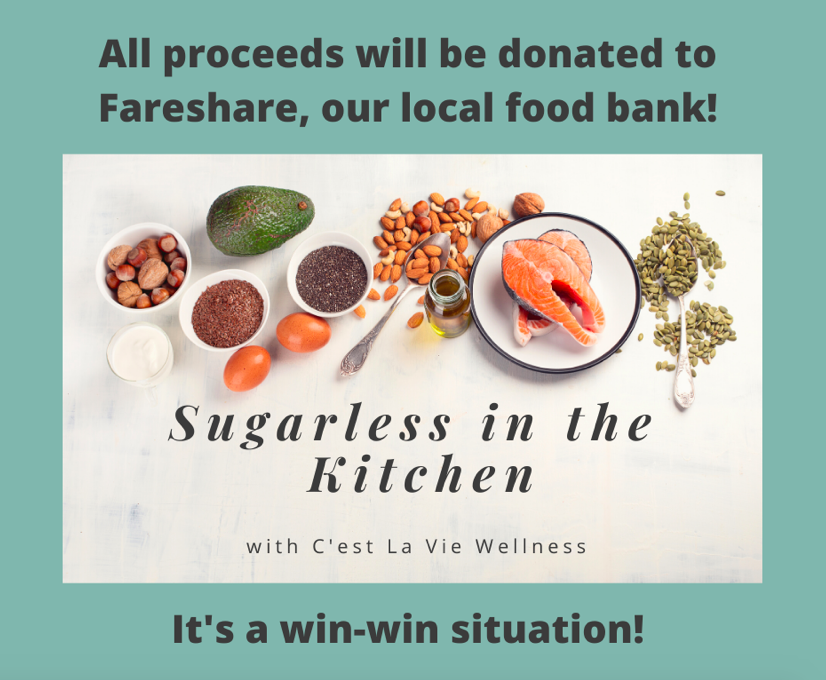 With 100% of proceeds going to the local food bank, Lyne and her daughters worked hard to market the program and get as many sign-ups as possible.
"First, we sent out a general information email to our own community via Mailchimp. Registration was done through Eventbrite. We also marketed on Facebook and Instagram through C'est La Vie Wellness and through our own personal handles (@lynedfoodie, @dr.sofie.nd, @danikadb). We also held an information session via Zoom for anyone interested in learning more about how the program worked. People started to share our posts when they saw that we were donating all the proceeds. We had 88 people sign up, which is the most we have ever had for any of our online programs."
Total Funds Raised Added Up To $1,000
"We are happy to report that we raised over $913.90 through our participant's registration fee and donations. C'est La Vie Wellness topped it up to make it a total of $1000.00 donated to Fareshare, our local food bank."
But the impact doesn't end there! With a record number of individuals participating, Sugarless in the Kitchen was able to reach more families and help them eat healthier while staying at home.
"Taking out added sugar is not an easy feat for most people but there are so many benefits. Most participants report feeling more energetic, more focused, less bloated, and a reduction in cravings. They are also more motivated to make their own meals during and after the challenge. They all report being more wary of food labels and making sure they check before they buy anything. They all realized that taking out sugar doesn't mean taking out good taste. They all enjoy great meals, including some sweeter treats, all without added sugar."
C'est la Vie Wellness is a testament to the important work health professionals do every single day. They are a shining example of rising to a challenge and finding a way to not only support the health of their community, but also give back to such a worthy cause. Congratulations C'est la Vie!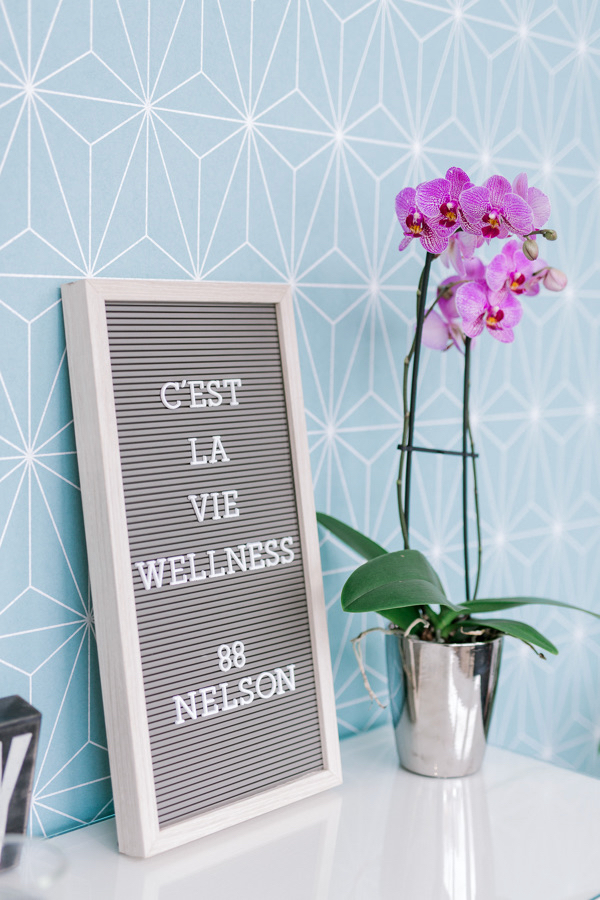 Photos by Noah's Ark Photography.