The demand for corporate and employee wellness programming has been growing over the past couple of years and this growth is only expected to continue. As many employers look to support their employee's physical and mental health, nutrition professionals are in a great position to help by offering corporate wellness services.
Certified Nutritionist, Wellness Expert, and Consultant Danielle Binns, experienced a demand for corporate wellness services firsthand. She quickly pivoted and expanded her services to include an Employee Wellness Program. Today her clients include major companies around the globe like Microsoft, eBay, Labatt, General Motors, and Workday. Corporate wellness services now account for one-third of her revenue.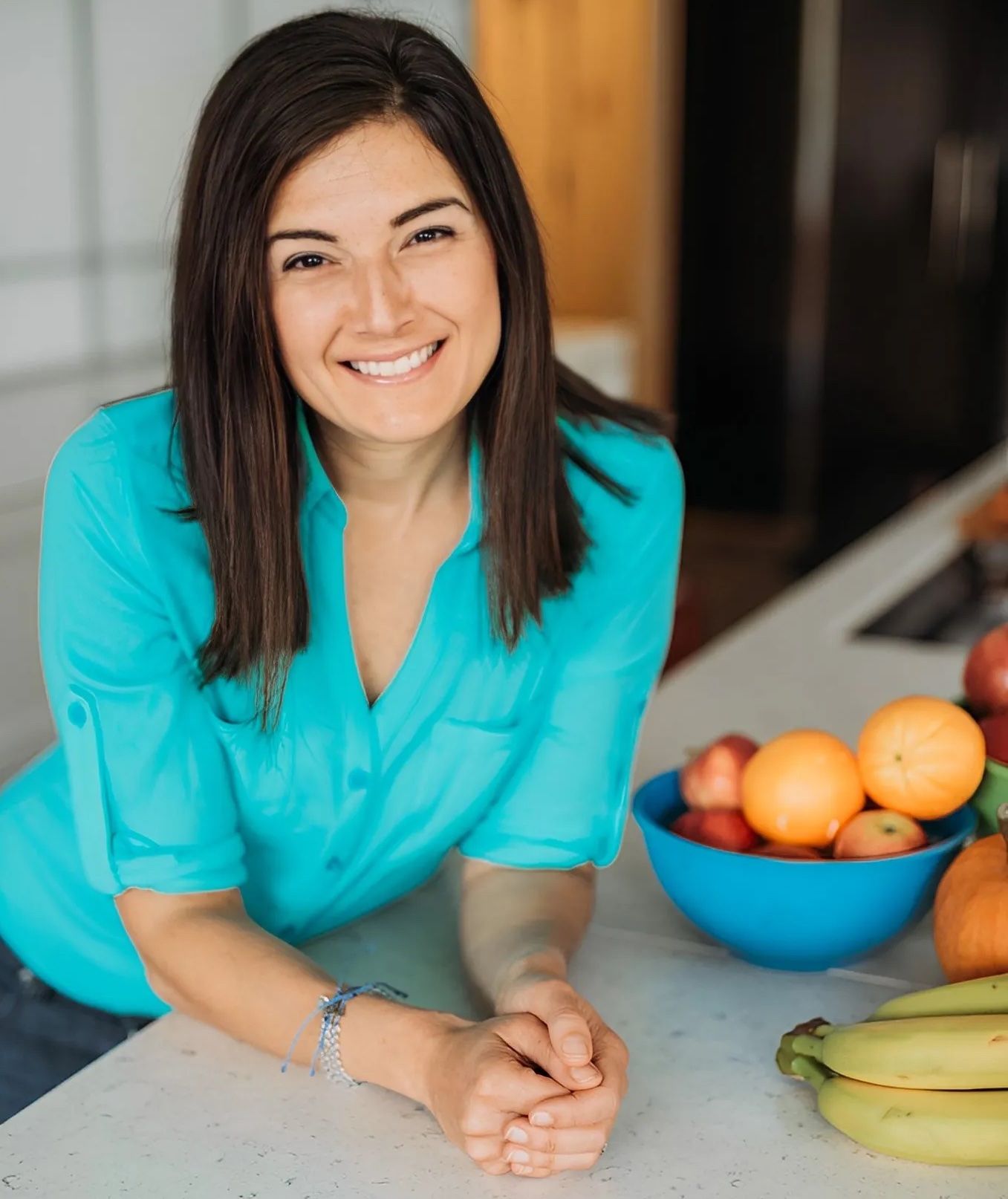 Getting Started in Corporate Wellness
In her past career, Danielle spent over 15 years managing marketing for large multinational companies, small start-ups, and universities. During this time she saw how many people struggled with scheduling self-care in a fast-paced environment. Danielle saw a shift when she started working for companies that valued her overall well-being and found herself happier and thriving at work. This inspired her to pursue education and a second career in health and nutrition.
When Danielle entered the nutrition profession, she initially focused on one-on-one nutrition counseling for families and children. Many of these clients then asked whether she could come into their workplaces to do corporate wellness talks. Danielle gradually started offering corporate wellness talks and when the pandemic hit, the demand spiked. Soon she was receiving weekly inquiries to run various virtual wellness and nutrition programs.
Structuring A Corporate Wellness Program
Danielle uses her proven 6 Pillars of Wellness™ blueprint within each corporate wellness service with "snacks" and "sips" being the first two pillars followed by sleep, stress, sweat, and social wellness.
Using these 6 Pillars of Wellness™ as the foundation, Danielle has built several services:
60-minute wellness workshops. Companies can choose from 20 different topics such as working smarter, family nutrition, and a meal planning workshop.
30-day nutrition, fitness and mental health "micro-challenges" such as a fitness reboot, wellness reboot, and happiness reboot.
Various wellness series such as a 12-month Healthy Habits Membership delivered to employees by email.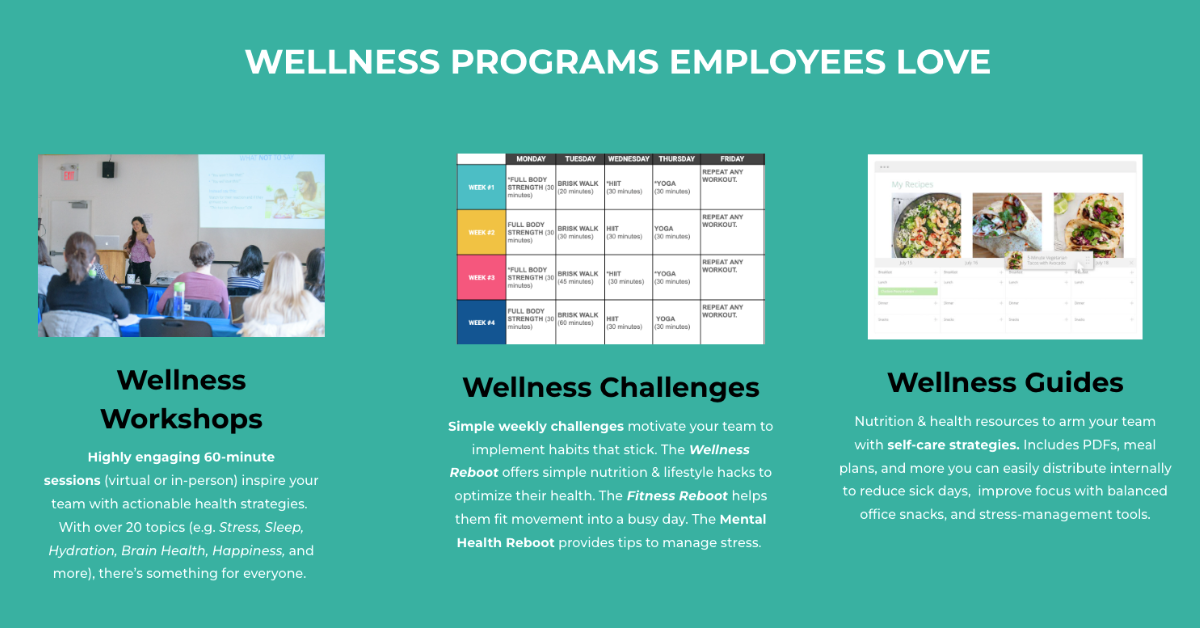 For each service, the topics can vary depending on the company and employee health goals and often Danielle chooses a monthly theme as well. She works closely with companies to assess the needs of the team and then curates her services accordingly.
"For one company, I designed the healthy habits series where every month for 12 months they receive a different healthy habit with tips, checklists, and simple meal plans. For example, if it's Brain Health Month, I'll focus on a meal plan for cognitive health."
Using Meal Plans in Corporate Wellness
Danielle relies on That Clean Life to help her quickly create professional, branded nutrition resources that take her corporate wellness services to an impressive level.
"With everything I do, whether it's a challenge, workshop, or the Healthy Habits Membership, I offer a sample meal plan because people like to see what I describe and teach."
Danielle finds that employees often want actionable nutrition advice through recipes.
"People want recipes. When I look for feedback, they say they love the recipes and want to see more of them. The employees are self-motivated to open and review the plans. They are just so burnt out and don't want to have to think about what to cook or make for their meals and snacks. They love having that inspiration and work done for them."
Danielle saves time and creates her meal plans from the 130+ customizable templates available within That Clean Life. These ready-to-use templates are created for various conditions and jumpstart any client experience with a comprehensive, evidence-based meal plan.
"As we choose a different theme every month, we use different templates like the Brain Health Support Program and ADHD Program during Brain Health Month, High Fiber Program when discussing constipation, and we have used the High Iron Program for women."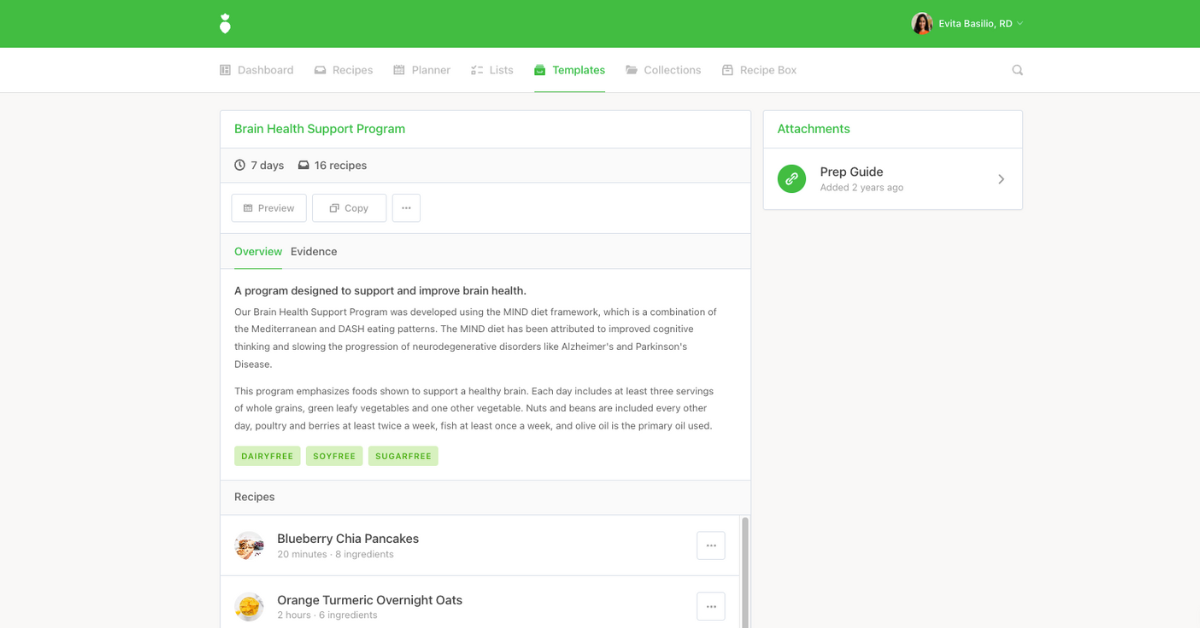 Each template can be modified as needed and comes with an itemized grocery list, a prep guide that lays out the exact steps the client can take to put their meal plan to use, and supporting evidence that describes the key nutrients focused on when developing the plan, all backed by research.

Danielle usually copies the plan and makes a few edits such as removing some leftovers and adding in more variety. Once the plan is ready, she sends it to the employees. She can keep track of how many people are opening the meal plan and exporting it as a PDF.
Another way Danielle uses meal planning in her Employee Wellness Program is by offering meal plans as free prizes to employees who attend a workshop live.
"For the people who attend my workshop live, at the end I'll draw a name and then I'll give a meal plan away free as a prize."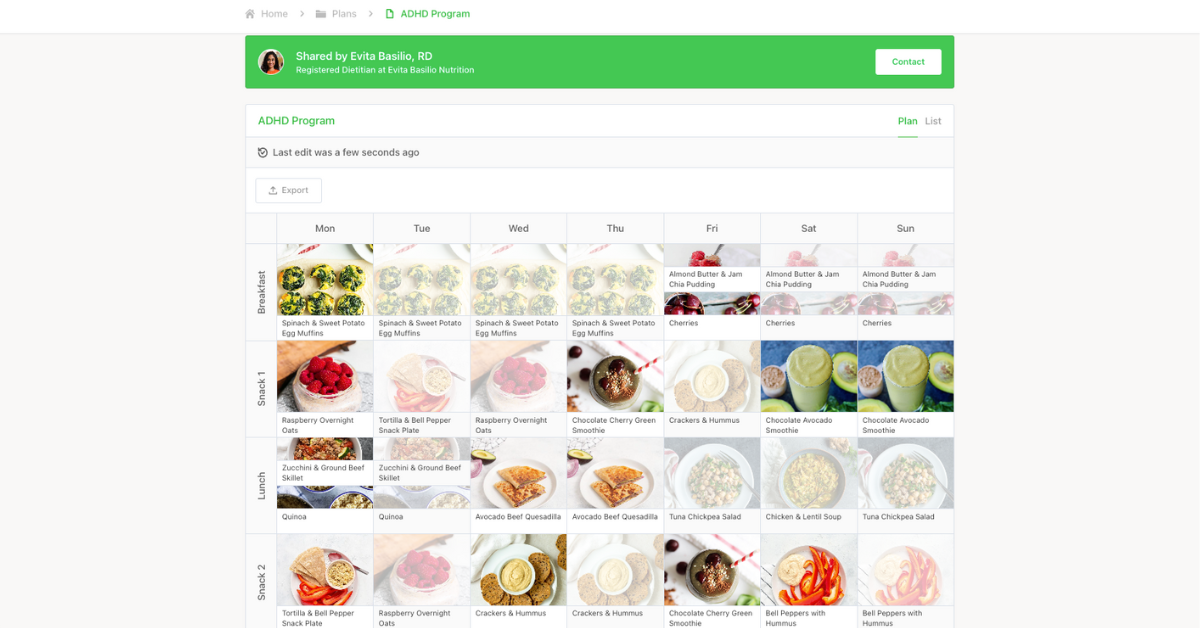 Marketing Your Corporate Wellness Services

Danielle attributes the growth of her Employee Wellness Program to word-of-mouth marketing and social media.
Word-of-mouth marketing.

As Danielle builds strong relationships with her clients and delivers high-quality services, she finds that many of her new corporate clients come from referrals.
If you are looking to get started offering corporate wellness services, leveraging your existing clients is your best marketing strategy as they will act as brand advocates and share their positive experiences of working with you.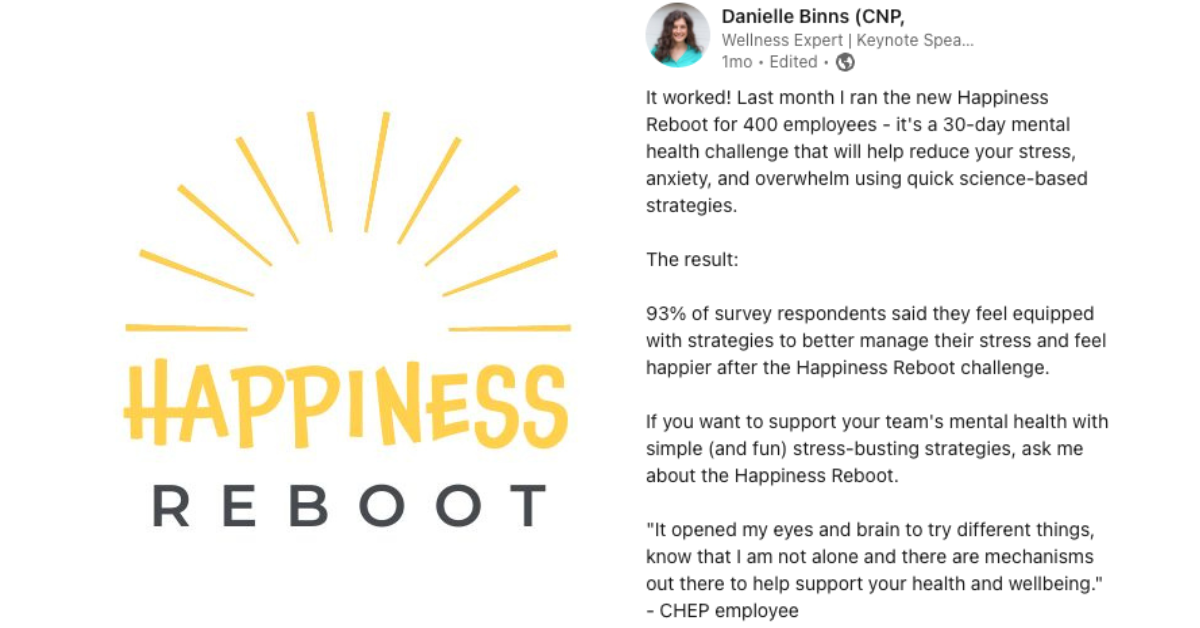 Testimonials.

At the end of her corporate wellness programs, Danielle conducts an interview with corporate clients so they can share their feedback and experience working with her.  These interviews generate great testimonials, that she then publishes on her website and social media where her connections and leads can read them. These authentic reviews add social proof of her services, build trust, and increase credibility.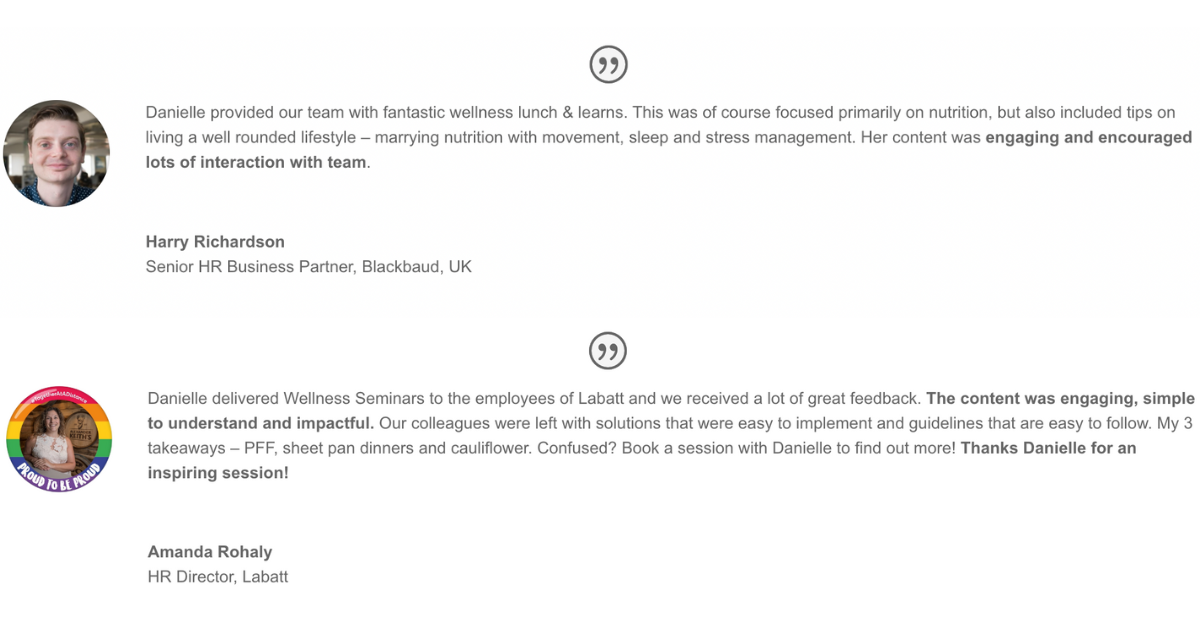 Sharing the behind-the-scenes of her services.

Danielle shares the behind-the-scenes and positive results of her corporate wellness talks on social media using pictures, video, and live training. This helps build awareness of her corporate wellness services and gives potential future corporate clients a look at her high-quality work and speaking style.  
"People who have seen my live training say I'm a really engaging speaker and then ask if I can create something for their company."
Danielle finds that often potential corporate clients won't know what you offer so sharing on platforms like LinkedIn can showcase services and adds a personal connection point.
"As I'm building a talk for a company, I'll take a screenshot of me with my computers in the background showing that I'm getting ready for a talk with a preview of the content."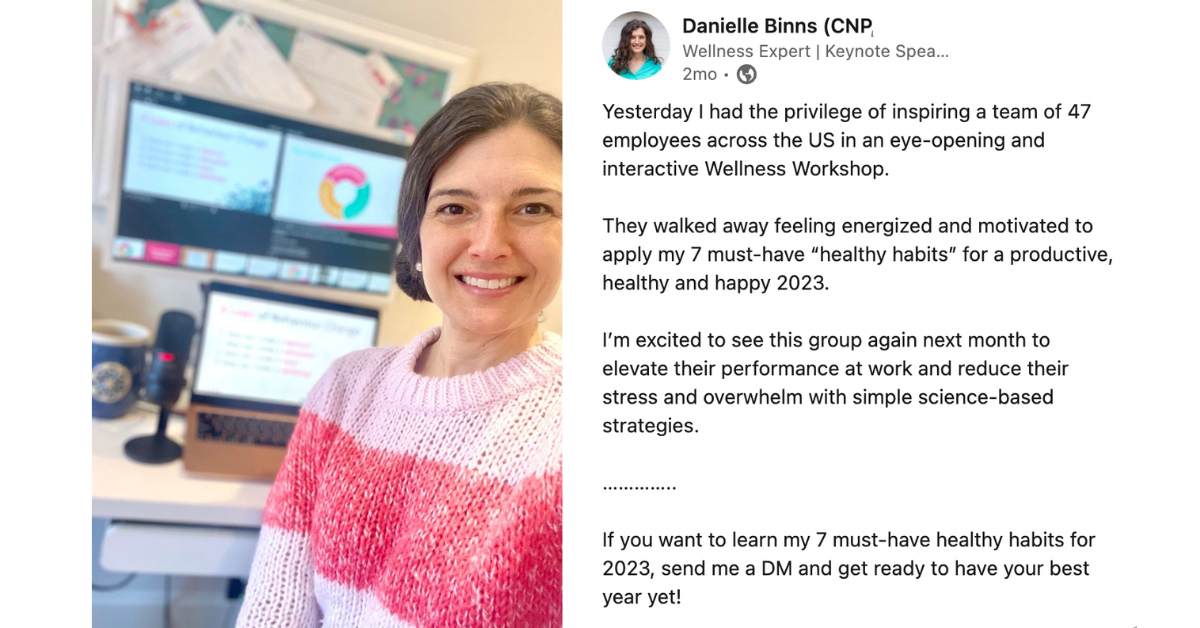 Benefits of Offering A Corporate Wellness Program

In Danielle's business, a major benefit to having both a counseling and corporate wellness stream is there is demand for both services and it adds balance to her work.
"People were really asking for this service. I talk to parents about their kids all the time and now I get to talk to adults about how to put their own oxygen mask on first and take care of themselves."
Talking to employees in a group setting allows Danielle to impact more lives.
"You are able to change more lives with one talk, make an impact, and give people simple strategies to being healthier."
And ultimately, Danielle builds such a strong relationship with her clients that she feels she's part of the company.
"When I have a relationship with them, I almost see myself as working part of the company."
Integrating Corporate Wellness into Your Services
Danielle has seen a shift in the last year where many companies have cut back on their spending for wellness programming. This means it is even more important for her to provide proof of the effectiveness and necessity of her corporate wellness work and build relationships.

Danielle typically books longer contracts with companies however this takes time to build. She recommends starting out in the area of corporate wellness by offering to do a free talk for a company or doing a one-time worksite event.
Typically companies are looking for thought leaders in the wellness space who they can trust with their employees.
"Sometimes it's challenging because speaking on wellness might not be enough. You need to connect it to how it benefits the company and its bottom line. They want somebody that is credible to put in front of their employees that they can trust. For example, if you have written a book, you've got some thought leadership."
Another service Danielle is looking to add in the future for her Employee Wellness Program is corporate leadership retreats. She has already begun offering wellness retreats for women through her family nutrition services and expects to expand this to her corporate wellness services as well.
---
The growing popularity of corporate wellness programming presents an excellent opportunity for health professionals looking to impact more lives and grow their businesses. Corporate wellness services can be an incredible income stream that allows you to scale your business, impact more lives, build relationships, and increase revenue.
To learn more about Danielle Binns, check out her website or follow her on LinkedIn.